Worship Metal's 35 Greatest Albums Of 2021
Best of 2021....
Acknowledging that we couldn't possibly have heard every album released this year, genre and sub-genre aside these are our 35 Greatest Metal Albums of 2021. These are the albums that blew us away, the albums that warranted endless spins, the albums that prompted involuntarily head-banging and generally put a big fuckin' smile on our grumpy ol' faces!
Presented in alphabetical order as opposed to any kind of ranking…..
1914 – Where Fear and Weapons Meet [Ukraine]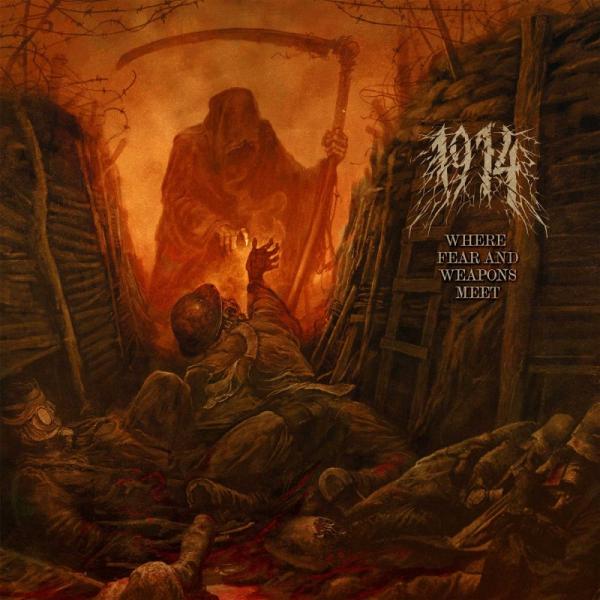 Genre: Death/Doom
Released: October 22nd, 2021 via Napalm Records
1914's much anticipated follow-up to 2018's The Blind Leading The Blind, found these heavy-hitting Ukranian's unleashing a tirade of blackened death/doom horrors, with atmosphere, aesthetic and the abject pain of war perfectly aligned!
While previous albums were hardly reticent in their aural description's of The Great War, everything about Where Fear and Weapons Meet was somehow bigger. From the symphonic elements which took on Septic Flesh levels of grandeur ("FN .380 ACP#19074"), to heightened black metal elements ("Don't Tread on Me (Harlem Hellfighters") and Bolt Thrower -esque bludgeoning's ("Vimy Ridge (In Memory of Filip Konowal)"), 1914 were operating at peak performance and transporting us back to the dirt, death and disease of "The war to end all wars".
Expertly weaving historical fact, immersive story-telling, raw emotion and unbridled heaviness, Where Fear and Weapons Meet was an unmitigated triumph from one of extreme metal's most fertile bands…..and it was our favourite death/doom album of 2021.
---
Acid Mammoth – Caravan [Greece]
Genre: Doom Metal / Stoner Metal
Released: 5th March, 2021 via Heavy Psych Sounds
Following hot on the heavy heels of 2020's incredibly well received Under Acid Hoof came Acid Mammoth's eagerly anticipated new album, Caravan.
The third full-length album from these Greek doom/stoner masters continued their journey towards fuzzed-out, Iommi-worshipping nirvana. With father/son guitar duo Chris Babalis Jr. and Chris Babalis Sr. locked into a shared mindset, the riffs were undeniably mammoth (which should go without saying), and their often funereal pace pushed Acid Mammoth further away from stoner and into pure doom metal territory.
This was legit stoner/doom, with Acid Mammoth firmly leading the herd instead of merely making up the numbers….and in a genre as crowded as stoner/doom that's quite the recommendation!
---
Ad Nauseam – Imperative Imperceptible Impulse [Italy]
Genre: Avant-garde / Technical Death Metal
Released: February 12th, 2021 via Avantgarde Music
The kind of album that will enthral as many death metal fans as it will push away, the dissonant technical death metal of Imperative Imperceptible Impulse fit very much into the Gorguts mould without aping Luc Lemay's trailblazers too slavishly. 
Avant-garde and unwieldy, Ad Nauseam revelled in pulling the rug out from under you via polyphonous technicality and a sheer abandonment of anything approaching accessibility.
Some will call it a mess, others will celebrate its jarring grandiosity; one thing was for sure, Imperative Imperceptible Impulse was impossible to ignore!
---
AEONS – Consequences [Isle of Man]
Genre: Technical Metal / Progressive Metal
Released: Independantly on September 10th, 2021
The Isle Of Man. A kingdom within a kingdom. Home to tail-less cats and possibly (definitely) the greatest motorcycle race on the planet. It's also home to a rather talented bunch of chaps who make up the band AEONS.
AEONS released their debut album, A Tragic End*, quietly in 2019. It turned out to be one of the best debut albums we'd heard in a long, long time – a progressive metal beast encompassing many different styles, culminating in a truly epic album.
In the past, AEONS have been predominantly compared to Opeth and, certainly for their debut album, that influence was rather apt. But Consequences was different. "Blight" aside, the only real comparison to Opeth now would be the quality and complexity of the songwriting, the overall musicianship and the amazing vocal talent on display. AEONS are now very much their own band and comparisons are now moot. Consequences soundeds like AEONS and that's all you need to know.
*A Tragic End was included in our 10 Greatest Progressive Metal Albums Of 2019 feature*
---
Archspire – Bleed The Future [Canada]
Genre: Technical Death Metal
Released: October 29th, 2021 via Season of Mist
Fuck you Archspire. How dare you keep challenging the limitations of tech death with each release. How dare you cause our brains to doubt our own ears. Jumped up bunch of uber-talented twats.
We jest, of course. We're just in awe of Archspire's achievements. With tech death being a highly competitive sport, its been a joy to witness Archspire take gold in every event. And, make no mistake, 2017's Relentless Mutation was a gold standard album. Could they surpass it was the general concern and it was a concern that Bleed the Future placated with ease.
Bleed the Future is a better album. It's brighter, more urgent, more challenging….it was just more.
An elite band operating at peak power and the best technical death metal of 2021.
---
Black Mass – Feast At The Forbidden Tree [USA]
Genre: Thrash / Blackened Thrash
Released: September 10th, 2021 via Redefining Darkness Records
Everything about Black Mass' Feast At The Forbidden Tree screamed old-school. The oldest of school in fact, with the band taking their cues from the earliest of thrash and extreme metal sounds with Venom's Black Metal, Destructor's Maximum Destruction, Celtic Frost's Morbid Tales and Slayer's Show No Mercy leaping to mind (which is never bad company to be in). 
A feast of rabid sheiks, growls and primal riffs, Feast At The Forbidden Tree wound the clock back to the early/mid 80s with ease and, most importantly, released an album so damn convincing you'd swear that Black Mass had been there at this start – yes, it's that fucking good!
The forbidden fruit of this particular tree was certainly ripe for the picking.
---
Bloodbound – Creatures of the Dark [Sweden]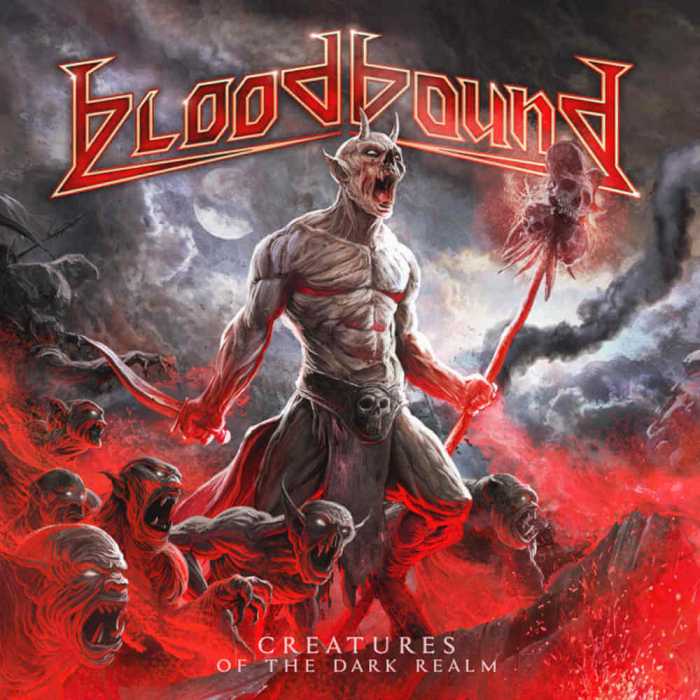 Genre: Power Metal / Heavy Metal
Released: May 28th, 2021 via AFM Records
Marching into battle, with heads held high and with the distinct whiff of dairy products filling their nostrils, Bloodbound harnessed Euro-power like never before with Creatures Of The Dark, taking the glorious sounds of Gloryhammer, Sabaton and Hammerfall into ever more absurd realms (realms filled with all manner of dark creatures, apparently). Scary.
While the keys tended to overpower the relatively crunchy guitars, none of that mattered a jot when the songs were so infuriatingly, indomitably expressive and effervescent. "March Into War" was as straightforward as its title suggests – with Bloodbound ably channelling the aforementioned Sabaton and proving well up to the task. And, if it's full on histrionic bombast you're lusting after, then "Eyes Come Alive" hit all the right power-thrashy notes (in a Tim Ripper Owens, Iced Earth-era meets early Artillery kinda way), reminding us that Bloodbound are a METAL band after all.
So, sing proud, gesticulate wildly, stand with your legs so far apart that you worry about the integrity of your already too tight trousers and simply let fly! Bloodbound are with you all the way.
---
Boss Keloid – Family The Smiling Thrush [UK]
Genre: Progressive Metal / Stoner Rock / Doom Metal / Sludge (a little)
Released: June 4th, 2021 via Ripple Music
Recalling the heady days of prime Rush – in spirit, as opposed to sound – Boss Keloid didn't give two hoots about what you may 'want' from them. Instead, this was an album to lose yourself in. To indulge in. To discover. So, we dove headfirst into weighty riff explosions and huge swathes of vocal melodies which contorted into organic grooves and jazzy prog freak-outs at the drop of a hat. We're glad we did..
While accusations of ADHD may be slung, we maintain that Boss Keloid were simply at the peak of expression and experimentation, going where the songs naturally took them as opposed to adhering to familiar structure. Key and time changes may have appeared gratuitous but they weren't jarring enough to have you reaching for the off switch. Instead, Family The Smiling Thrush was challenging yet uplifting and cathartic…..and sometimes all you need to lift your spirits is for life-affirming wisdom to be bellowed at you by a burly man from Wigan.
Family The Smiling Thrush pushed Boss Keloid's creativity to the hilt and was an unmitigated triumph. Stick to your guns, write music for yourself and, most importantly, be more Boss Keloid. Why? Because they've got this shit nailed.
---
Brainstorm – Wall Of Skulls [Germany]
Genre: Power Metal
Released: September 17th, 2021 via AFM Records
Brainstorm, one of the most ridiculously reliable bands in the power metal / heavy metal scene, returned in 2021 with yet another blast of pure power metal perfection in the shape of Wall Of Skulls.
Wall Of Skulls had everything – "Solitude" was a massive, mid-paced semi-ballad while the frenetic "My Dystopia" upped the aggression and with Rage's Peavy Wagner ("Escape The Silence") and Orden Ogan's Seeb Levermann ("Turn Off The Light") popping by to lend a hand in the vocal department (not that Andy B. Franck really needed the help), the sheer joy to be had was palpable throughout.
While not quite in the same league as 2018's Midnight Ghost – which remains a career highlight – Wall Of Skulls was still convincing enough to back-up Brainstorm's current standing as kings of their kind.
---
Cannibal Corpse – Violence Unimagined [USA]
Genre: Death Metal
Released: April 16th, 2021
Correct us if we're wrong, but hadn't Cannibal Corpse already imagined every act of violence imaginable?
So far, in the name of death metal (and all in the best possible taste), humans have been….
"Mangled"
"Buried in the Backyard"
"Gutted"
"Covered with Sores"
"Butchered At Birth"
"Fucked with a Knife"
"Stripped, Raped and "Strangled"
"Force Fed Broken Glass"
"Devoured by Vermin"
"Mummified in Barbed Wire"
"Eaten from Inside"
"Dismembered and Molested"
"Stabbed in the Throat"
"Pounded into Dust"
"Sanded Faceless"
"Bent Backwards and Broken"
"Submerged in Boiling Flesh"
"Skewered from Ear to Eye"
"Encased in Concrete"
"Followed Home Then Killed"
and
"Destroyed Without a Trace"
…..such frivolity!
For the love of gore, what could possibly be left?
Well, "Slowly Sawn" eviscerated, "Bound and Burned" left us breathless and rather sore and "Surround, Kill, Devour" rounded up the non-believers and reminded them that when it comes to barbarity, Cannibal Corpse are still delivering state of the art death metal played with passion and breathless precision. As if you expected anything less.
Oh, and before we forget, Violence Unimagined was the best Cannibal Corpse album since The Bleeding (1994). It's that damn good. Imagine that!
Latest Posts