Worship Metal's 35 Greatest Albums Of 2021
Best of 2021....
Clouds – Despărțire [United Kingdom / Romania]
Genre: Funeral Doom / Atmospheric Doom/Death
Released: Independently on October 14th, 2021
Considering they boast current members of Mourners and ex-members of Shape Of Despairand Aphonic Threnody in their ranks, it should come as no surprise that International collective Clouds are as distinguished and respected a funeral doom band as you're ever likely to hear. 
Achingly beautiful and strangely alluring despite the bleak nature of their output, Clouds' expert merging of delicate instrumentation (violin, piano and woodwind) with the powerful downstrokes of crushing funeral doom riffs – and a deft balance between mournful growls and sombre cleans – lent this most evocative of acts the deepest, darkest and most compelling sound imaginable.
With My Dying Bride's Aaron Stainthorpe lending his instantly recognisable vocals to "In Both Our Worlds the Pain Is Real", the pain on  Despărțire (meaning separation) was most certainly real….and expertly conveyed.
---
Cryptosis – Bionic Swarm [Netherlands]
Genre: Progressive Thrash
Released: March 26th, 2021 via Century Media Records
In 2021, new boys Cryptosis downloaded their cyber-thrash debut, and Bionic Swarm was every inch the world-beater most of us thought it was going to be! We say 'new boys' but Cryptosis had actually been flogging that 'frash' horse for a while now; previously under the 'typically thrash' name of Distillator….who were a damn fine band in themselves. However, Distillator have resolutely transformed – upgraded in fact – into a Vektor-esque, cyber-thrash juggernaut that should dispel all notions that thrash, in 2021, is a moribund genre.
So much more than mere diversification, Bionic Swarm represented the second coming for these seasoned thrashers, one that replicated the cyber-transfiguration that led Cryptosis to the transformative state they can be found inhabiting today.
With atmospheric numbers such as the enthralling "Prospect of Immortality" nestling next to the 'thrashier' likes of "Decypher", Bionic Swarm truly had everything a fan of progressive/technical futuristic thrash could desire; wholly exhibiting a perfect union of classic thrash tropes and the bold, experimental nature of Vektor.
---
DVNE – Etemen Ænka [UK]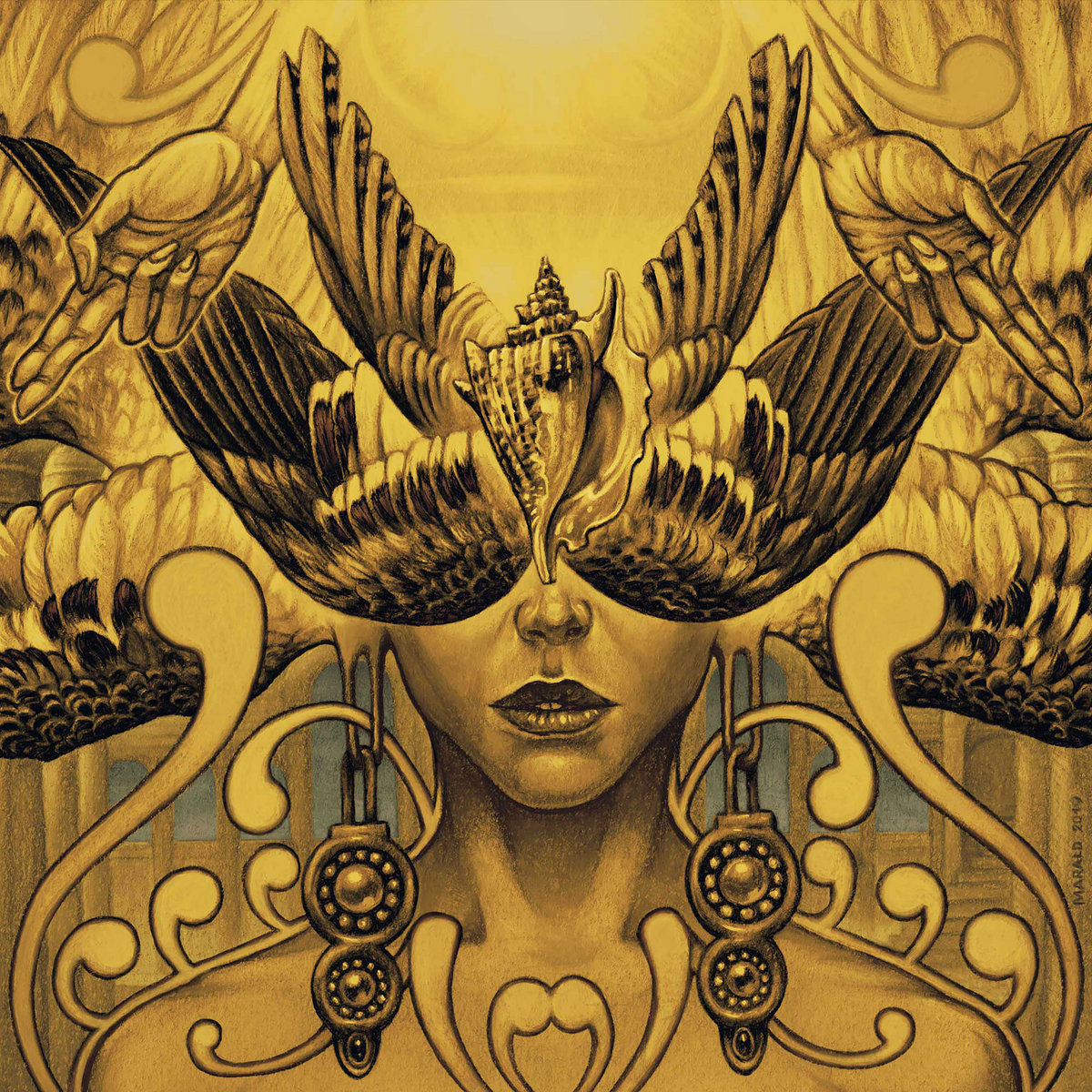 Genre: Progressive Sludge/Post-Metal
Released: March 19th, 2021 via Metal Blade Records
It's not that often that sludge and stoner rock/metal gets progressive but progressive Scottish experimentalists Dvne most certainly are….particularly on fascinating new album, Etemen Ænka!
Admittedly, Etemen Ænka wasn't a massive step away from the kind of output that has seen Mastodon become masters of the craft over the last decade or so but Dvne should not be marked down for treading a similar path; especially when their music is this interesting, this fearless and this poised.
We're in progressive metal territory so you're already expecting long songs which journey through all manner of transitional elements and Dvne, in that respect, do not disappoint. It helped that Dvne used keyboards judiciously, balancing shifts in rhythm expertly and harmonising beautifully.
It also helped that the huge sound the band are going for came across as well as it did, expertly conveyed with drama and a sense of identity.
---
Enforced – Kill Grid [USA]
Genre: Crossover Thrash
Released: March 12th, 2021 via Century Media Records
Fuck-ing-hell. This was the shit, right here.
Enforced's Kill Grid was the kind of full-throttle, take no prisoners crossover thrash that had you picking a fight with your own living room within seconds of hearing searing opener, "The Doctrine".
As furious as your Mum when she discovered how many spunk-filled socks were under your bed (sorry Mum), Kill Grid was unashamedly aggressive, fuelled by Knox Colby's hardcore bark and the kind of frenzied riffing that propelled Slayer to god-like status.
All of us left reeling after the tragic passing of Power Trip's Riley Gale should take solace in the fact that Enforced will pick up exactly where Power Trip left off! 
Crossover thrash has its new saviours!
---
Flotsam And Jetsam – Blood In The Water [USA]
Genre: Thrash Metal / Power Metal
Released: June 4th, 2021 via AFM Records
Damn, Flotsam and Jetsam are on a hot streak! These Arizonian thrash / power /speed metal veterans have been releasing consistent and high quality material since 2016's self-titled 12th album reawakened them from their apparent slumber….and they've not looked back since! 
Bracing for the impact of these bruising, high-energy, thrash/speed freak-outs was pointless as Flotsam and Jetsam were operating at kill-level intensity here and if you enjoyed Flotsam and Jetsam (2016) and The End Of Chaos (2019) – and if you didn't, you're in dire need of immediate medical attention – Blood In The Water completed one hell of a latter day trilogy.
Just like Overkill, this album proves you CAN do what you did 35 years ago and still have it sound fresh and frantic! With no useless or discarded objects to be found bobbing around Blood In The Water's 53 min run time, the album proved to be a distillation of 35+ years of hard graft and experience into one ass-kicking album.
---
Fractal Generator – Macrocosmos (Canada)
Genre: Technical Death Metal / Experimental Death Metal
Released: January 15th 2021 via Everlasting Spew Records
Canadian mentalists Fractal Generator seriously delivered the goods on sophomore album, Macrocosmos.
Here's the deal. It can be almost impossible to make music as technically adept and sonically devastating as this while remaining both accessible and, most importantly, listenable….but Macrocosmos achieved this with ease!
Without once abandoning death metal's primal aggression, Fractal Generator managed to construct an intricate work that dodged standard devices while remaining resolutely memorable.
Out-fucking-standing.
---
Green Lung – Black Harvest [UK]
Genre: Doom / Stoner
Released: October 22nd, 2021 via Svart Records
As far as getting your retro doom/rock fix in 2021 goes, your needed look no further than Green Lung's sophomore effort, Black Harvest.
With heavy use of John Wright's organ (no giggling at the back), the 70s vibes on Black Harvest were ridiculously strong, with Black Sabbath, Queen, Deep Purple and Boston (check out the opening to "The Harrowing" which 100% cribs from Boston's "Foreplay") proving to be the most obvious touchstones.
Fortunately, Green Lung are far sharper – dapper even – than the endless Sabbath/Purple knock-offs who peddle their well-worn wares. Flamboyant and eager to dabble in psych rock freak-outs, Green Lung's effervescent energy is funnelled via pagan nightmares of darkness and death; expertly balancing traditional UK doom metal sounds with the wizardry and the ostentatiousness of prime 70s rock.
Bewitching hard rock, stoner, doom from masters of the (witch)craft!
---
Helloween – Helloween [Germany]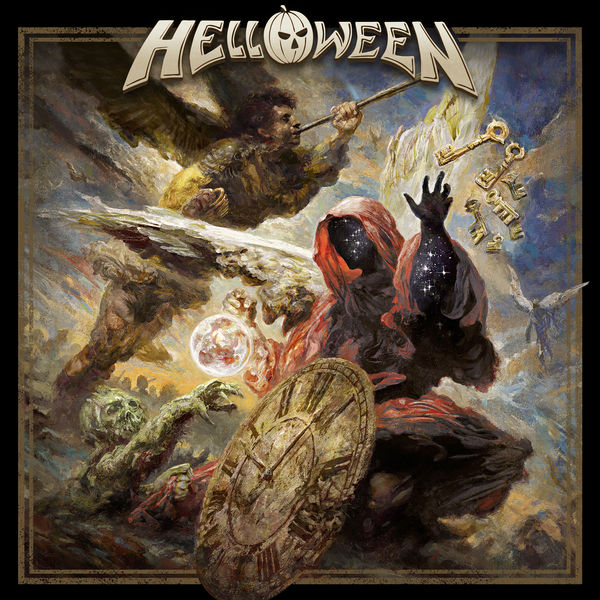 Genre: Power Metal
Released: June 16th, 2021 via Nuclear Blast
The idea of Michael Kiske and Kai Hansen returning to Helloween, without Andi Deris having to depart to make space for them, sounded great on paper….but whether they could be seamlessly integrated back into the fold on a permanent basis was another thing entirely. While the Pumpkins United performances laid to rest the majority of concerns, the recording of a new album with all three involved was always going to be a trickier test and one that this seven-strong line-up thankfully handled with aplomb!
This was Helloween ramped up to obscene levels – with Kai Hansen proving his worth on guitar and vocals and Michael Kiske and Andi Deris effortlessly combining – and the majority of Helloween was an unmitigated success and one that ably balanced this much talent without detriment to the song writing. With the threat of compromise eliminated and ego's seemingly in check, it's clear that this wasn't a marriage of convenience but a coming together of passionate, like-minded individuals intent on pushing the band to hitherto unreached heights. While surpassing their most worshipped releases would be an almost impossible task – it would take something ridiculously special to usurp Keeper of the Seven Keys Parts I & II from their lofty perch – Helloween nevertheless defiantly reached for the stars and, ultimately, succeeded in virtually every department.
We never should have doubted them.
Further reading: Pumpkins United: Where Does Helloween's New Self-Titled Album Rank In Their Sprawling Back Catalogue?
---
Journey Into Darkness – Infinite Universe, Infinite Death [USA]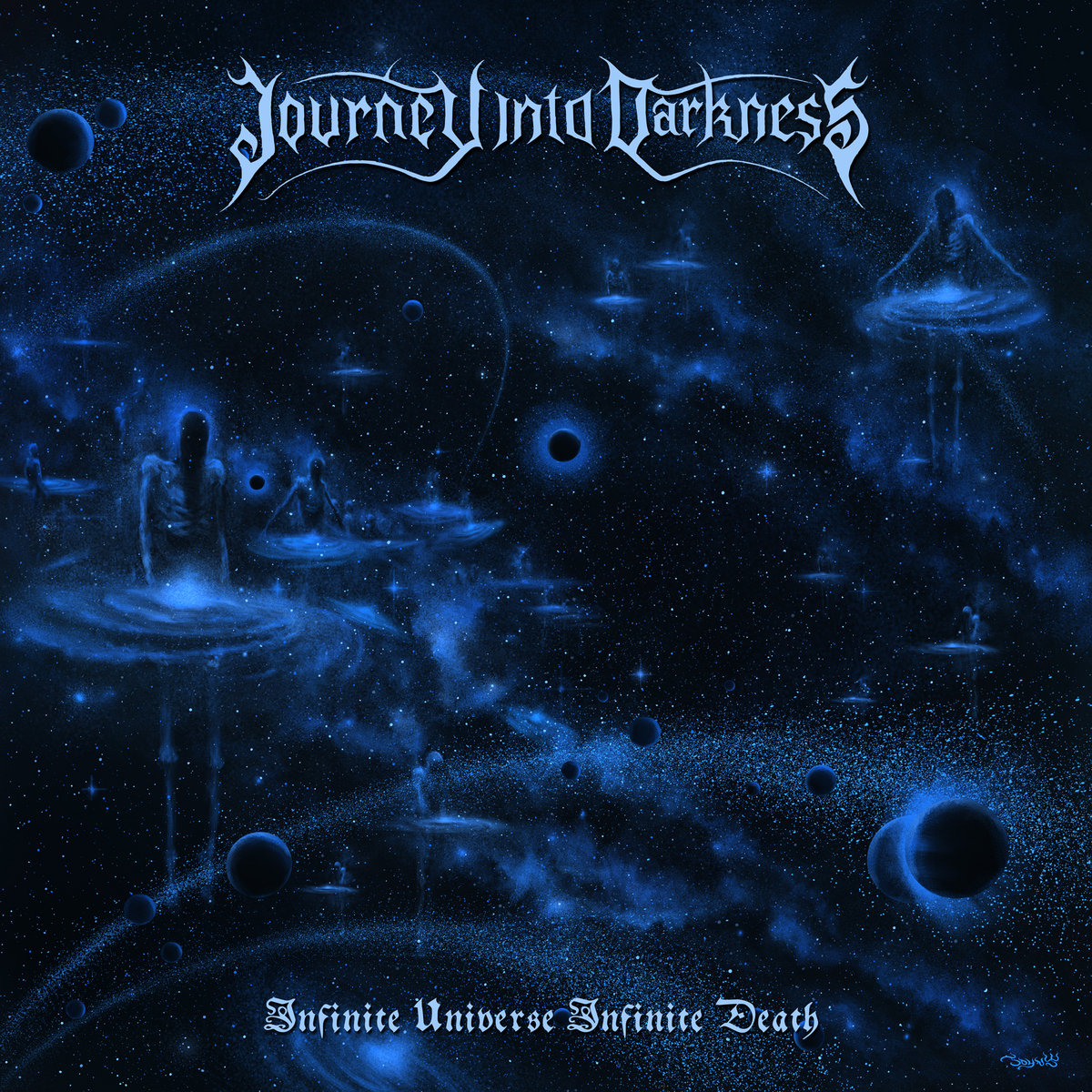 Genre: Symphonic Black / Death Metal
Released: Independently on September 10th, 2021
Journey into Darkness is the brainchild of ex-Sorrow guitarist Brett Clarin (whose 1992 Hatred and Disgust is a must-hear classic of death/doom) but don't go expecting slovenly dirges of dank dismay here, as Infinite Universe, Infinite Death was an expansive collection of symphonic blackened death metal that was as otherworldly as it was obliquely oppressive!
Appropriately orchestral and absolutely huge in scope, the exhausting nature of Clarin's compositons render them bedfellows of Dimmu Borgir and their ilk but that band's pomposity was thankfully reeled in here, ostensibly swapped for a more visceral and, overall, more vindictive approach.
---
Kal-El – Dark Majesty [Norway]
Genre: Stoner / Doom
Released: 27th August, 2021 via Majestic Mountain Records
We could have reviewed Kal-El's latest album, Dark Majesty, in the usual manner (brief history of the band, breaking down the songs, comparisons to bands that came before them etc etc) but there would have been very little point in doing so. Kal-El play stoner / doom so you know what to expect and as a genre, much like the majority of black metal, there's precious few 'new things' to say.
Suffice to say, Dark Majesty soared into the stratosphere on the back of planet-shaking grooves, spacey vibes and universe-sized riffs.
So far, so predictable.
However, when it comes to Kal-El, this band 'do' stoner/doom better than virtually everyone else. So, go lose yourself in Dark Majesty's heaviness and revel in the power of the almighty riff.
Kal-El have made it easy for you. Just hit play. 
Latest Posts