Worship Metal's 35 Greatest Albums Of 2021
Best of 2021....
Thron – Pilgrim [Germany]
Genre: Black Metal
Released: February 19th, 2021 via Listenable Records
A cold slab of meaty black metal always goes down a treat when served up properly – as opposed to the lukewarm morsels of barely audible, recorded in a tin can, one-man and his Casio dirge we often find at the bottom of the promo bin – and THRON's third album, Pilgrim, fortunately fits very much in the first category!
Abrasive, angular and astutely aggressive, these German's craft their art carefully; building and building their bouts of bitter brutality into a fervour of magisterial proportions. This description may lend itself to a symphonic black metal feel but THRON avoid the temptation to bombard us with a cacophony of orchestral noise and instead subtly emploedy keyboards to great effect.
Following 2018's impressive sophomore release Abysmal (thoroughly recommended if not heard already) was always going to be a challenge but THRON emerged from the Black Forest triumphant. An album full of revelatory twists and turns, with Pilgrim, THRON established themselves as one of the most promising acts in not only the German black metal scene but also as a burgeoning global force!
---
Tower – Shock to the System [USA]
Genre: Trad Metal
Released: November 19th, 2021 via Cruz Del Sur
God damn. This is the shit right here.
Like a W.A.S.P meets Warlock bunk-up, Tower's formidable grasp of all things METAL (well, 70s & 80s metal) was writ large over Shock To The System's virtually faultless 10 tracks! Brimming over with raw energy and supreme talent, this was one of the most convincing albums we heard all year, regardless of genre. With massive songs intent on honouring the greats of classic heavy metal, punk, NWOBHM, speed metal, thrash and doom, Tower's skill at taking influences from all and fashioning something this exciting out of it was nigh on short of incredible!
However, as good as these songs are, they'd pale into insignificance if it weren't for the astonishing vocal performance of Sarabeth Linden. What a voice! Like a banshee mix of Stevie Nicks, Doro and Coven's Jinx Dawson, the unstoppable machine at the heart of Tower is undoubtedly this most talented and committed of performers.
You'd better run, you'd better hide…..as this shock to the system's likely to stop your heart!
---
Wode – Burn In Many Mirrors [UK]
Genre: Blackened Death Metal
Released: April 2nd, 2021 via 20 Buck Spin
While British bands like Grave Miasma, Cruciamentum and Vacivus have been all the rage lately (and deservedly so), bands influenced by Swedish bands like Dissection, Necrophobic and Watain have been overshadowed by a grimier sort of sound. Fortunately, thanks to Wode's new masterpiece, Burn in Many Mirrors, we were once again reminded that melodic blackened death metal is alive and well in the U.K!
In old English the word wode translates to raging, enraged, insane, senseless, or blasphemous – and it's an appropriate moniker for these Brits. An epic and intense album with many memorable riffs, songs and expertly executed metallic intensity, this six-song, 39-minute extreme metal assault could tear a hole in the fabric of reality with its scythe-like precision.
While their last LP, Servants of Countercosmos, was a fine example of a band that understood the complex trappings of Scandinavian black metal – and was a touch more brutal and chaotic – on Burn in Many Mirrors, Wode tempered their insanity just a tad and proved that they are here for the long haul.
---
Worm – Foreverglade [USA]
Genre: Funeral Doom / Death / Doom
Released: October 22nd, 2021 via 20 Buck Spin
Worm's ironically swift journey from black metal to funeral death/doom has been an interesting one and with 2019's Gloomlord pricking the ears of the death/doom initiated, it was left to this years Foreverglade to cement their place as firm favourites of the scene.
Heavy on the synths and heavy on the stately pace of prime funeral doom, Worm's ability to create a morbid atmosphere amidst the misery and malcontent of chugging riffs, mournful moans and guttural growls was virtually unparalleled in 2021.
Jarring transitions from doom to death were largely avoided as Worm went about fine-tuning their sound and settling on an atmosphere of both otherworldly grandeur and the stench of the primordial swamp.
---
Wraith – Undo The Chains [USA]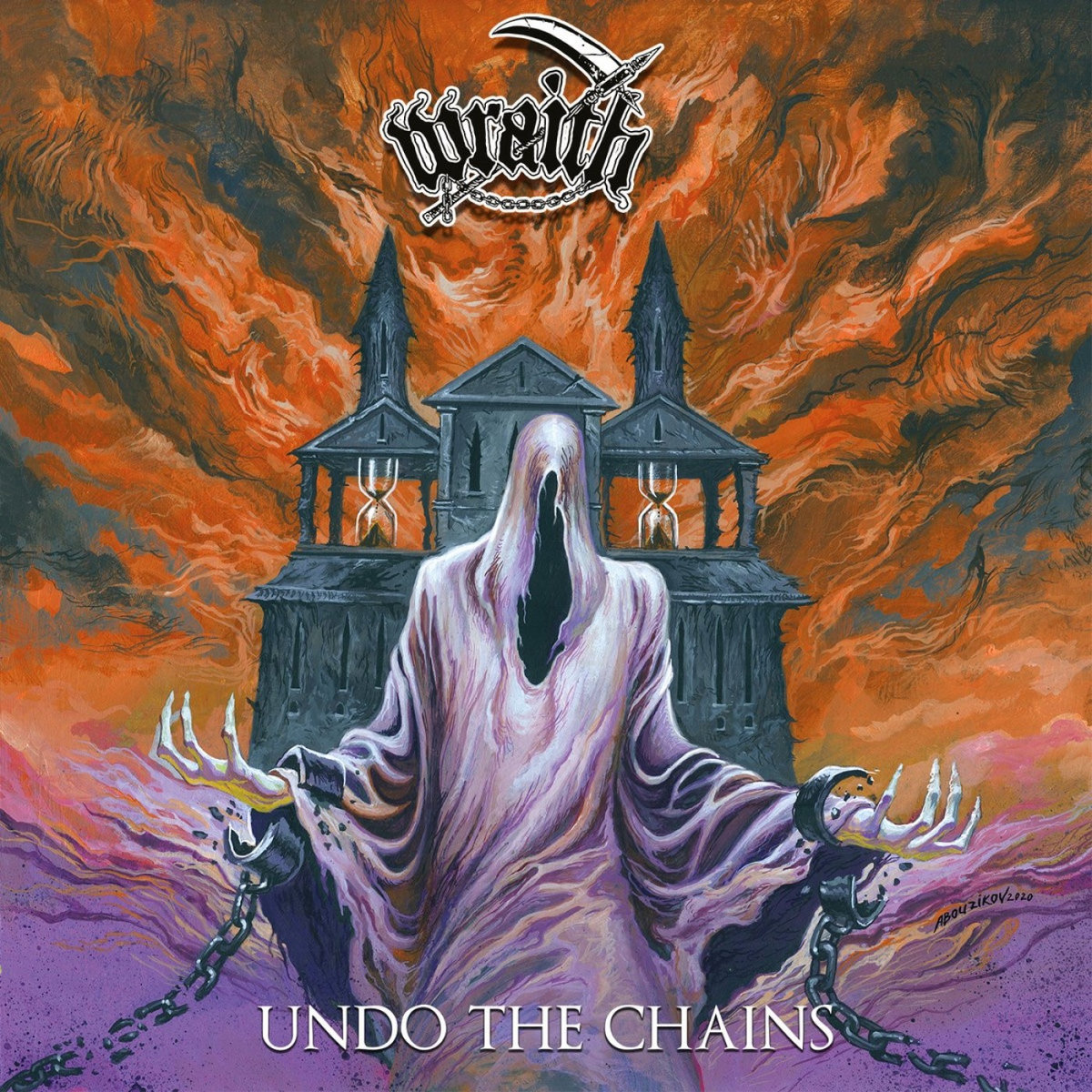 Genre: Thrash / Speed Metal
Released: September 24th, 2021 via Redefining Darkness Records
When compared to 2019's Absolute Power, US thrashers Wraith considerably upped the ante with Undo The Chains, improving immeasurably on both production and songwriting and finally staking their claim as emerging heroes.
With their punk influences softened, it was predominately left to the thrash and the speed metal to do the talking…..and the likes of "Born To Die" (with its rough and ready Motörheadmeets Venom meets early Metallica clatter) and the Kreator-esque raw energy of "Cloaked In Black" were talking LOUD!
Simple and fun, Undo the Chains was an absolute blast from start to finish with Wraith's rippling energy bursting forth at the seams as 30 mins whipped by in a flurry of 80s inspired, mosh-friendly blackened anthems.
As is the very nature of these lists, the above selections are extremely personal. So, we encourage you to pop your greatest metal albums of 2021 into the comments below and we'll have a nice, civilised chat about 'em…..
Latest Posts