The 20 Greatest UK Thrash Albums Of The Last 5 Years! ***UPDATED***
God save our noble thrash....
Reign Of Fury – Exorcise Reality (2019)
While not quite in the same league as 2015's Death Be Thy Shepherd (a high point for modern UK thrash if ever there was one), 2019's Exorcise Reality shifted gear and toned down the fury in favour of something a little more power/thrash in nature – and it paid dividends too!
With twin guitar harmonies and melody pushed to the forefront, there was something so intrinsically, classically British about this release (the influence of Maiden, Priest etc are ever present) that you couldn't help but sit back and soak up the nostalgic thrill of hearing great metal, played extremely well.
In fact, it's testament to Reign Of Fury's song writing prowess that this album may only be approaching 3 years old and yet it sounds so damn timeless. That's the sign of quality right there.
---
Lawnmower Deth – Blunt Cutters (2022)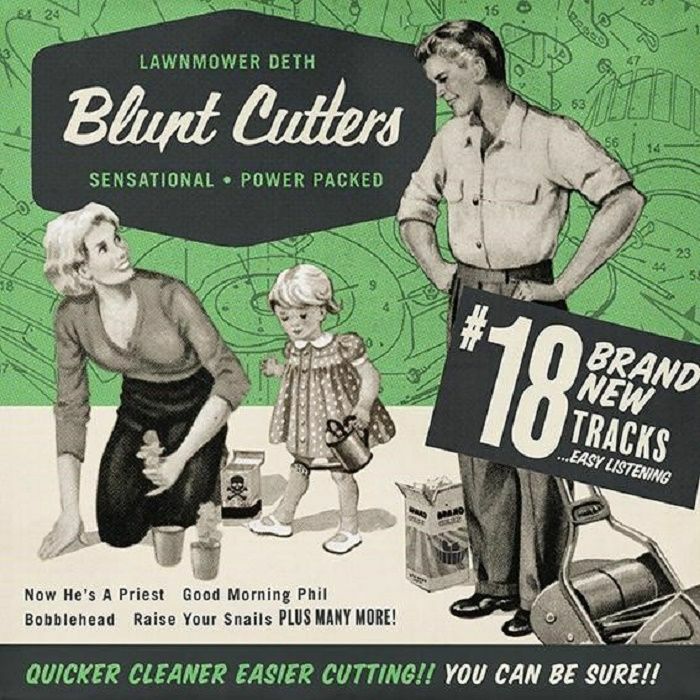 Crank up them mowers, it's UK thrash time…..and we have legends in our midst. Lawnmower Deth may have been quiet on the recorded output front (fans have waited 29 years for this new release) but they're back baby, and they're here to stay!
While "Raise Your Snails" is pure Lawnmower Deth lunacy at its finest, "Into The Pit" (not a cover of the Testament track, Lawnmower Deth don't need to cover those losers) is a back-snapping ode to the joys of moshing (even at our frankly inappropriate age) as we're instructed to enter the "Deth pit, lose your shit. Slip your disc, pain kill death". Better do as the Deth say, as these guys mean business. That's right thrashers, despite their deserved reputation for being one of the funniest bands on the planet, Lawnmower Deth can still deliver the 'heavy' when they want to, meaning Blunt Cutters is so much more than just a mere novelty record.
A sublime piece of crossover tomfoolery, the long awaited return of Lawnmower Deth in album form is already the best thing of 2022.
Do you dare to convince us otherwise?!
---
Xentrix – Bury The Pain (2019)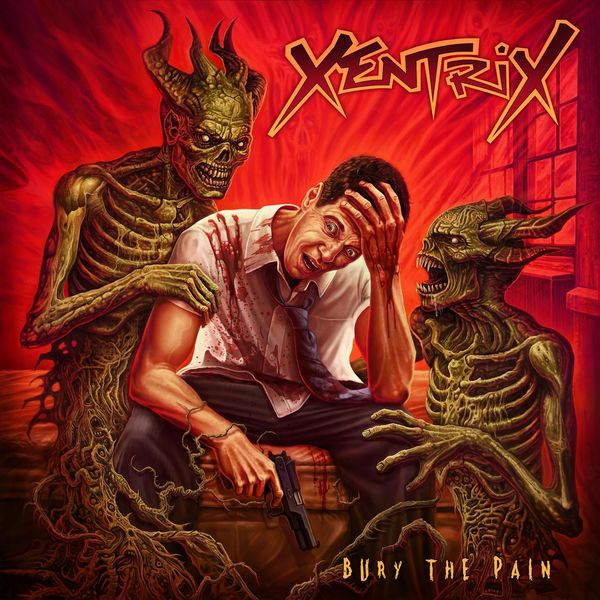 Once touted as UK thrash's answer to Metallica (not quite but bloody close), Xentrix embraced an Americanised sound and their cold, crisp riffing, mid-paced thrashing and Chris Astley's confident bellow originally elevated them to the upper echelons of the UK thrash scene. The good news is that Xentrix circa 2019 still sounded like Xentrix circa 1990 and their recognisable sound was front and centre throughout…..all be it modernised for today's audience (and without Chris Astley at the helm).
Bury The Pain exhibited a seamless flow – led by a huge grasp of melody and a penchant for delivering an endless parade of solid, bruising, thrash ditties – and Xentrix's scintillating combination of Metallica and the UK's own Onslaught (along with a little Testament thrown in for good measure) truly took flight on "There Will Be Consequences" and "The Red Mist Descends".
While a lack of diversity may irk some new listeners, it's clear that Xentrix were by no means playing catch-up with the rest of thrash metal's renaissance crew and we maintain that Bury The Pain is simply the sound of a tight unit excelling at their own perfected brand of semi-melodic, mostly mid-tempo, kick-ass THRASH!
---
Virus – Evilution Apocalypse (2020)
This was the album we all hoped Coke Finlay and Virus were going to make!
Old-school thrash at its finest, Evilution Apocalypse is as honest as they come; a 100% grassroots thrash album which both honours Virus' past (and their influences, which include classic Exodus and Vio-Lence) while defiantly signalling a future which deserves to be brighter than their somewhat chequered past.
Full of ideas, this restless savage of an album lives and dies by its dexterity, devilish sense of humour and direct approach and Virus sure as hell can't be accused of playing it safe with this one. The reboots of old classics "Force Recon" and "Release The Dead" aside, this new material ticked all the thrash boxes as Coke and the boys bought both technicality and brutality to the fore.
Highlights? We'd single out both the scathing rhetoric and satisfying crunch of "Goat (Father, Scum and Unholy)" and the classic thrash sounds of "Multiple Wargasms"; songs that are, potentially, the best of Virus' career.
Evilution Apocalypse was the only virus in 2020 that was a welcome one!
---
Evile – Hell Unleashed (2021)
As far as UK thrash goes, 2021 was the year of Evile! With the release of Hell Unleashed, the UK's greatest exponents of modern thrash finally returned to the fray…..but with a few changes along the way!
Ol Drake was back in the band and now on vocal duties – with former frontman Matt Drake moving on to pastures new – and Evile were back to thrashin' as hard and as fast (harder, faster, even) as they did on their incendiary debut, Enter The Grave (2007).
Stripped-back and as heavy as all hell, Hell Unleashed primarily went back-to-basics and unloaded a tirade of caustic thrash anthems upon the world. No bullshit, no fannying around, just 100% thrash from a band who may have wobbled along the way, but are now back at the forefront of UK thrash and proudly wrecking necks again – long may it continue!!