The 20 Greatest UK Thrash Albums Of The Last 5 Years! ***UPDATED***
God save our noble thrash....
Thrashist Regime – Carnival of Monsters (2018)
When bands bounce back not only from a relatively long leave of absence but with an album that far, far surpasses their previous output it's a reason to rejoice. And rejoice we did when we heard Thrashist Regime's Carnival Of Monsters back in 2018!
A simply sublime slab of thrash from a band who bounced back in a big way, Thrashist Regime sounded like Anthrax one minute, Onslaught the next, and there was also a crossover edge to their blistering attack as gang vox and lightning-fast riffing indulged every thrash fans wanton whim. Aggressive yet melodic, it's safe to say Thrashist Regime delivered a stone-cold modern classic in the making; so sharp and focused were Carnival Of Monsters' 11 tracks.
A fuckin' King Kong of an album, a Godzilla-sized thrash monster, a Frankenstein-esque assembling of thrash metal's finest moments…..a carnival of ABSOLUTE thrash monsters!
---
Sun Of The Endless Night – Life… A Tragedy Tainted By Malevolence (2021)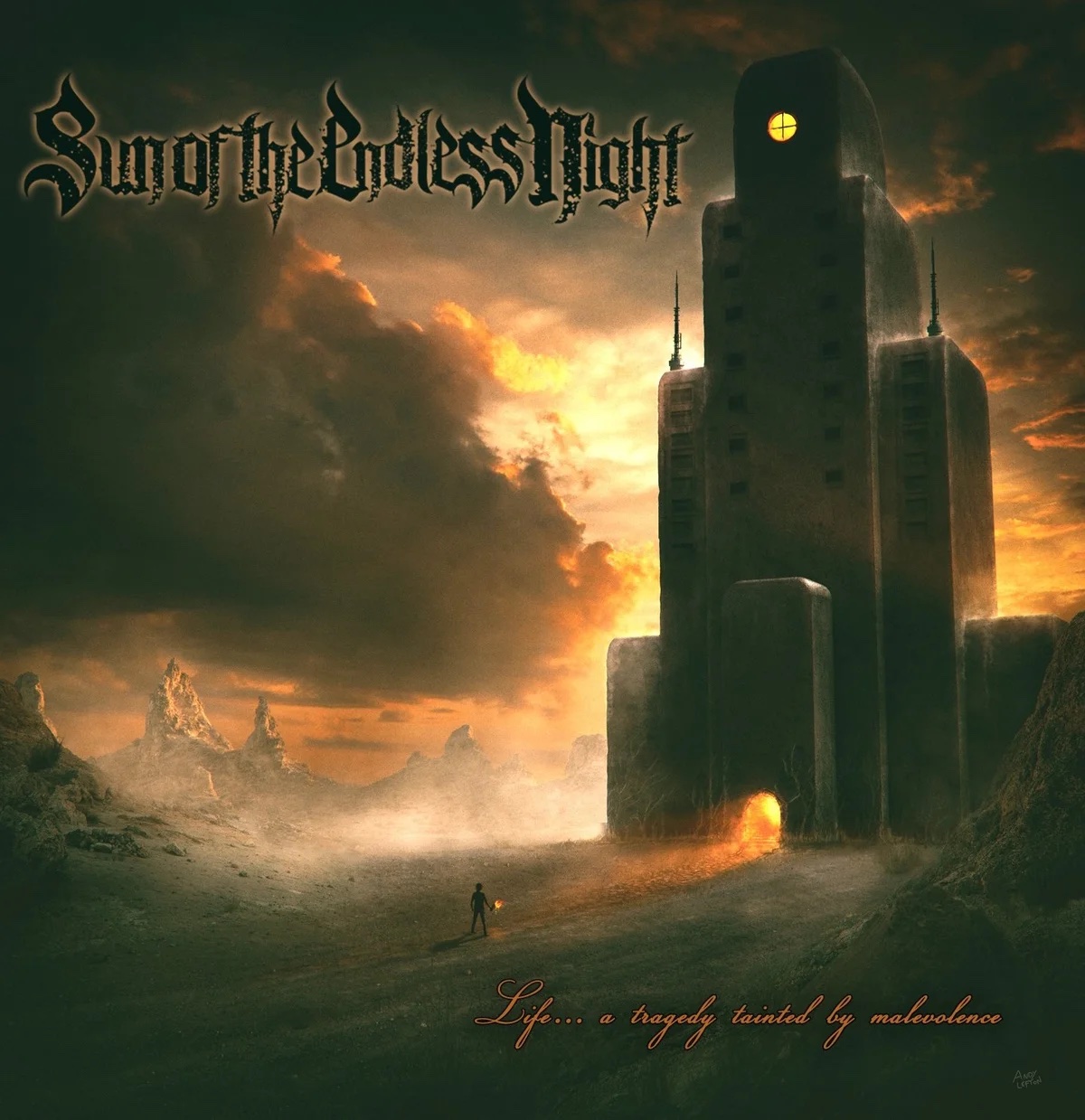 Fronted by the inimitable Si Cobb (he of almighty UK thrash royalty Anihilated – more on them later!), this politically-charged, technically audacious thrash metal outfit also features current and ex-members of Suicide Watch, Stampin' Ground and Decadence Within and their sophomore album, Life… A Tragedy Tainted By Malevolence, is yet another blast of raging thrash ripped straight from the old-school rulebook!
A seething mass of scything riffs and feral howls, Sun Of The Endless Night are remorseless in their intensity and short, savage shockers such as the Slayer-esque "Who Let The Night In" and the more adventurous "Once Upon A Death" are testament to a band with nothing to prove….but everything to say.
Tracked in the shadow of a global pandemic – and fully encapsulating the fear and paranoia of these troubled times – Life… A Tragedy Tainted By Malevolence is as scathing as they come and showcase a band at the forefront of the UK's current scene.
If the modern output of Kreator, the socio-political leanings of Anihilated circa 2015's Anti-Social Engineering and the merciless attitude of Slayer still ring true in your tinnitus-ravaged ears then Life… A Tragedy Tainted By Malevolence will satisfy your rotten soul.
Also recommended: Symbols of Hate and Deceitful Faith (2019)
---
Xentrix – Seven Words (2022) ***NEW ENTRY***
2019's Bury The Pain was one helluva comeback…. but would Xentrix be able to follow it with an album that proved they were back for the long haul? The answer was simple – of course they fuckin' could!
While not exactly giving us 'more of the same', Seven Words was still instantly recognisable as a Xentrix record…. which is a wonderful thing. At their best, Xentrix have always been a band who deliver muscular yet melodic thrash, blessed by great production and kickass artwork – Seven Words was no exception. This beast had the lot. It barked, it bit, it hit you with indignant fury ("Kill and Protect"), lodged ear-worms in your brain (the title track) and delivered some truly satisfying Bay Area chug ("Everybody Loves You When You're Dead").
So far, so familiar, so Xentrix. And yet, there was something about the quality of the songwriting, and the immediacy of the hooks, that had us rating Seven Words so highly. This was Xentrix sounding absurdly confident and 100% comfortable in their own skin; ultimately resulting in an album that will find itself at the top of many a 'best of 2022 thrash' list.
---
Acid Reign – The Age Of Entitlement (2019)
When Acid Reign announced that a brand new album was finally in the offing, it's fair to say that thrashers in the UK (and beyond) were trippin' their tits off at the thought of a new release from these cult legends. Hopes were uniformly high after the quality of the 2 singles that preceded the release of The Age Of Entitlement – "Plan Of The Damned" and The Man Who Became Himself" if you didn't already know – but, in actuality, The Age Of Entitlement went on to exceed any and all expectations by a huge margin!
It was interesting to see that neither "Plan Of The Damned" or "The Man Who Became Himself" featured on the album and, in our humble opinion, this decision made the singles even more 'special' and the album even better.
New tracks, no filler!
And those tracks were all, and we do mean all, outstanding. "The New Low" was heavy, angry, pacy and home to a catchy as fuck chorus (it's a modern thrash classic in the making) while "Sense Of Independence" began with a little Marc Jackson wizardry on the drums before launching into just under 4 minutes of thrashy mayhem. Pace was played with, convention was toyed with and Acid Reignsimply delivered the best thrash metal album of 2019.
Ladies and gentleman, this is how you write a comeback album!
---
Onslaught – Generation Antichrist (2020)
Onslaught are a UK thrash institution. Scratch that. Onslaught are a thrash institution regardless of geography. From seminal 80's release The Force (an album that, at the time, rivalled Slayer in the ferocity stakes) to the divisive, but blatantly brilliant and mainstream-courting In Search Of Sanity (1989), and onto their 3 albums post 2004 reformation, Onslaught have delivered nuthin' but thrash gold!
Which brings us neatly to album number seven, Generation Antichrist, an album NOT fronted by renowned and instantly recognisable frontman Sy Keeler. Gulp. A new singer is always a difficult sell but, if Onslaught's savage reputation is anything to go by, they surely adorned themselves with a reliable replacement? We'll come back to this particular point later as for now we're moving onto the music.
Short, sharp and savage opener "Rise to Power" was as crushing as you'd expect, with these dogs of war seeking to re-build their army and march on to modern metal glory with thrash ringing in their ears. It worked. Perfectly. Segueing effortlessly into "Strike Fast Strike Hard", whose opening riff recalls Sepultura's "Arise" (in a good way), we're already heading into pure thrash nirvana. This was blatantly an updated, modern Onslaught but it's still unmistakably the band who gave us 1986's The Force and 2004's Killing Peace (our favourite Onslaught albums if you're wondering why we've picked them)
At this point, are we missing Sy Keeler? Surprisingly, no.
Dave Garnett (Bull-Riff Stampede – the band that just keeps on giving) equips himself remarkably well, honouring the tones of Sy Keeler while avoiding mere mimicry. This could have been a thankless task but much in the same way as Xentrix's Jay Walsh (thanks again Bull-Riff Stampede) has ably filled the shoes of Chris Astley, so Dave rises admirably to the occasion. In this aspect, the relief is tangible because it meant we could concentrate less on a new band member and more on the actual music; music which, we are more than thrilled to say, was as caustic and as nihilistically thrilling as ever.
Generation Antichrist contained 9 tracks of blistering old-school thrash, with a modern sheen, delivered in the manner we have continued to adore and respect ever since 'comeback' album Killing Peace floored us in 2007. "Bow Down to The Clowns" ripped and tore its way through your earholes, while the scathing title track – in all its blasphemous beauty – threw stones at organised religion, and the seething "All Seeing Eye" and the self-explanatory "Strike Hard Strike Fast" all stung with their anti-establishment rhetoric.
Perhaps surprisingly, Generation Antichrist was back-ended with its best tracks with "Empires Fall" reaching a new level of righteous indignation, the impious "Religiousuicide" acting as the perfect companion piece to Killing Peace's title track and "A Perfect Day To Die" bringing the curtain down as the finest song on the album. As closing salvos go, these 3 songs are unbeatable and offer up exactly what you crave from these seasoned professionals.
As previously mentioned, Dave Garnett's vocals are admirably seamless in their transition but, in particular, Nige Rockett deserves to be singled-out, not just for his exemplary work here, but also for his overall contribution to thrash over nearly four decades; such is his unwavering dedication to the cause and his innate ability to pen riffs that pin you to the wall.
Sy Keeler may be gone but with Generation Antichrist, Onslaught lived on!