The 10 Greatest UK Death Metal Releases Of 2021!
5. Carcass – Torn Arteries
Released: September 17th, 2021 via Nuclear Blast
Carcass are legends. Pure and simple. From their humble grindcore beginnings to redefining death metal with the astonishing one-two of Necroticism – Descanting the Insalubrious (1991) and Heartwork(1993), Jeff Walker, Bill Steer, Ken Owen and Michael Amott were responsible for ushering in an age of melodic death supremacy.
And then they fucked off. For bloody ages.
2013's Surgical Steel was their much heralded comeback and, in 2021, Carcass finally unleashed their 7th full length opus, Torn Arteries!
Carcass have nothing left to prove….so, with Torn Arteries, they simply had fun! There was no dicking around with formula with Carcass simply doing what they do best….and that was crafting exemplary, groove-laden death metal songs that hit hard and hit with a self-deprecating humour that indicated they fully understand their place in death metal's illustrious history. Job done.
---
4. Unfathomable Ruination – Decennium Ruinae [EP]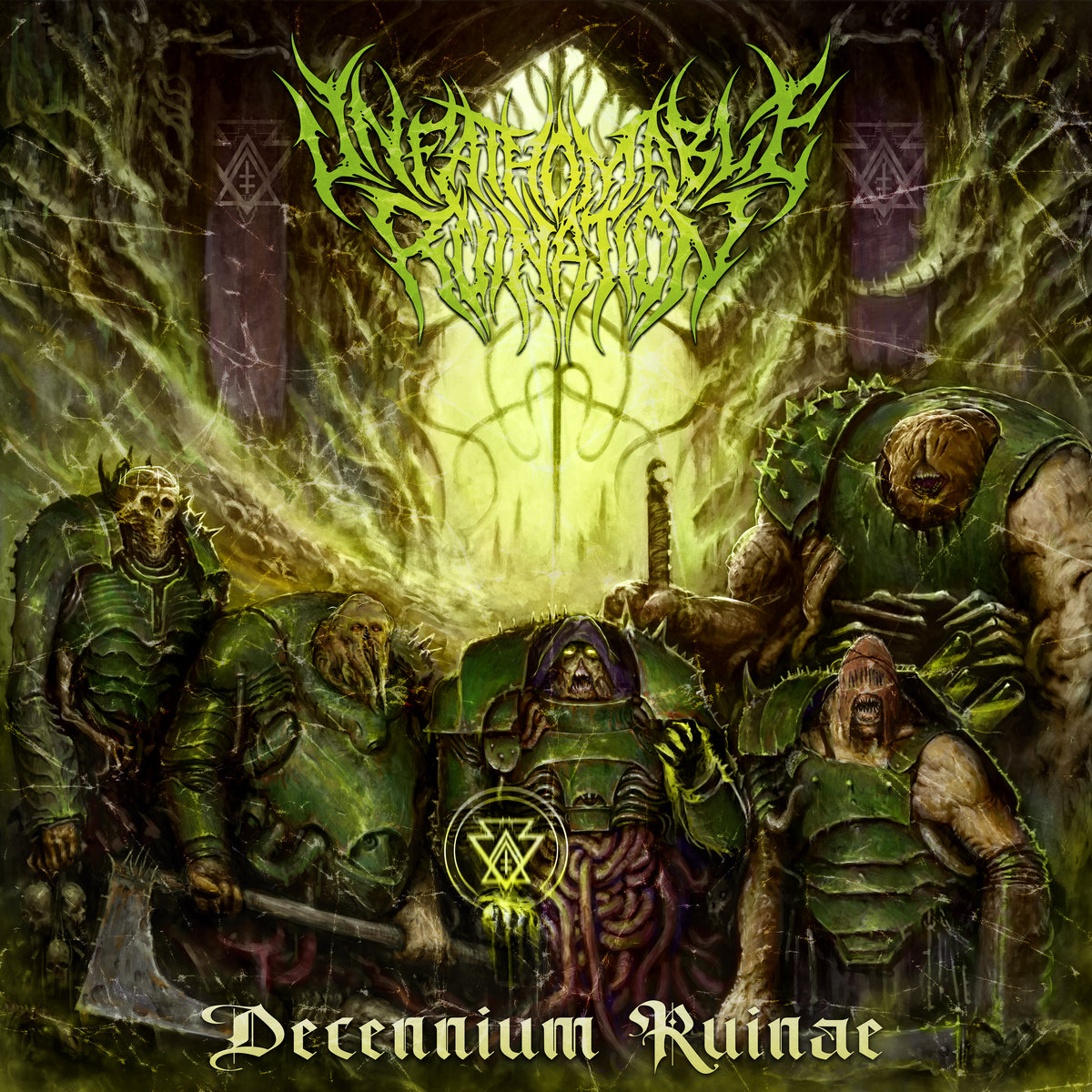 Released: May 28th, 2021 via Willowtip Records
A relentlessly savage four track foray into technical death metal barbarity, Unfathomable Ruination's 2021 EP, Decennium Ruinae, tore UK tech death a new arsehole with its quick-fire bursts of pure, unadulterated, tech-savvy extremity.
Home to enough face-melting, neck-snapping, sack-slapping riffs to fill an entire album, the beauty in Decennium Ruinae lay in its ability to be incomprehensibly brutal while somehow remaining memorable. with songs that stop and start on a dime that's ni mean feat, but one that Unfathomable Ruination have always been masters at.
2019's full length album, Enraged and Unbound, was fucking brilliant and Decennium Ruinae, while no mere stopgap, admirably built on the intensity of that great release….as all good EP's should!
---
3. Memoriam – To The End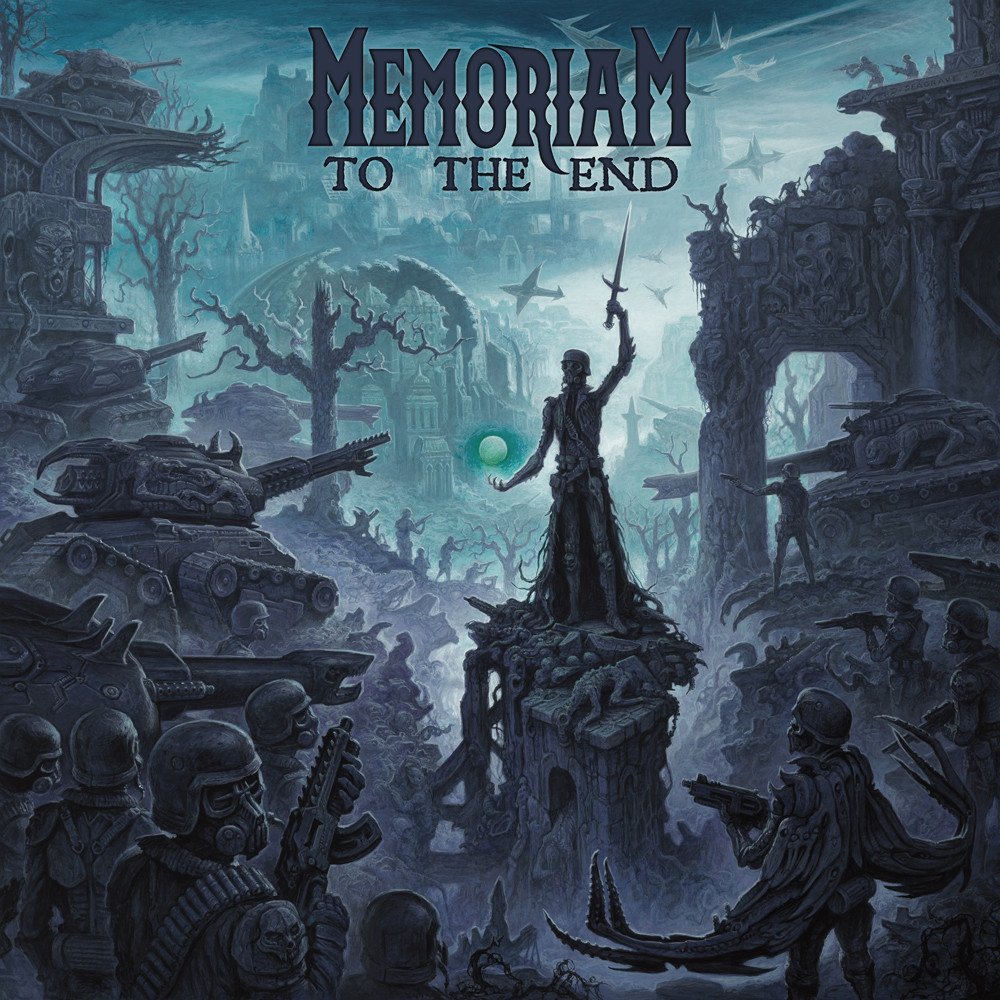 Released: 26th March 2021 via Reaper Entertainment.
After steadily eclipsing previous releases – culminating in 2019's masterful Requiem For Mankind – Memoriam's latest bruising collection marked the beginning of a second trilogy of albums, with To The End serving as something of a prologue to the first three Memoriam releases.
"Onwards Into Battle" was a huge opener; ably building the mood for the entire album and its slow, heavy, destructive nature was as strong an intro as you'd hope for. Conceptually, we were in World War I territory (obvs) with Karl Willets' throaty bellow demanding we march "onwards into battle….one more time" sounding as stupendously heavy as ever. Unsurprisingly, there's no huge surprises here as Memoriam's distinctive sound and approach hasn't been unceremoniously fucked with (which is good!).
That being said, the twin guitar attack of "No Effect" pulled Memoriam into the modern age and ramped up To The End's overall pace and sheen. Alternatively, "Each Step (One Closer To The Grave)" was as death/doom as they come, with Memoriam playing slower than ever and emulating the crushing power of prime Candlemass and Trouble in the process.
Topping Requiem For Mankind was always going to be a big ask but To The End was arguably the finest moment of Memoriam's career to date. Honouring their collective past – while forging stridently into the future – these four seasoned musicians show no signs of slowing down [except on "Each Step (One Closer To The Grave)"] and To The End is merely the next step in Memoriam's ongoing evolution.
---
2. Ageless Oblivion – Suspended Between Earth and Sky
Released: April 30th, 2021 via Apocalyptic Witchcraft Recordings
After a 7 year wait, Ageless Oblivion returned with their 3rd album, Suspended Between Earth and Sky, an album that offered up an all-consuming atmosphere of primal dissonant rage.
Narrowly missing the top spot in this particular list, the key to Ageless Oblivion's cavernous creations lay in their ghastly parade of progressively-minded, thunderously-heavy, world-building songs. Yes. Songs. Not hummable ditties but certainly memorable excursions into the darkest depths of full-on despair.
The demented dirge that is the funeral doom-esque "The Sun Surrenders its Crown" aside, these songs were frightening beasts; epic in duration and dynamically enthralling.
2014's Penthos was a modern-era kick to the throat and remains an unmitigated highpoint of recent (relatively recent) UK death metal. While Suspended Between Earth and Sky doesn't quite beat it, it does come perilously close…..which is good enough for us and fully rewarded our patience for new material!
---
1. Qrixkuor – Poison Palinopsia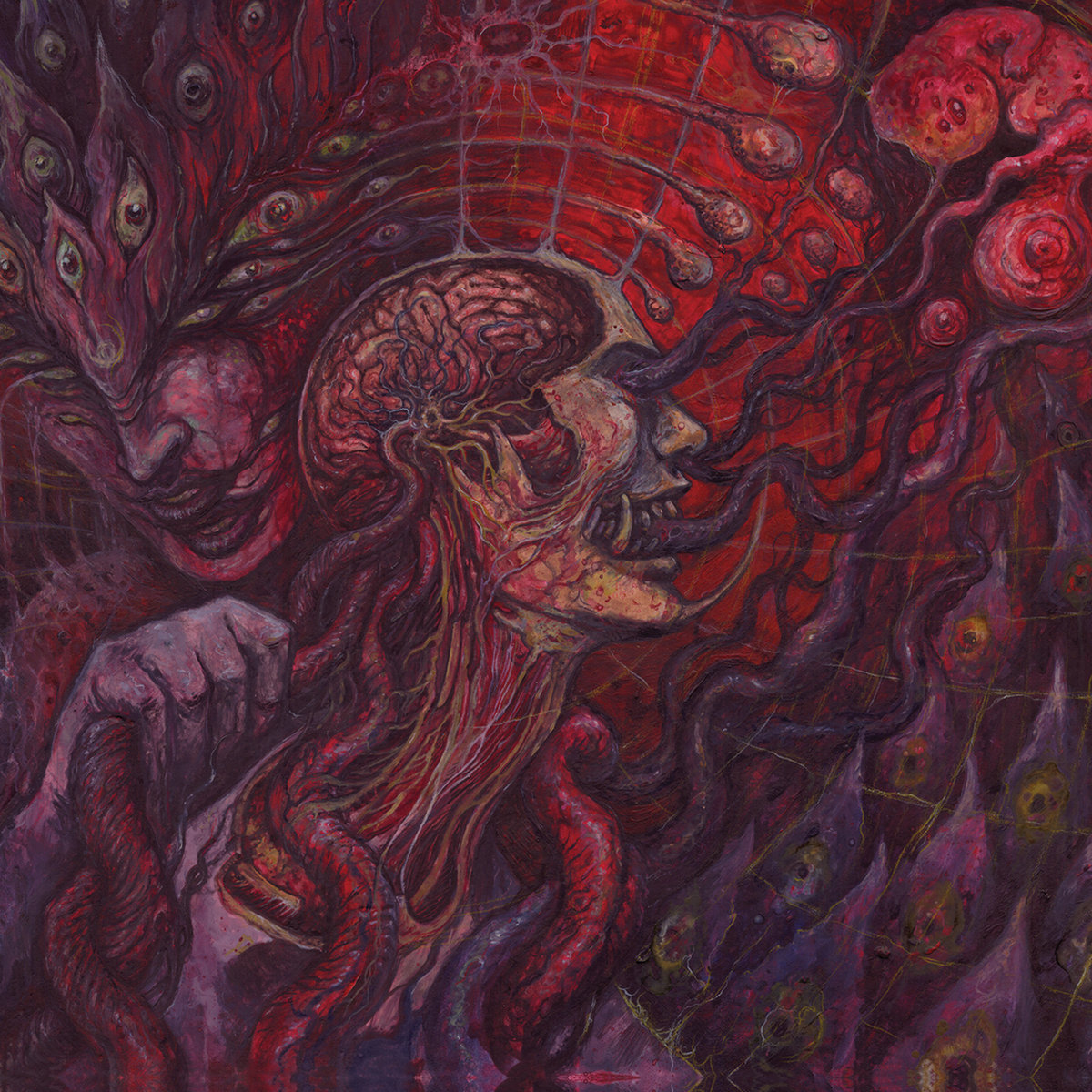 Released: August 13th, 2021 via Dark Descent Records
To the casual and sane music listener Qrixkuor's first full-length release, Poison Palinopsia, was the aural equivalent of a deranged nightmare. However, for those of us who actively seek out such extreme stimulation this album was a twisted and exhilarating excursion into outlandish musical terrain.
Sharing a similar avant-garde take on death metal as fellow Brits Grave Miasma and Abyssal, with Poison Palinopsia Qrixkuor unleashed one of the most complex, brutal and gripping albums in recent memory. Qrixkuor moved throughout their two tracks with varying shades of musical discordance, sonic violence and malignant melodies….and this trio of Londoners managed to meld them all into a true work of extreme art.
With plenty of discordant melodies reminiscent of bands like Morbid Angel and Suffocation, Qrixkuor also had a knack for injecting tuneful phrases and atmosphere in and amongst the insanity of Poison Palinopsia. With intros that would suit a deranged horror movie soundtrack and more than a few changes of pace – from doomy passages to full-on blast-beats – meant there was never a dull moment to be found.
Even though the global extreme music scene is oversaturated – and there are far too many trendy "cavernous" metal bands operating right now – unique and superlative death metal like Qrixkuor will continue to rise to the top of the bloody heap….and that's exactly why it's our UK death metal release of 2021!
Have we forgotten your favourite UK death metal release of 2021? If so, pop it in the comments below…..