Celebrating 32 Years of Rust In Peace : Megadeth's Thrash Metal Masterpiece!
Killing for religion.....Something I don't understand
Rust In Peace – Megadeth's thrash metal milestone – turns 32(!) years old on 24th September 2022…..and it's time to celebrate, honour and remember a thrash metal classic!
With Rust In Peace, Mega-Dave finally realised his vision for Megadeth by recording the pinnacle of precision thrash and attacking with a force to rival a nuclear detonation. Backed by a weapons-grade, crystal clear production job, Megadeth's intricate riffing and earth-shattering speed created an album that was machine-like, yet never soulless.
Rust In Peace helped to usher in an era where the likes of Voivod, Annihilator, Coroner etc could showcase their virtuosity without fear. These were thrash musicians who could really play and Megadeth were at the forefront; primed and ready to unleash their arsenal of tricks on an unsuspecting world.
Megadeth were arguably at their peak in 1990, with Mustaine-recruited shred legend Marty Friedman (Cacophony) providing stunning guitar acrobatics while the rhythm section of Dave Ellefson and Nick Menza locked into a relentless groove; technique and ruthless artistry combining to produce incomparable thrash metal with no let-up and no mercy. Listing highlights would be unnecessary because Rust In Peace is as clinical as a military operation and no track should be skipped.
In 1990, the greatest line up in Megadeth's history produced the greatest album in Megadeth's long, illustrious career & it still sounds futuristic today,
If you do only listen to one song make it "Holy Wars…The Punishment Due" – one of the finest songs in thrash history and an exercise in precision metal performed to perfection – as discussed in Worship Metal's latest PODCAST!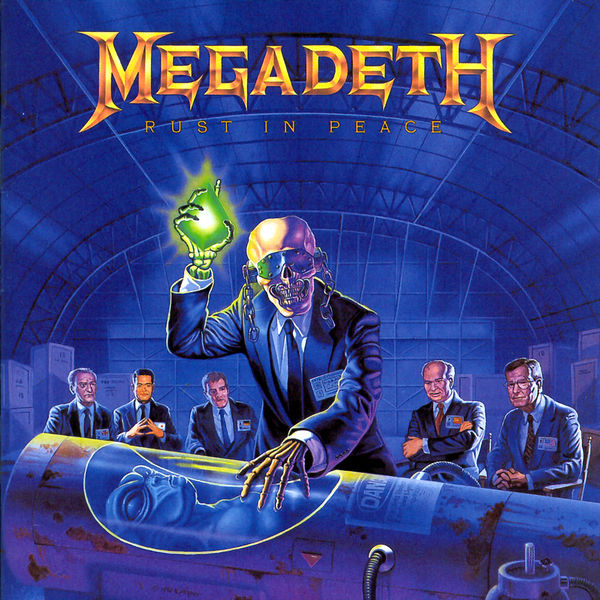 1. Holy Wars… The Punishment Due 2. Hangar 18 3. Take No Prisoners 4. Five Magics 5. Poison Was The Cure 6. Lucretia 7. Tornado Of Souls 8. Dawn Patrol 9. Rust In Peace… Polaris
---
Also check out:
Latest Posts