MEGADETH's Most Underrated Songs….But is Anything from 'Risk' included?!
Of all the so called big 4 of thrash, Megadeth have been the most productive; releasing 15 full studio albums and the Hidden Treasures EP over a genre-defining nearly 40 year career!
Thrash fans are fully aware that Dave Mustaine and his hired hands have released more than their fair share of undisputed classics over the years. However, with such a vast catalogue of work there are numerous high quality songs that become lost in the mire and remain sadly overlooked; songs we would love to hear dropped into a setlist every now and again!
So join us as we countdown the top 13 underrated Megadeth songs, who knows we may even pick something from Risk!
13. "Look Who's Talking"
Taken from the album: Dystopia (2016)
Heavy yet melodic riffs, propulsive drumming courtesy of Lamb Of God's Chris Adler, those infamous snarled vocals; 2016's Dystopia saw Megadeth find form to rival their glory years and bonus track "LOOK WHO'S TALKING" is catchier than a dose of some horrible VD you'd get from one of Steel Panther's Asian Hookers.
Coming across like a slighly more mature version of "Liar", this track – found on the iTunes edition of Dystopia – has Dave Mustaine taking aim at some ne'er-do-well who has wronged him (take your pick as to who he's referring to!) and proves that when it comes to melodic thrash nobody does it better than Megadeth.
Messrs Mustaine, Ellefson, Loureiro and Adler truly showed what they were capable with – throwing out more riffs and intricate solos than you could shake a shitty stick at – and the fact that "Look Who's Talking" was a bonus track proves that Dystopia was one hell of a fine modern thrash record.
Bonus Track? Should have been a main attraction on the album!
---
12. "Family Tree"
Taken from the album: Youthanasia (1994)
Dave Mustaine is a song writer who is rarely afraid to broach difficult subject matter, as can be heard on "FAMILY TREE", a mid-paced track from the second half of Youthanasia in which he tackles the nightmarish scenario of incestuous child abuse.
Centred around a rumbling bass line from Dave Ellefson, the switch from clean guitar lines to melodic riffs adds to the sense of menace portrayed in the lyrics.
Youthanasia may have appeared 'soft' when compared to the fury of prior works but it is home to mainstream metal gold such as this outstanding track.
---
11. "Diadems"
Taken from the EP: Hidden Treasures (1995)
Originally found on the Demon Knight soundtrack, this oft overlooked track begins life as a morbid ballad, heavy with apocalyptic Old Testament imagery, before ushering in one hell of a bouncy, catchy riff and is worth listening to for Mustaine's impassioned vocal delivery alone. Vengeance is mine indeed!
Heavier than the majority of Megadeth's 90's output post Countdown To Extinction, the fact this unsung 'Deth classic was consigned to soundtrack/compilation status is a crime.
"DIADEMS" is a hidden treasure and no doubt.
---
10. "Bad Omen"
Taken from the album: Peace Sells…But Who's Buying? (1986)
One of the songs from the all time classic album Peace Sells…that Dave Mustaine will probably never play live again ("The Conjuring" included) because it offends his christian beliefs. Fair enough, he did write the buggers and can do what he likes but this is one track that simply deserves to be shown more love!
Simply put, "BAD OMEN" has everything you could ever want from a great metal tune. Gold-plated riffs? Check. Blinding speed? Check. Lyrics referencing the Devil and orgies and other naughtiness? Check and indeed check!
All held in place with a jazz-fusion inspired performance from drummer Gar Samuelson…..this song still swings like a giant pair of swollen elephant gonads!
---
9. "Liar"
Taken from the album: So Far, So Good… So What! (1988)
"LIAR" is an underrated track from an often underrated album. So Far, So Good… So What is home to this nasty wee bastard of a song. In just over three minutes Dave Mustaine lets someone (step-up ex-band mate Chris Poland) know exactly what he thinks of them….and it sure ain't pretty.
Considering the drug addled state Mustaine himself was in at the time, the nameless offender must have had to be a special kind of low life to inspire such a diatribe. Whilst the music builds in tempo behind him, Mustaine becomes more and more indignant.
Rarely has he sounded so pissed off and this from a guy with a fearsome reputation for being easily riled! By the time he reaches the last verse, which lets be honest is no more than a string of insults, he's in the last paroxysm of his rage. Altogether now "You, you, you, you fucking liar".
---
8. "Breadline"
Taken from the album: Risk (1999)
Nestled towards the mid point of the much maligned Risk – if you can make it that far – is "BREADLINE"….and it sticks out like a shiny diamond in a fresh steaming pile of turd.
Simply put, this is a slice of pop metal perfection that could easily be played on radio anytime of the day or night.
Dave Mustaine has often talked of his love for artists like Cat Stevens and it is on songs such as "Breadline" that the influence of mainstream pop artists comes to the fore. With its clean melodic guitar and catchy vocals this is as mainstream as Megadeth get but give it a chance, you'll be humming along way before it ends.
---
7. "Looking Down The Cross"
Taken from the album: Killing Is My Business…and Business Is Good! (1985)
Taken from Megadeth's debut, "LOOKING DOWN THE CROSS" starts off like some sort of demented quasi-ballad before hurtling full pelt into a thrashing assault on the senses, proof that even at this early stage of Megadeth's career Dave Mustaine was not a man afraid to take chances and screw the naysayers.
This was also the first of numerous songs to deal with themes from the bible, in this case looking at the temptation and crucifixion of Christ. While other thrash bands were busy writing about how 'metal' they were, it's testament to Mustaine's singular vision that he wasn't afraid to look outside the box and write about subjects that others may have shyed away from.
---
6. "This Day We Fight"
Taken from the album: Endgame (2009)
With Endgame – and this track in particular – Megadeth finally decided to remind anyone who would listen that they were still "the worlds state of the art speed metal band".
It's no exageration to say that "THIS DAY WE FIGHT" was the hardest Megadeth had thrashed since the glory days of Rust In Peace. Mustaine and fellow guitarist Chris Broderick riff and solo like men possessed throughout – coming across like a shred fans wet dream – while MegaDave spits and snarls his vocals like the man of old; wishing a bloody and painful death upon his enemies. Praise should also go to Shawn Drover, often looked down upon by Megadeth fans, who blasts seven shades of shit out of his kit and proves why he was a great fit for the job in the first place!
"This Day We Fight" was the sound of Megadeth showing the world that they still had what it takes to deliver top quality thrash, a battle cry and a big middle finger from Dave to his detractors.
---
5. "The Scorpion"
Taken from the album: The System Has Failed (2004)
After taking a few years break, Megadeth returned with The System Has Failed, their strongest album in over a decade. Always a hot topic for Mustaine, "THE SCORPION" had the band taking sideswipes at human nature via a semi-melodic and mid-paced bludgeoning.
While "The Scorpion" picks up a head of steam during the chorus, and has a number of melodic solos all handled by Dave, anyone looking for bursts of speed should look elsewhere. Just like its namesake this song creeps and skulks and is all the better – and heavier – for it.
---
4. "A Secret Place"
Taken from the album: Cryptic Writings (1997)
Cryptic Writings was arguably the first Megadeth album to really divide fans opinions, as it saw the band move further away from their trademark sound and open themselves up to even more of a hard rock influence….as exemplified by this semi-obscure track.
"A SECRET PLACE" immediately sets itself apart from the rest of the album with a fiendishly catchy Eastern-style melody – not dissimilar to "Insomnia' from Risk in fact – that forms the centrepiece of the track. When added to an at times high pitched vocal (even for Dave!), it makes for an interesting and intriguing listen and is further proof that Megadeth were never afraid to operate way outside of their comfort zone.
Opinion dividing but still worthy of merit.
---
3. "Rust In Peace… Polaris"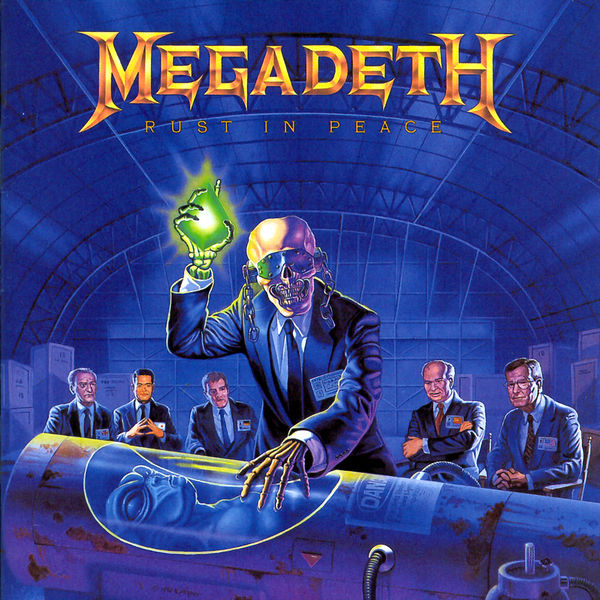 Taken from the album: Rust In Peace (1990)
Megadeth have never sounded heavier than on their magnum opus Rust In Peace. As befits its reputation it's home to a shed load of Megadeth classics but one song that just doesn't get shown enough love is the one from which the album took its name.
Ushered in by the thunderous battery of the late Nick Menza, "RUST IN PEACE… POLARIS" is as deadly as its missile namesake. Written towards the end of the Cold War, Mustaine's lyrics painted a bleak picture of a world on the verge of destruction and a more apocalyptic musical background you'd be hard pressed to find.
Lines such as "I rule on land, air and sea. Pass judgement on humanity" warned what may lie ahead while the muscular riffs of Mustaine and Marty Friedman bulldozed all in their path. This was the epitome of thrash metal in 1990; equal parts brain and brawn but often overlooked in favour of "Holy Wars…The Punishment Due" and "Tornado Of Souls".
---
2. "Ashes In Your Mouth"
Taken from the album: Countdown To Extinction (1992)
Countdown To Extinction saw Megadeth all but reign in their thrashing tendencies….however, this monster of a tune proved they could still cut it with the best of 'em when speed was of the essence!
Max Normans clinical production gives "ASHES IN YOUR MOUTH" an almost icy, mechanical edge to it and when backed up by virtuoso performances by all four band members, it meant Megadeth's first real stab at commercial metal ended on a major high.
On an album that saw Megadeth slow their pace down, and even ease off their uber technical stance, "Ashes In Your Mouth" was a warning shot across the bows of anyone who thought the band had forgotten what it was that put at the top of the metal pile in the first place.
Diamond hard but packed with super catchy riffs, with Mustaine casting his disparaging eye on mankind (we're sensing a theme here) this song has everything you want from a Megadeth classic, thrash or otherwise.
---
1. "My Last Words"
Taken from the album: Peace Sells…But Who's Buying (1986)
A clean picked but pacey intro ushers in "MY LAST WORDS", the final number from the seminal Peace Sells… But Who's Buying; a track which gradually builds in tempo to an all out thrash fest and brings a classic album to a stunning close.
With jagged, dissonant riffs that could flay the skin from your face at fifty paces, Dave Ellefson's bass bubbling away just below the surface and Mustaines rabid vocal delivery, this song perfectly highlights Dave Mustaines knack for combining melody with fuck-off guitar lines.
The fact that a song as good as "My Last Words" often fails to receive the credit it so fully deserves highlights the quality of Megadeth's output, at this early stage in their formidable career.
Megadeth and Dave Mustaine are many things to many people but one thing that can't be denied is that the ginger maniac knows his way around a guitar….and has always had it in him to deliver a stonking great tune; no matter what the era.
Have we erroneously forgotten your underrated Megadeth track?
Sound off in the comments section below….
Latest Posts