The 5 Greatest Death/Thrash Albums of 2021!
Year end 'best of' list are ten-a-penny so, here at Worship Metal, we've delved a little deeper into metal's fertile scene and coughed up a few classics from the world of death/thrash.
Unleash the niche!
Laceraton – Demise [USA]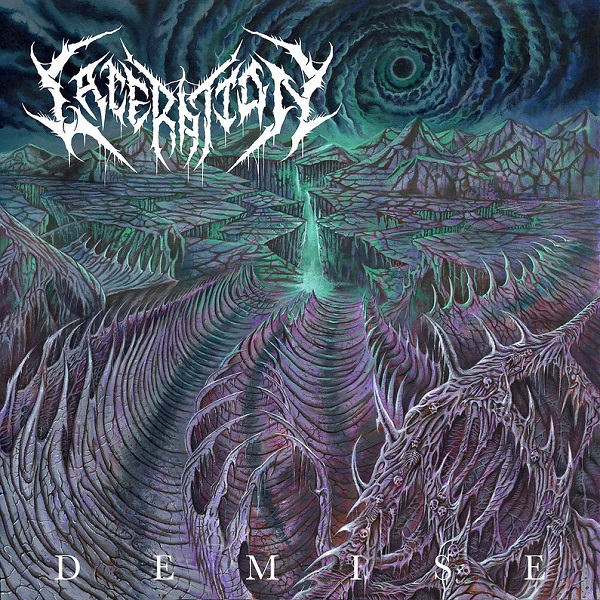 Released: July 16th, 2021 via Rotted Life Records
A relatively misleading acoustic/proggy opening may have set a trap for the uninitiated but it wasn't long before Laceration, on their full length debut, exploded into the kind of furious death/thrash that made the likes of Demolition Hammer cult heroes of their day and with their previous Slayer-lovin' thrash tendencies dialled down in favour of a more cavernous, Morbid Angel-esque style, Laceration's ferocity has only increased since the release of Remnants back in 2019.
Bands who reek of the glory days of death metal and death/thrash are rife but Laceration's ability to meld the ultra brutal approach of "Parasomnia" with the grind of "Human Malevolence" and the thrashier likes of "Monolith" remained a joy to behold.
Nothing new then….but still death/thrash delivered remarkably well!
---
Rapture – Malevolent Demise Incarnation [Greece]
Released: March 26th, 2021 via F.D.A Records
As heavy on the death metal as they are on the thrash, Greece's Rapture impressed the living shit out of us with 2018's Paroxysm Of Hatred and Malevolent Demise Incarnation (random metal 3-word generator in full-effect) continued down the same, high-quality path!
Still sounding like an early 90's death/thrash act remained in their favour as their Protector meets Demolition Hammer racket was convincing, abrasive and full of surprises.
Unafraid to throw technical audacity and progressive leanings into their broiling pot of influences upped the interest and the heat tenfold. And, with the likes of "Herald Of Defiance" running the gamut of thrash, death, tech and prog, there really was nothing more than to say than Malevolent Demise Incarnation was a killer death/thrash album, from first track to last!
---
Sijjin – Summerian Promises [Germany]
Released: November 12th, 2021 via Sepulchral Voice Records
In the void left by German death metal giants Necros Christos (who called it quits in 2020), SIJIIN arrived with their debut full-length LP, Sumerian Promises. Steeped in the history of classic extreme metal, this tremendous album found the perfect blend between Necros Christos' unique sound and a less opulent death, thrash and black metal style.
With the old school death metal allure of classic bands like Rotting Christ (in their 90's era) and Morbid Angel – and the sonic power of an album recorded in 2021 (without too much polish) – Sijinn's unrestrained fury and blackened thrash groove regularly hit the sweet spot.
Following no trends and standing on its own as an epic testament to the power of classic extreme metal, Sumerian Promises was simply one of the best death/thrash metal albums released in quite some time….and truly a timeless blackened occult masterpiece from these three gifted creators.
***You can read our full review of Summerian Promises here***
---
Solstice – Casting The Die [USA]
Released: May 7th, 2021 via Emanzipation Productions
The return of cult death/thrash legends Solstice was one of the most anticipated of the year and while Casting The Die didn't quite match the heady highs of Solstice's self titled debut from '92, it still honoured the bands past while reminding the world why this band remain so adored by 'those in the know'.
On Casting The Die (Solstice's first album of new material in 12 years!), death, thrash and hardcore collided with alarming effect and with a few surprises encountered along the way – the progressive nature of "Who Bleeds Whom" offered respite from the incessant chug surrounding it – this was an album designed to please old-school fans while ensuring the band had some relevance in the modern era.
With founding members Alex Marquez (Wreck-Defy, ex-Demolition Hammer, ex-Malevolent Creation, ex-Hellwitch) and Dennis Munoz (ex-Demolition Hammer) at the helm, the future for Solstice remains bright!
---
Steel Bearing Hand – Slay In Hell [USA]
Released: April 2nd 2021 via Carbonized Records
Some bands exhibit such a raw and unbridled ferocity that upon first listen, you're completely enthralled by their metallic supremacy….and such was the case with Texan extreme metal maniacs Steel Bearing Hand (SBH).
Taking their name from a Celtic Frost lyric, the four miscreants of Steel Bearing Hand crawled from the darkest bowels of the Texas underground to carve their bloody mark on an oversaturated metal scene. This isn't to say that SBH sounded like Celtic Frost or were trying to ape the masters; instead they forged their own sound from differing classic extreme metal influences.
Top notch insanity and the perfect soundtrack to herald our world's decent into the abyss.
***You can read our full review of Slay In Hell here***
Latest Posts