10 Obscure Old-School Thrash Albums You Need To Hear! (Part 3)
Thrashin'.....
The classics are all well and good but there's a shit ton of obscure thrash out there that demands to be heard!
To that end, Worship Metal has selected 10 MORE obscure old-school thrash albums you NEED to hear. And, this is just Part 3…..there's plenty more to come!
Arbitrater – Darkened Reality (1993) [UK]
Akin to Xentrix, Arbitrater specialised in stomping mid-paced grooves – occasionally guilty of being clinical to the point of dry sterility perhaps – but gifted with a solid framework and a darkened, urbanised, heart.
Hardly progressive, Darkened Heart instead focused on continuously hammering home their stripped back riffs and delivering nothing but a heavy thrash experience with plenty of deft chug to keep the average thrasher more than happy.
A decent album from a band who arrived on the scene a little too late to make the impact they deserved.
Incidentally, Arbitrater's vocals were handled by UK punk legend Tony "Rat" Martin (ex-Discharge, ex-Warwound, The Varukers).
---
At War – Ordered To Kill (1986) [USA]
Akin to the brutal hammering of Paul Speckman's Abomination and early Sodom (by way of some serious Motörhead and Slayer worship), At War may not have been the equal of these bands but they still rattled through a fine selection of primitive thrashers on their debut release, Ordered To Kill.
Alluringly naive, it's as though At War were more concerned with channelling Motörhead than forging their own path but either way, they could certainly thrash as hard and fast as the best of them. Like an 80's Chuck Norris B-movie vs an Arnie or Sly Stallone classic, At War may come across as a second rate thrash band but there's still some joy to be had if you throw yourself into the spirit of things.
Don't like it? Eat lead!
---
Brainless – Brainless World (1992) [Germany]
Considering the sheer breadth of quality German thrash it should come as no surprise that some great albums slipped through the cracks over the years and Brainless' debut, Brainless World, is one of those releases!
Politically charged and as solid as fuck, the odd dalliance with technical thrash is mostly tempered by Brainless' ability to simply thrash hard and thrash fast. While less aggressive than their notable peers inKreator and Destruction, the sheer force of "Mind Bitch" and the moody schizophrenic malevolence of "Death Patrol" make them no less memorable. In fact, Brainless were a dab hand at crafting catchy thrash with numerous tempo changes and the occasional divergence into epic …and Justice For All-esque melodrama ("Silent Scream") only adding to the overall diversity of this unsung album.
Arriving a little too late in the day to make a sizable impact, Brainless World is nevertheless an album that reaps huge rewards for those who like to delve deep into thrash metal's overflowing archives!
---
Carrion – Evil Is There! (1986) [Switzerland]
The perfect encapsulation of underground thrash in 1986, Swiss thrashers Carrion – you might know them better as Poltergeist(!) – released just one album before changing their name to the titular spectral house-wrecker.
Noticably less technical than the output of Poltergeist, Evil Is There! is a bare bones thrash release with any 'frash-fat' picked clean to leave a pure, straightforward and relentless experience.
Brutally simplistic and simply brutal, Carrion could still showcase a little melody from time to time – check out the intro to "The Avenger" – but it's the lightning-quick riffing found on the the likes of "Demon's Child" that retains its edge.
---
Flames – Merciless Slaughter (1986) [Greece]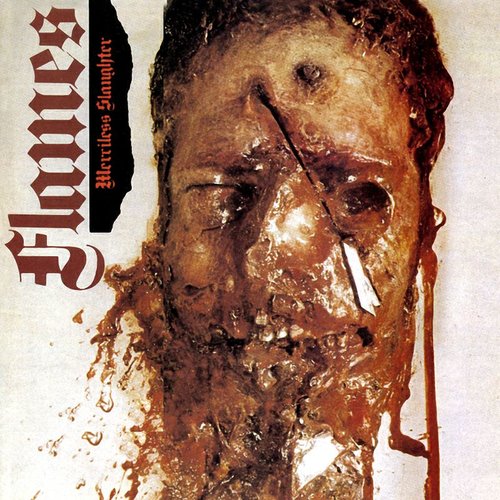 Horrific cover art + nasty as fuck sound = Greece's Flames; an unholy racket of lightning fast trebly riffs and barked vocals….in other words, awesome 80's thrash!
Another record lost in the avalanche of outstanding titles from 1986, Merciless Slaughter still holds up as an intriguing time-capsule from an era when thrash was king and should seriously surprise those yet to hear its delights!
Tupperware drums aside, Flames picked up a (disembodied) head of steam and their dirty raucous sound still packs a killer, Possessed-inspired, punch with the likes of "Evil" neatly summarising all that was great about Flames' classic proto-death metal leanings.
Latest Posts