The 5 Greatest BRITISH Death Metal Albums of 2022
Well done Britain – you churned out some damn fine death metal albums this year! Here's 5 of 'em….
5. Live Burial – Curse Of The Forlorn
Released: September 23rd, 2022 via Transending Obscurity Records
Death-worshipping is fine by us (Gruesome are building an entire career around it for fucks sake) and Live Burial's 'take' on the latter-day output of Chuck Schuldiner and co. reaps numerous rewards for those who like their death metal to be old-school and technical, atmospheric and hideously heavy.
Often overwhelmingly dense, Live Burial's whirlwind of sound threatened to disarm rather than cajole the listener but moments of semi-tempered brevity – particularly on the last few minutes of "Exhumation and Execution" – offered respite from the cold, harsh extremity that surrounded it.
Closing with the expansive "This Prison I Call Flesh" may have tested patience further but we maintain that this exquisitely played, and epic final song, indicated that Live Burial are stillevolving and are fast becoming one of the UK's most important and interesting death metal bands.
---
4. Imperium – Ex Mortis Gloria
Released: September 2nd, 2022 via Ultimate Massacre Productions
Hey Imperium (or Imperivum as it's often written), what was with making us wait a bum-numbing 6 years for a follow-up to 2016's Titanomachy, eh?! Why were we so peeved you may ask. Easy! Titanomachy was an absolute colossus of an album and we genuinely flipped our collective lids over its numerous, yet barbarically portrayed, charms.
Still, good thongs come to those who wait and we finally had a follow-up album, Ex Mortis Gloria to savour….and savour it we most certainly did. While the Nile comparisons remained apt (Dallas Toler-Wade popped up on "Burning Crucifixions in the Garden of Nero, so, hey, if the shoe fits), Imperium are so much more than mere plagiarists. This was progressive / technical death metal played by seasoned professionals whose commitment to crafting often overwhelmingly oppressive songs was balanced by an ornate sense of time, space and the service of a good fuckin' tune.
Ex Mortis Gloria was a turbulent blast of exquisitely performed technical death metal. We expected nothing less!
---
3. Venom Prison – Erebos
Released: February 4th, 2022 via Century Media Records
Let's get one thing out of the way from the outset. Venom Prison's latest release appeared to come from the "go big, or go home" school of thought. While 2019's Samsara was rightfully lauded, the band had already left it behind and seemed intent on pushing themselves to the next level.
That's not to say that Erebos wasn't a death metal album – it most certainly was! But, it was a death metal album graced with fiendish melody, a progressive edge and synths that add layers to their ferocious, hardcore-inflected, sound. Admittedly, Erebos didn't quite rip your head off in the same vicious br00tal manner as Samsara (2019) did, but there's no doubt that this was the work of a fearless band happy to experiment and evolve with each release.
With an eye on accessibility – which should never be discouraged as bands are fully entitled to grow their audience and (gulp) earn a living, right?, Venom Prison were guilty as charged! Outstanding song-writing. Scintillating performances. It was all here. This was Venom Prison's moment. The big leagues beckon!
---
2. Vacuous – Dreams Of Dysphoria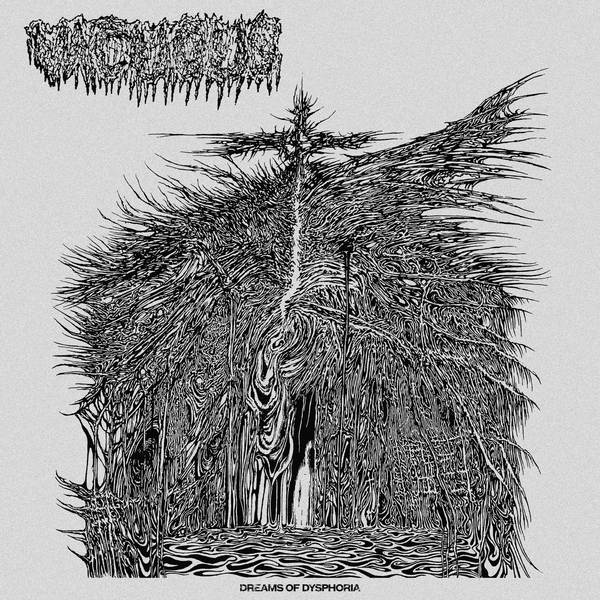 Released: October 14th, 2022 via Me Saco un Ojo Records
"Atmospheric death metal" – there's a shit ton of that around, so why should we care about this particular album?
Good question. Glad you asked.
Vacuous' debut, Dreams Of Dysphoria, was a dissonant descent into the depths of hell itself (or, at least, the nearest septic tank). Slimy and grimy, Dreams Of Dysphoria often entered into the murky world of both Ulcerate and Worm without quite going full disso-death; meaning moments of old-school stomp hit even harder when they did materialise. For example, "Matriarchal Blood" hit the kind of maddening grooves that'll have you toppling your Gran's sideboard over (the one with all the 'nice' ornaments on) in a mindless moment of furniture-based violence.
As far as dissonant / atmospheric death metal goes, Vacuous' Dreams Of Dysphoria was one of the best releases 2022 had to offer (now go apologise to your Gran)!
---
1. De Profundis – The Corruption of Virtue
Released: October 7th, 2022 via Transcending Obscurity Records
Why De Profundis aren't a world renowned death metal act by now is beyond our comprehension. These guys are consistently better at this progressive / technical death metal lark than 99% of all other bands out there. That's a fact. However, they still don't seem to receive the dues we feel they so richly deserve.
We'll just have to take solace in the fact we know how good they are and The Corruption Of Virtue reinforced our opinion. De Profundis wisely let their music to do the talking and they excelled themselves here; fashioning an album that was compact, concise and generally capable of crushing its enemies with as little fuss as possible. At heart, this was simply extreme metal at its absolute finest, with an exhaustive collection of ideas perfectly executed via 9 astonishingly succinct tirades.
The whole damn thing was relentlessly effective but the unholy triumvirate of "Desecrating Innocence", "Religious Cancer" and "Scapegoat" didn't just take the biscuit, they scoffed the whole fuckin' pack! Stylistically diverse, terrifically technical and home to riffs that lodged themselves in your brain for days, this was De Profundis operating at the peak of their powers.
Better than 2018's fucking fantastic The Blinding Light Of Faith? Hard to say. We'll just have to give The Corruption Of Virtue a few more spins and give it time to fully bed in!
Honourable Mentions: As The World Dies – Agonist / Casket Feeder – Servants Of Violence / Cryptworm – Spewing Mephitic Putridity / Ingested – Ashes Lie Still / Party Cannon – Volumes Of Vomit
Also check out:
The 5 Greatest Power Metal Albums of 2022
The 5 Greatest Death / Doom Albums Of 2022
The 5 Greatest Death / Thrash Albums of 2022
The 5 Greatest Grindcore Albums of 2022
The 5 Greatest German Thrash Albums Of 2022
The 5 Greatest Canadian Thrash Albums of 2022
Latest Posts