The 10 Greatest Death Metal Debuts Of The 1980's
5. Death – Scream Bloody Gore (1987) [USA]
An album of incomparable influence, Death's defining debut has been dissected and discussed over and over again, and we'd be surprised if we could come up with anything original to say about an album that is almost unanimously considered the first true death metal album.
Here was the moment when thrash metal took a sharp turn into all-out savagery and tracks such as "Infernal Death", "Zombie Ritual" and "Regurgitated Guts" have gone down in death metal folklore as classics of the genre….even if Death would go on to deliver more accomplished and more succinct blows as their career developed.
With Scream Bloody Gore, Chuck Schuldiner was carving his own path and, as originators go, there remains no one more important in extreme metal history than this maverick of mutilation.
---
4. Celtic Frost – To Mega Therion (1985) [Switzerland]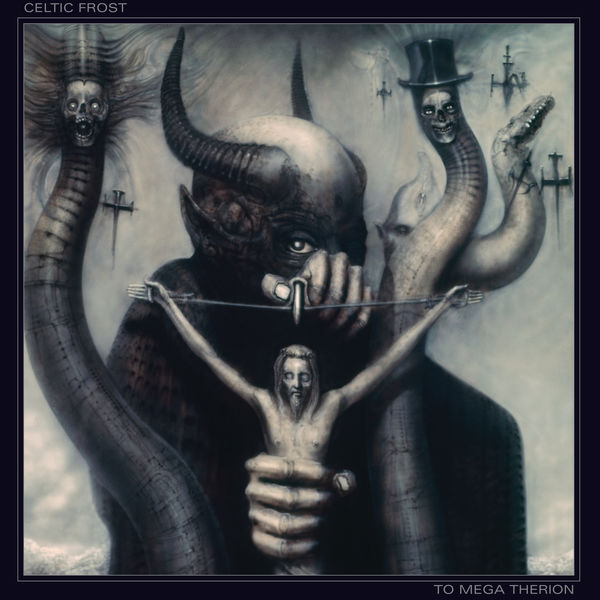 Strictly speaking, To Mega Therion also pre-dates death metal – and has a whole lot of thrash and proto-black metal informing its core – but we'd be remiss not to acknowledge Celtic Frost's HUGE influence on the death metal scene and To Mega Therion is one album fully deserving of classic status.
An album that can only be described as 'beyond influential', Celtic Frost's To Mega Therion marked the end of days for metal as we knew it with bombastic power, brute force and fire and brimstone glee; with guitarist and vocalist Tom G Warrior evidently relishing his role as judge, jury and executioner.
"The Usurper", "Dawn Of Megiddo" and "Circle Of The Tyrants" are a showing of pure strength and any band, in 1985 no less(!), confident enough to throw timpani, a horn section and operatic female vocals into the mix were certainly not lacking in backbone, brawn and forthright conviction.
A masterpiece from a band way ahead of the curve!
---
3. Obituary – Slowly We Rot (1989) [USA]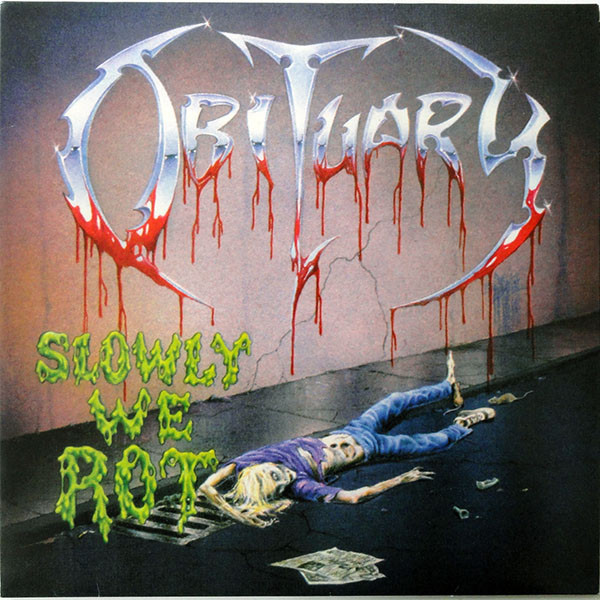 An album that shit directly in the gawping face of thrash, Obituary's shocking and seminal debut was the sound of death metal fully realising its unlimited capabilities.
Led by John Tardy's iconic growls, howls and innumerable gargled noises, Slowly We Rot simply took the noise made by the likes of Possessed, Death and Necrophagia and wrung ten gallons of filth out of it; creating one of the most disgusting debut albums in extreme metal history in the process.
Unrelenting and as ugly as sin, this was the sound of a band determined to take extremity to another level and to say this debut was shocking would be to do it a considerable disservice.
Slowly We Rot is quite rightly revered as an all time 80s death metal classic and is, arguably, the finest album of Obituary's illustrious career.
---
2. Autopsy – Severed Survival (1989) [USA]
The thickest, most putrid sound of death imaginable was at the very core of Autopsy's debut masterpiece, the incomprehensibly evil sounding Severed Survival.
Wallowing in the kind of muddy riffs that submerge the senses, Severed Survival bucked the prevailing death metal trends of playing faster and playing harder and instead upped the brutality by slowing …. things …. right….down.
In turn, Autopsy did hit harder, announcing themselves as the go-to death metal band for those who sought variation to go along with their gore. There was still speed when speed was required of course,but the impact was greater due to the lumbering riffs that often preceded furious bursts of noise.
When 80s death metal was at it's freshest and during it's most enticing and exciting period, Autopsy dragged the genre back down in the gutter, to writhe in the decaying mass of human existence. Which is exactly where it belonged!
---
1. Morbid Angel – Altars Of Madness (1989) [USA]
Altars Of Madness is arguably the pinnacle of death metal (never mind 80's death metal) and remains one of the finest extreme albums ever conceived.
Chuck Schuldiner and Death may have popularised the genre but Morbid Angel chrystalised it, gave it a complete and recognisable identity and produced one of the greatest albums in metal history in the process. How songs with this much groove could be performed in such a non-standard manner still blows minds!
Here were unconventional musicians, unafraid, challenging preconceptions and embracing the extreme and yet somehow composing music that invites rather than repels; each track lingers long in the mind and although "Immortal Rites", "Visions From The Dark Side" and "Evil Spells" are highlights, the entire album is utterly indispensable.
Altars of Madness captured the souls of millions of newly-converted death metal fanatics and the flood gates were well and truly open; death metal had arrived.
Note: The likes of Terrorizer's World Downfall will be featured in an upcoming Grindcore debuts article…..just in case you've missed seeing it feature here!
Also check out:
Latest Posts