30 Cult Classic Metal Albums That Turned 30(!) Years Old in 2022
Happy 30th birthday you brilliant bastards!
Skyclad – A Burnt Offering For The Bone Idol [UK]
Released: April 8th, 1992 via Noise Records
Genre: Thrash Metal / Folk Metal
Before they went 100% 'folk', Skyclad followed up their outstanding debut The Wayward Sons Of Mother Earth with another slab of underrated and unique UK thrash. Continuing and refining the uniquely pagan sound Sabbat pioneered on their ground-breaking albums History Of A Time To Come and Dreamweaver, this may be a love it or hate it record for thrash fans but those with an adventurous spirit -and a penchant for bands who gleefully experimented with thrash's rigid rules – will hear Skyclad adapting the formula to create something idiosyncratic and distinctly British.
The addition of full-time fiddler Fritha Jenkins (we simply refer to the act of playing the fiddle of course) bolstered Skyclad's sound that was still built around Martin Walkyier's distinctive vocal delivery and a multitude of rapid-fire thrash riffs. Take the irresistibly thrashy "Salt On The Earth (Another Man's Poison)" as the perfect example of thrash existing in a folk metal framework; few could pull off such a disparate melding of styles but Skyclad, particularly on A Burnt Offering For The Bone Idol, mastered the craft.
Interestingly, Skyclad's The Wayward Sons Of Mother Earth and A Burnt Offering For The Bone Idol remain the perfect companion pieces to Sabbat's two Walkyier fronted classics; an exquisite quadruplet of frighteningly original albums which deserve arrant adulation!
---
Sorrow – Hatred And Disgust [USA]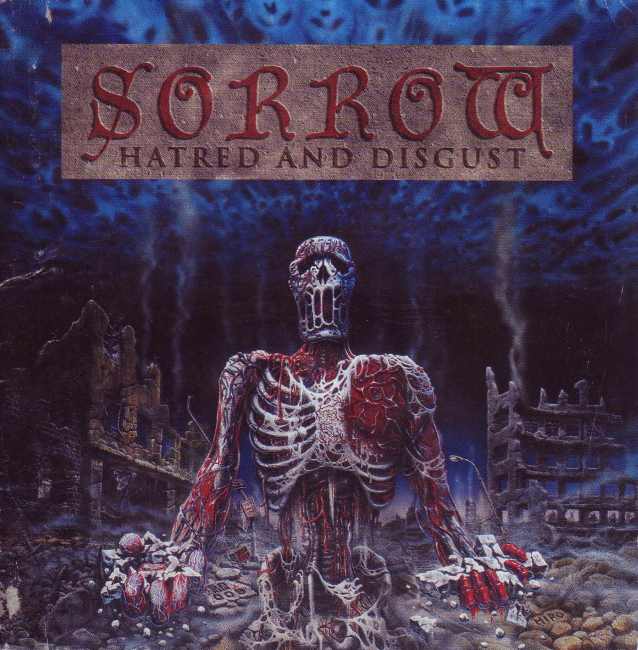 Released: October 6th, 1992 via Roadrunner Records
Genre: Death /Doom
Hatred and disgust….there's no more apt a way to describe Sorrow's one and only album. This malicious beast positively oozes negativity and its slovenly dirges of dank dismay are as compellingly disgusting as ever!
Featuring the guitar work of Brett Clarin (Journey Into Darkness), Sorrow were a fearsome act whose decent into hell favoured a more simplistic and brutal approach, but one that was no less powerful because of it.
The likes of "Forced Repression" were hardly doom incarnate – with enough old-school death metal circa Obituary to sate the appetites of true early 90's death metal fanatics – but they were arguably at their best when slowing….things…right down…. such as on the efficiently evil "Human Error".
A hidden gem! 
---
Tankard – Stone Cold Sober [Germany]
Released: June 9th, 1992 via Noise Records
Genre: Thrash
Another round from Tankard meant only one thing….more frenzied thrash than you can possibly handle!
Lyrically, Stone Cold Sober found the band attacking more serious subject matter – with politics and social commentary informing the likes of feral opener "Jurisdiction" – but really this was just more of the same from this ever-reliable band.
A kick to the face of grunge, Tankard were still too dedicated to the art of thrash to give two shits about prevailing trends. And, unlike their peers Sodom, Kreator and Destruction, they also weren't about to fuck with a winning formula. So, you'll find no experimentation with industrial metal, death metal or anything other than 100% old-school thrash.
Which is just how we like it! 
---
Thought Industry – Songs For Insects [USA]
Released: May 8th, 1992 via Metal Blade Records
Genre: Progressive Thrash Metal
As 'cult' as they come, Thought Industry's debut album, Songs For Insects, arrived a little late in the day to make the impact it deserved, but the same can be said for many a thrash band who tried to twist thrash into new forms as the 90's marched on.
An experience that blurs the lines of what 'thrash' was legitimately 'allowed' to achieve, Thought Industry's stream of consciousness approach may result in a hyper-speed blur of seemingly unconnected ideas, but dig deep and Songs For Insect's fearless approach and mesmerising musicianship soon reveals itself.
Suffice to say, fans of the often unwieldy Deathrow's Deception Ignored, Dark Angel's Time Does Not Heal and Anacrusis' Manic Impressions should get a kick out of Songs For Insect's labyrinthine song structures and off-kilter time signatures.
Criminally underrated.
---
Xentrix – Kin [UK]
Released: March 27th, 1992 via Roadracer Records
Genre: Thrash
This should have been the big one for the UK's brightest thrash hopes.
Kin should have been Xentrix's Black Album, their Countdown To Extinction, their Ritual.….their genre-defining, mainstream-baiting, sure-fire hit release.
It wasn't. But it should have been!
"No More Time" may have been a little too maudlin for its own good (although you couldn't argue with the sentiment) but there was still plenty of crunch and mature thrashing to be found on the likes of "A Friend To You" and the chugging nirvana of "Release"
Everything abut Kin was grander, more opulent and designed for mass consumption but you cannot – should not – ridicule Xentrix for wanting a million selling record under their belt….and in a parallel universe, Kin was that album.