30 Cult Classic Metal Albums That Turned 30(!) Years Old in 2022
Happy 30th birthday you brilliant bastards!
Pan.Thy.Monium – Dawn Of Dreams [Sweden]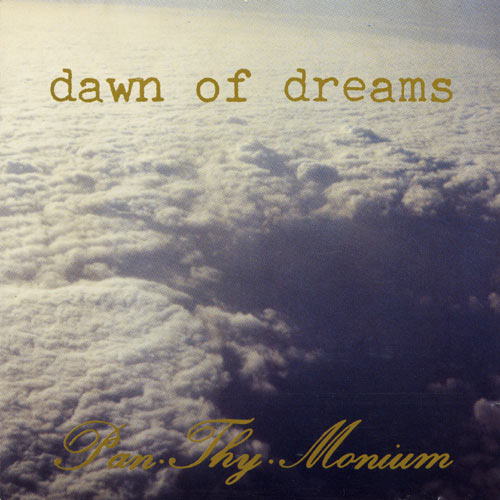 Released: April 1992 via Osmose Productions
Genre: Progressive / Avant-Garde Death Metal
As progressive a death metal band as they come, Pan.Thy.Monium's debut was the polar opposite of the output from Entombed, Dismember, Grave etc. That being said, Dawn Of Dreams was still resolutely Swedish death metal in spirt but you wouldn't have found L.G. Petrov and co. throwing free jazz saxophone into the mix!
Opening with a 21+ minute track was also against the norm and "Untitled" (all 7 tracks on Dawn Of Dreams are titled "Untitled" incidentally) was otherworldly – alien even – and took death metal into realms hitherto unexplored. The remainder of the album was slightly more accessible, unfolding in a series of six shorter vignettes which were just as progressive but blessed with a stronger sense of groove and old-school death metal / death-doom mentality.
Dawn Of Dreams retains the power to leave you speechless….even 30 years after the fact!
---
Paralysis – Patrons Of The Dark [USA]
Released: 1992 via Grind Core International
Genre: Death Metal
The howling winds of unholy death metal greet those who venture into the abstract darkness of Paralysis' one and only album.
Lurching into death/doom territory, Patrons Of The Dark (and weren't they just!) also added a grind element to deliver a sound that was fundamentally abhorrent, while maintaining sledgehammer grooves accompanied by the lower than low vocals of one Ben Falgoust (Soilent Green / Goatwhore).
Home to a cavalcade of horrifyingly catchy rhythms, this work of primeval filth appears to be shrouded in some Lovecraftian hell-mist, ready to unleash its 'monsters' on an unsuspecting world at any given moment.
Brutal, guttural, sinister: Patrons Of The Dark was the work of some seriously deranged human beings and remains as caustic as ever!
---
Polluted Inheritance – Ecocide [Netherlands]
Released: November 1992 via Morbid Music
Genre: Technical Death Metal
Largely forgotten and sorely underrated, Dutch death metal masters Polluted Inheritance arrived fully formed in 1992 with a debut album that could stand toe-to-toe with the likes of Death's Human!
That's quite the statement but Ecocide is quite the album.
With comprehensible growls (although, admittedly, not always great lyrics) backed up by sterling musicians navigating their way through complex, yet catchy, structures, this album is easily the equal of any album presenting itself as technical death metal in the early 90's.
A blisteringly fast lesson in aggression, speed, progression, dynamics and fantastically crafted death metal, Ecocide demands to be heard!
---
Sabbat – Evoke [Japan]
Released: March 1992 via Evil Records
Genre: Blackened Thrash Metal
Japan's Sabbat (categorically not the UK Sabbat, ok!) have had their evil sounds embraced by extreme metal fans around the globe and it's (arguably) the blackened thrash brilliance of 1992's Evoke which is their piece de resistance!
There is, of course, a strong Venom element to Evoke but Sabbat were already in a league of their own (and in league with Satan, ironically). Sabbat's full length debut, Envenom, is almost the equal of this follow up effort but it really is Evoke which summons Sabbat's greatest demons, and is truly one of the finest blackened thrash albums in existence.
It goes without saying, but fans of the aforementioned Venom, Bulldozer and early Mercyful Fate, Sodom and Destruction who haven't heard Evoke need to rectify that transgression immediately!
---
Sadus – A Vision Of Misery [USA]
Released: March 27th, 1992 via Roadracer Records
Genre: Technical Death Metal / Technical Thrash Metal
Sadus, one of the most forward-thinking, ahead of the curve, extreme metal bands on the planet often find themselves consigned to the also-ran pile when, in actuality, they were leading the charge!
Pioneers of extremity, Sadus have been rightfully credited with inspiring technical death metal, the second wave of thrash and even black metal and were so ahead of their time they left the majority of metallers speechless. In 1992, Sadus were firing on all cylinders and A Vision Of Misery was an instantaneous reminder that metal was moving ever-onward.
Steve Di Giorgio's Rickenbacker was as elastic as ever – stepping up to practically take the lead on the intimate(!) "Echoes Of Forever" – while the ferocious flurry of riffs peeled off by Darren Travis & Rob Moore were insanely complex yet always memorable; a feat precious few bands could ever attempt to emulate.
Progressive, technical, brutal and unique, Sadus have always been an awe-inspiring proposition and A Vison Of Misery remains a breath-snatching technical death/thrash masterpiece.