30 Cult Classic Metal Albums That Turned 30(!) Years Old in 2022
Happy 30th birthday you brilliant bastards!
Malevolent Creation – Retribution [USA]
Released: April 1st, 1992 via R/C Records
Genre: Death Metal
A stone-cold classic from death metal's early days, Retribution is the greatest record Malevolent Creation lent their name to and remains a searing blast of hellish speed and aggression.
Thrash's influence still looms large with Rob Barrett and Phil Fasciana's riffs echoing Slayer and Kreator at their most scathing while still pushing death metal forward into unchartered territory and Brett Hoffman's formidable vocals are guttural yet discernible, a positive in a genre when lyrics can be lost amidst a barrage of grunts and squeals. The production, a vast improvement on the weak sound found on their still excellent debut, adds serious muscle and clarity to a set of songs primed for ultimate impact and helps push Retribution into the elite of death metal albums.
As a gateway album to death metal's brand of frenzied fury, Retribution is indispensable. It's bridging of thrash and death providing easy access to the uninitiated and "Eve Of The Apocalypse", "Slaughter Of Innocence" and "Mindlock" are discernible highlights, each track administering a thrashed-up, groove-laden bashing to the brain.
---
Mekong Delta – Kaleidoscope [Germany]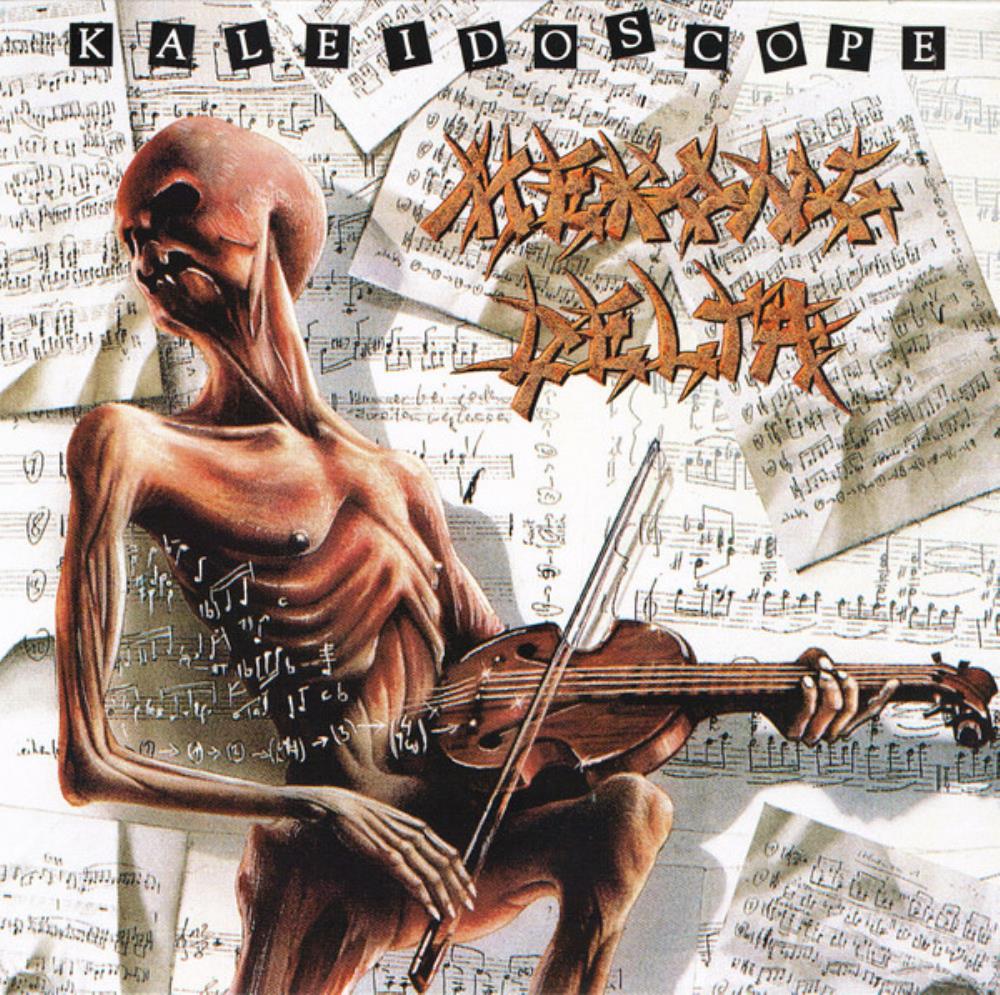 Released: August 1992 via I.R.S. Records
Genre: Progressive Thrash Metal
For a band renowned for nigh on undecipherable madness – with labyrinthine song structures and abstract riff-patterns often jostling for attention amidst a sturdy thrash framework – the 5th album from these crazy Germans was arguably their most refined and most accessible. While normally never more content than when thowing a million riff patterns at a song and simply letting chaos reign, the beauty in Kaleidoscope lay in its tempered approach.
Mekong Delta fanatics were kept happy with "Sphere Eclipse", a track which hit the proggressive thrash ramp at Sabbat meets Voivod levels of speed, while the true prog lovers were catered for via their cover of Genesis' "Dance On A Volcano"(which proved disconcertingly irresistable). The rest of the album was then a collage of wistful melancholy ("Dreaming") and more abstract Voivod-esque weirdness ("Shadow Walker").
Kaleidoscope could easily be considered the finest distillaiton of Mekong Delta's talent to date – such was its ability to fully relay the bands myriad of influences.
---
Morpheus Descends – Ritual Of Infinity [USA]
Released: December 1992 via JL America
Genre: Death Metal
New York death metal par excellence, Morpheus Descends may not be as well known outside of niche death metal circles as Immolation but, in 1992, these guys were the superior act; with Ritual Of Infinity proving to be a proto-tech death album of unrivalled complexity and shattering talent!
Dank, dark and decidedly devilish, Morpheus Descends were capable of nerve-severing ferocity while still maintaining a level of 'catchiness' which would appeal as much to the neck-muscles as those over-stimulated cerebral's. With one foot in the old-school and one in the still-opening door of technical death metal's future, Morpheus Descends certainly paved the way for those bands who morphed traditional death metal into ever-changing sounds as the decade drew on.
Morpheus Descends were there at the beginning though, and Ritual Of Infinity – their only full length album – remains a milestone of jaw-dropping intensity.
---
Mystik – The Plot Sickens [USA]
Released: October 1992 via Massacre Records
Genre: Power / Thrash
Hardly a household name, Mystik were a speed/power/thrash metal band in the vein of Metal Church and Flotsam and Jetsam (with a little Forbidden thrown in for good measure) who were blatantly good enough to stand toe-to-toe with their more well-known peers.
"Psychosis" rips, "Red Rum" is prime 80s melodic thrash repurposed for the 90s and "Method To Madness" is as Metal Church as they come – which is no bad thing!
Why Mystik failed to find an audience is anyone's guess as The Plot Sickens is a strong record. Really strong. Suffice to say, if you still find yourself regularly spinning Flotsam and Jetsam's No Place For Disgrace and Metal Church's Blessing In Disguise, then Mystik's 30 year old debut should also be making your playlist!
---
Necrosanct – Incarnate [UK]
Released: April 1992 via Black Mark Production
Genre: Death Metal
Proof that the UK did have bands that could deliver the filthiest sound of purist evil imaginable, Necrosanct's Incarnate still sounds shockingly abrasive today.
Veering dangerously close to total pandemonium, Necrosanct fashioned a death metal album that made up in violence what it lacked in finesse. Brutal, in the strongest sense of the word, and designed for those who feasted on the sounds of hell made flesh, Incarnate is possibly the most timeless album on this list, as ferocious and unpredictable now as it was in 1992.
There's something so utterly unhinged about the Martin Van Dunen (Pestilence) meets John Tardy (Obituary) vocals that sends Incarnate rushing headlong into the realms of madness and, somehow, frontman Ant Ryan managed to take the tonality of Van Drunen and the unintelligible nature of Tardy's animalistic gurgles and vomit up something even more disturbing.
The result, when layered over Necrosanct's blurred riffing, was nothing less than hell incarnate!