20 MORE Obscure Old-School Thrash Albums You Need To Hear (If You Haven't Already)
Disciples Of Power – Power Trap (1989) [Canada]
One of those more obscure thrash albums (and bands) who had everything, Disciples Of Power were already sucker-punching the majority of their peers with debut full length Power Trap; a release which showcased this outstanding band's ability to meld primal thrash aggression, death metal tendencies and progressive thrash structures into a satisfying whole.
The acoustic interplay and almost jazzy swing of exquisite opener "Shades of Grey" reels you in from the get-go and once Disciples of Power fully let rip with their metallic tendencies there's no turning back! Think a heavier, more death/thrash inclined version of Artillery circa By Inheritance and you'll have an idea of what (hell) awaits.
The production may be shite but there's no denying the talent Disciples Of Power clearly had in spades and the merciless nature of their attack – coupled with Watchtower-esque levels of technicality – marks Power Trap out as one of the best thrash albums you've probably never heard.
---
Doom – Complicated Mind (1988) [Japan]
At this stage in their formidable career, Doom were defiantly daring Voivod to go 'weirder' and were ably conjuring up the same kind of dissonant, off-kilter melodies and warped ideas as Canada's favourite sons. That's not to say that Doom were ripping off Piggy and Snake and co. wholesale but you could throw Complicated Mind's title track onto Killing Technology and no one would have batted an eyelid!
Still, inevitable comparisons with Voivod aside, Doom were their own beast and 1988's Complicated Mind remains one of their greatest achievements. With Koh Morota's incredible fretless bass work drawing comparisons with the genius that is Steve Di Giorgio, and the tightly-wound, futuristic riffing of Takashi Fujita blind-siding all but the most dedicated of progressive thrash enthusiasts, it's crystal clear that Doom have always been a very special band.
Highly intricate and telepathically linked, the minds behind Complicated Mind were operating on a different sphere to us 'mere mortals' and this progressive thrash masterclass still resonates today!
---
Energetic Krusher – Path To Oblivion (1989) [UK]
Aside from full on flirting with early-doors death metal, Energetic Krusher's only release is an overlooked thrash monster that showcased a brutal sound at odds with the 'chirpier' nature of many of their contemporaries.
Adept at a good gallop – accompanied by a gargling growl – Energetic Krusher's heavy, heavy thrash assault maintained an impessively oppressive atmosphere throughout, propelled by some of the most fearsome vocals in late 80's thrash. Sharing a kinship with such underground greats as Cerebral Fix, Napalm Death and the almighty Demolition Hammer, what the band lacked in subtlety and song differentiation was counteracted by the repeated deathly blows struck by each pummelling track.
The total opposite of fellow UK thrashers Acid Reign and Lawnmower Deth – who instilled a distinctly British sense of humour into proceedings – Energetic Krusher had more in common with the death metal bands emanating from Florida than perhaps they even realised.
---
Faustus – …and Still We Suffer (1996) [USA]
…and Still We Suffer may have arrived a little late in the day but there's no denying that this semi-obscure effort from Seattle's Faustus was a brave, complex and, ultimately, highly rewarding slab of progressive thrash metal. This was thrash made for the true fans, those committed souls who had continued to fly the thrash flag in the face of death metal, grunge and groove metal and …and Still We Suffer was their well-deserved reward!
With more than a hint of Nevermore informing their sound, Faustus were undoubtedly looking to push thrash into ever more expansive realms; unleashing a tirade of ingenious riffs, multi-faceted vocals and ever-shifting time signatures in the process. While "Erosion" had an Atheist vibe – which removed the majority of the death metal elements but retained that recognisable free-form nature – it was "The Hell We Make" which provided the most succinct summation of Faustus' skill.
While at times Faustus' approach may have appeared scattershot (which can be attested to their abundance of ideas), it was actually their undying commitment to challenging trends, their obvious technical ability, their go-for-broke mentality and high octane performances which marked them out as a band with plenty to offer.
---
Gammacide – Victims Of Science (1989) [USA]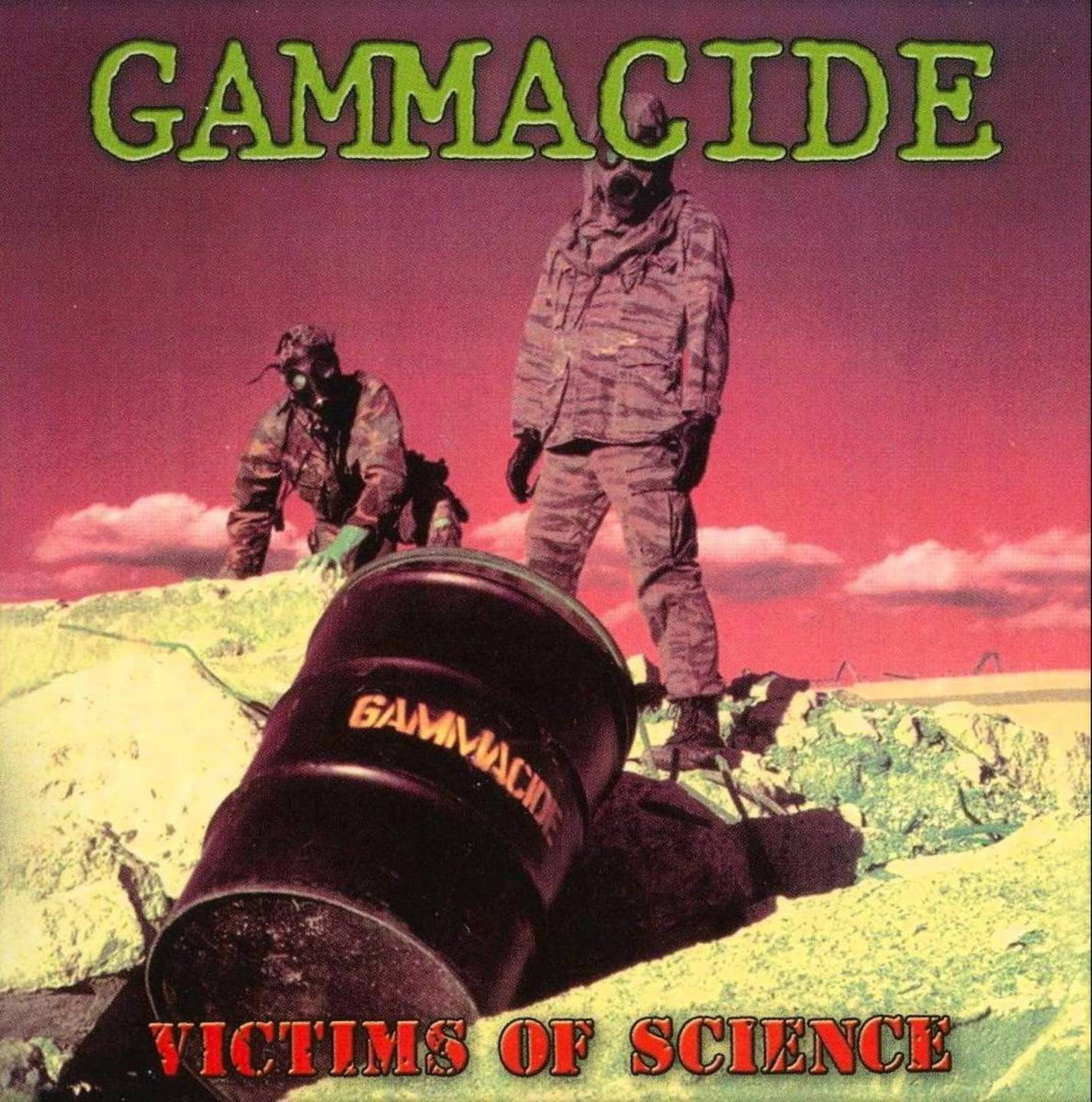 Gammacide's only album, Victims Of Science, may not be well known (except to the thrash die-hards, of course) but it's a late 80's release far more deserving of simply also ran status!
Fans of Vio-lence and Exodus will appreciate Gammacide's technically skilled but aggressively direct approach and their no nonsense attitude elevates Victims Of Science to a level which far surpasses the majority of their peers.
Built around that age-old thrash chestnut of nuclear war and falling victim to mankind's technological 'progress', Gammacide were the thrash equivalent of armageddon and their ripping, snarling vocals, high-speed riffs, outstanding solos and whip-crack tempos were refreshingly direct and as remorseless as a nuclear winter.