20 MORE Obscure Old-School Thrash Albums You Need To Hear (If You Haven't Already)
Target – Mission Executed (1987) [Belgium]
Utterly obscure yet teeming with raw talent, Target's debut album, Mission Executed, was a technical blast of feral thrash that, in 1987, was way ahead of the pack in terms of ideas and execution.
Drawing on the likes of Artillery, Mekong Delta and Living Death for inspiration, a welcome dose of intensity backed Target's technical verve as these Belgians went about destroying ear-drums over 8 tracks of nerve-shredding THRASH!
Although Mission Executed lacked anything approaching filler, it was actually the opening one-two of "Mission To The Andes" and "Hordes Of Insanity" that hit the hardest; a double-whammy of fiendish grooves and whip-crack time changes that marked Target out as potential world-beaters.
---
Torture – Storm Alert (1989) [USA]
Home to eerie The Omen-esque intros, demonic vocals and whip-crack thrashing, the one and only full length album from Texas' Torture was always a feral beast and one utterly committed to thrashing your tits off….and the passing of time has not softened its impact!
Kindred spirits of Dark Angel, Slayer and Possessed, these evil sounding bastards may have laced their visceral attack with twisted humour – check out the absurd intro to "Slay Ride" – but where they excelled was in delivering track after track of hyper-speed thrash.
"Ignominious Slaughter" was pure proto-death metal; obscenely fast and excessively violent and way ahead of the curve. In comparison, the epic title track was progressive thrash gold; an atmospheric 8 minute Ride The Lightning-esque smörgåsbord of ideas and no end of satisfying chug.
---
Viking – Man Of Straw (1989) [USA]
A classic slice of technical thrash, Viking's Man Of Straw had all the necessary ingredients to propel them into the upper echelons of thrash's hierarchy but would prove to be their last album before regrouping with Dark Angel's Mike Gonzalez and Gene Hoglan and Vindicator's Justin Zych to record 2015's No Child Left Behind.
A massive improvement on their Do Or Die debut, the incendiary guitar work of Brett Eriksen (Dark Angel) and the improved songwriting and performances across the board marked outViking as a thrash metal band to be reckoned with.
From the barely in control thrash attack of "They Raped The Land" to the riff-fests of "White Death" and "Man Of Straw", and the truly epic Sodom-esque "Winter", Viking rarely faltered on an unsung classic custom built for fans of Vio-lence and Dark Angel. It speaks volumes that Brett Eriksen went on to ply his trade with Dark Angel and contribute massively to their classic album Time Does Not Heal as Man Of Straw is the perfect precursor to the exhausting number of riffs and vocal patterns found on Dark Angel's seminal 4th album.
---
Violent Force – Malevolent Assault of Tomorrow (1987) [Germany]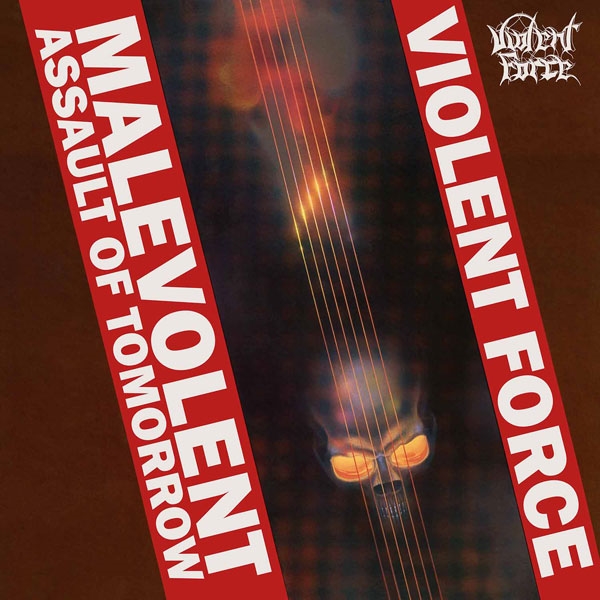 Something of a cult curio, Malevolent Assault Of Tomorrow deserves to be revered instead of forgotten and it's high time this agonisingly aggressive and frantic thrash gem was rediscovered. Opening with the Motörhead-indebted "Dead City", the album actually improves after this bout of hero worship is finished with. Settling into a groove of their own, it's on "Sign Of Evil", "Vengeance And Venom" and "S.D.I" where Violent Force really prove their mettle.
100% committed to thrashing you senseless, their salaciously filthy riffs and demented drumming may be highly reminiscent of comrades Kreator, but Malevolent Assault Of Tomorrow is straight-to-the-face thrashing with absolutely no effort to confound tradition or break new ground. That can be taken as a compliment by the way!
Sometimes thrash should be simple, brutal and without remorse and on their one and only full-length album, Violent Force ticked all three boxes and lived up to their name perfectly.
---
Vulture – Fatal Games (1990) [Netherlands]
Fatal Games was a melodic thrash masterclass from a band who failed to receive their dues. While bravely attempting to mimic the mighty Forbidden may have been a step too far, it's to Vulture's eternal credit that these veterans (they had been on the scene since as early as 1984) soldiered on and eventually released their Fatal Games debut in 1990. And a damn fine album it was too, with Vulture unleashing technically savvy anthems at a rate of knots and with vocals that attempted to out-do the likes of Russ Anderson (Forbidden) and Steve Grimmet (In Search of Sanity-era Onslaught) throughout.
Ironically nowhere near as fatal a game as those depicted in the likes of Battle Royale and Squid Games, Vulture's Fatal Games still riffed up an almighty storm of tempo-changes, staccato-riffing and soaring vocals and should have seen them lauded as much more than a mere cult-curio.
With a hundred ideas per song flung at you with little to no warning, Fatal Games can be a daunting prospect….but it's one well worth taking on!      
Other features in this series: