The 5 Essential MEGADETH Albums
These titans of thrash need no introduction and with 16 studio albums over an incredible 38 year career to choose from, we had a hard time whittling 'em down to, what we believe to be, Megadeth's 5 essential albums….
5. The Sick, The Dying… And The Dead! (2022)
Essential? Absolutely. The very fact that Megadeth, circa 2022, were still outgunning Metallica and Anthrax this long into their respective careers makes it 100% essential!
Six long years after the release of Dystopia (which made considerable amends for the risible Super Collider released three years prior and was a contender for this list), Dave Mustaine and his latest band of hired hands returned with album number 16, The Sick, The Dying… And The Dead!. Perhaps we shouldn't really be surprised that Megadeth still had an album of this quality in them….but even we were taken aback by how good The Sick, The Dying… And The Dead! really was.
With plenty of controversy along the way (we can't even be bothered to get into it here), the very fact we had a Megadeth record this assured and this damn heavy was a marvel in and of itself. The Sick, The Dying… And The Dead! drew from Megadeth's entire history; thrashing hard when desired (lead single "We'll Be Back" melted faces and drew instant grins from long-time fans) while also channeling their early to mid 90s commercial period on "Célebutante" and the mid-tempo stomp of "Soldier On!"
The Sick, The Dying… And The Dead! is a Megadeth highpoint, no matter what the era!
---
4. So Far, So Good… So What! (1988)
The sound of primal rage let loose, with all of Mustaine's demons congregating in the one place and primed to unleash armageddon on an unforgiving world, Megadeth sounded unhinged on So Far, So Good… So What!, as if Mustaine's world was falling apart and his only response was to come out snarling, brawling and bound for self-destruction.
Extremely effective instrumental opener Into the Lungs of Hell sets a high standard but it's "Set The World Afire" that ravages the ears like no other track in Megadeth's arsenal. It's pure thrash perfection, utterly feral and driven by a sense of derailing chaos led by the palpable pairing of Mustaine and 'new kid' Jeff Young.
"In My Darkest Hour", the most heartfelt track of Mustaine's prestigious career, is a triumph that showcased another side to Megadeth's talismanic figure and one that represented the heart and soul of this often misunderstood frontman. Torn apart by the news of Cliff Burton's passing, you can still hear the crackle of emotion in this thrash ballad par excellence.
Both "Liar" & "Hook in Mouth" are underrated 'Deth classics, thrashing hard and exhibiting Mustaine's rage in the most succinct manner possible. It's left to Megadeth's bloody good cover of "Anarchy In The UK", "502" & "Mary Jane" to fill the holes but they're anything but filler. Despite the haphazard nature of So Far, So Good… So What! and the fact that it doesn't exactly flow as seamlessly as their previous material, it's still an impressive experience, 35 years after release.
---
3. Endgame (2009)
Another modern era Megadeth album that proved Mega-Dave was still at the top of his game, 2009's Endgame built on the goodwill garnered by 2007's United Abominations (which very nearly made this list) and took everything to the next level – virtually Rust In Peace level, in fact!
It had been far too long since Dave Mustaine had played with such scorched-earth ferocity and when "Dialectic Chaos" and "This Day We Fight" blasted out of the gates, it was clear that Megadeth were (finally) back to being one of the most clinically effective thrash bands on the planet. Chris Brodererick and Dave Mustaine traded blows like heavyweight pugilists – each going shred for shred like their very lives depended on it – and the results were uniformly impressive throughout Endgame's duration.
There were no real surprises here, just eleven thrash monsters and while the band appeared to be operating within their comfort zone, it was refreshing to know that a modern Megadeth record could still deliver the thrills fans craved from their undisputed 80€™s classics; namely heads-down, raging, technical thrash metal of the highest order.
---
2. Peace Sells…But Who's Buying (1986)
In terms of musicianship and compositional skill, Peace Sells…But Who's Buying, represented a monumental leap forward from the previous years Killing Is My Business… . This time, Dave Mustaine's assembled posse of musicians were matching his knack for melody and dead-shot metal marksmanship and the results were stunning.
The first four tracks on this album remain virtually untouchable. "Wake up Dead" kicks off proceedings with enough riffs and tempo changes to pad out an entire album, while "The Conjuring" is a devilishly diabolical ode to the power of Black Magic. However, track 3 is where the band truly stamped down their mark on the thrash scene with "Peace Sells" becoming the colossal hit that slapped the mainstream round the face with its badass bass line, while "Devil's Island" stands proud as a thrashing showcase of both predatory power and scintillating speed.
Peace Sells…But Who's Buying remains a thrash metal milestone and one that could easily be considered their defining moment, were it not for the band surpassing themselves just 4 years later….
---
1. Rust In Peace (1990)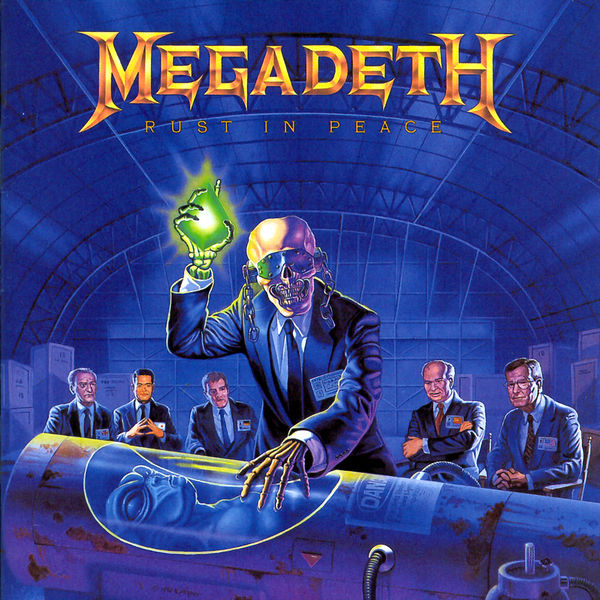 With Rust In Peace, Mega-Dave finally realised his vision for Megadeth by recording the pinnacle of precision thrash and attacking with a force to rival a nuclear detonation. Backed by a weapons-grade, crystal clear production job, Megadeth's intricate riffing and earth-shattering speed created an album that was machine-like, yet never soulless.
Rust In Peace ushered in an era where the likes of Voivod, Annihilator and Coroner could showcase their virtuosity without fear. These were thrash musicians who could really play and Megadeth were at the forefront; primed and ready to unleash their arsenal of tricks.
The band were at their peak in 1990, Mustaine recruited shred legend Marty Friedman (Cacophony) to provide the stunning guitar acrobatics while the rhythm section of Dave Ellefson and Nick Menza locked into a relentless groove; technique and ruthless artistry combining to produce incomparable thrash metal with no let-up and no mercy.
In 1990, the greatest line up in Megadeth's history produced the greatest album in Megadeth's long, illustrious career…. and it still sounds futuristic today!
Also in this Series:
The 5 Essential TESTAMENT Albums
The 5 Essential HELLOWEEN Albums
Latest Posts