The 5 Greatest Funeral Doom Albums of 2021!
Year end 'best of' lists are ten-a-penny so, in this instance, we've delved a little deeper into metal's fertile scene and coughed up a few modern classics from the world of funeral doom….
Unleash the niche!
Funeral – Praesentialis in Aeternum [Norway]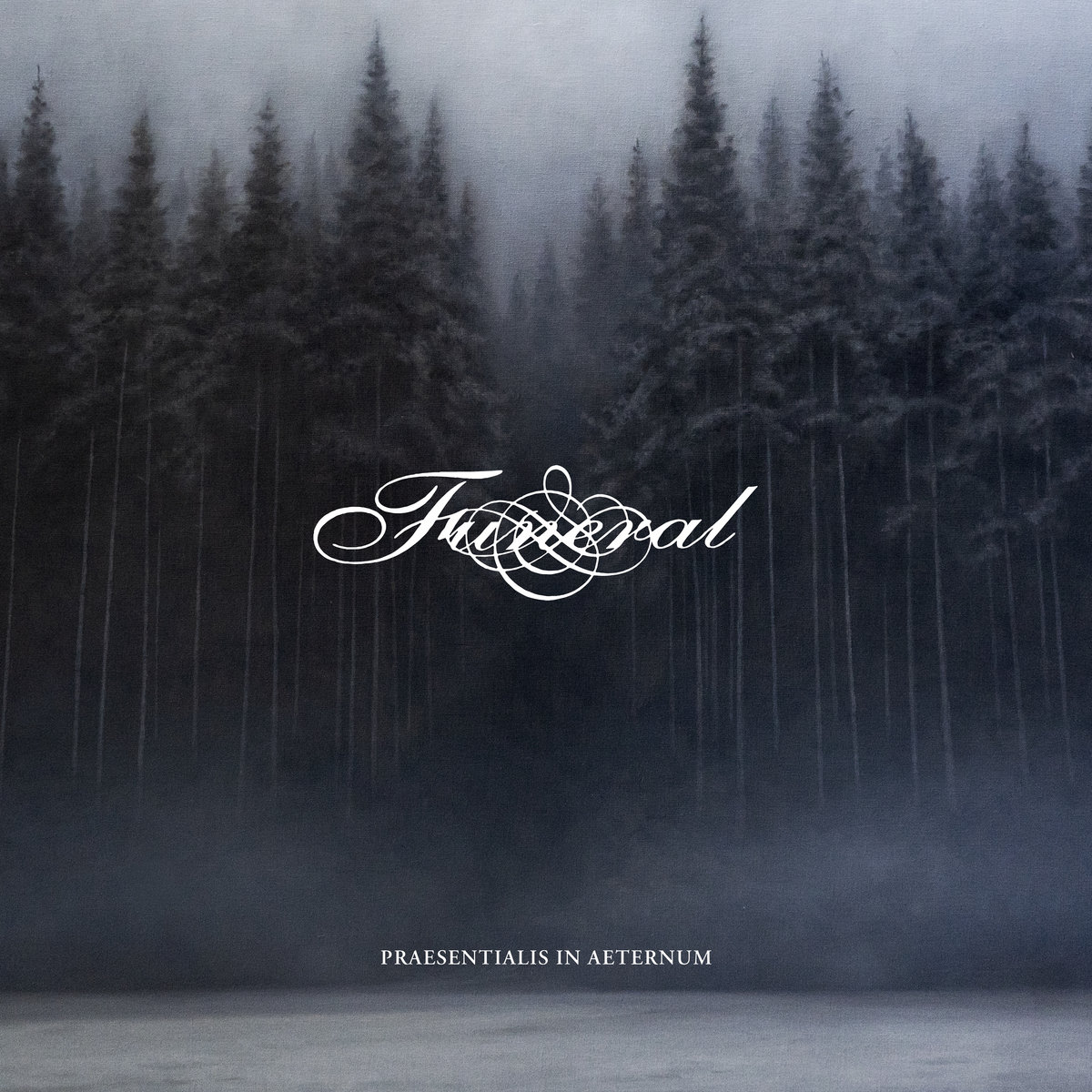 Released: December 10th, 2021 via Season Of Mist
With the release of Praesentialis in Aeternum, these Norweigan legends of funeral doom finally followed up 2012's well received Oratorium with another collection of sublimely sombre sounds.
Sung in their native language, the palpable tension created by the thundering yet tender likes of "Materia" was not lost on non-Norweigan speakers, with Funeral beautifully conveying their sense of loss via the contrasting vocals of Anders Eek and Sindre Edland.
While a judicious edit here or there would have undoubtedly helped with the flow (some of these songs are lonnnnnng!), Praesentialis in Aeternum should still be considered an unmitigated triumph from a band long thought to be left out in the cold.
New line-up but still, ostensibly, the same Funeral.
---
Aphonic Threnody – The All Consuming Void [UK / USA]
Released: Independently on April 23rd, 2021
To enter the void of Aphonic Threnody's all consuming, gothic-tinged and atmospherically-charged latest album was to enshroud oneself in complete darkness; "a fading, tenebrous gloom" as vocalist Daniel Neagoe himself put it.
The All Consuming Void was the sound of human suffering set to the typical lumpen beats and bowel-rumbling growls of funeral doom and yet moments of tranquil beauty and heart-breaking introspection often shone through, ultimately offering respite from the weighty grief that informed the majority of the album.
Four albums in and with The All Consuming Void, Aphonic Threnody surpassed themselves, releasing an album that stood out from their body of work as an unmitigated high-point and an emotionally exhausting experience.
---
Clouds – Despărțire [United Kingdom / Romania]
Released: Independently on October 14th, 2021
Considering they boast current members of Mourners and ex-members of Shape Of Despair and Aphonic Threnody in their ranks, it should come as no surprise that International collective Clouds are as distinguished and respected a funeral doom band as you're ever likely to hear.
Achingly beautiful and strangely alluring despite the bleak nature of their output, Clouds' expert merging of delicate instrumentation (violin, piano and woodwind) with the powerful downstrokes of crushing funeral doom riffs – and a deft balance between mournful growls and sombre cleans – lent this most evocative of acts the deepest, darkest and most compelling sound imaginable.
With My Dying Bride's Aaron Stainthorpe lending his instantly recognisable vocals to "In Both Our Worlds the Pain Is Real", the pain on Despărțire (meaning separation) was most certainly real….and expertly conveyed.
---
Worm – Foreverglade [USA]
Released: October 22nd, 2021 via 20 Buck Spin
Worm's ironically swift journey from black metal to funeral death/doom has been an interesting one and with 2019's Gloomlord pricking the ears of the doom initiated, it was left to this years Foreverglade to cement their place as firm favourites of the scene.
Heavy on the synths and heavy on the stately pace of prime funeral doom, Worm's ability to create a morbid atmosphere amidst the misery and malcontent of chugging riffs, mournful moans and guttural growls was virtually unparalleled in 2021.
Jarring transitions from doom to death were largely avoided as Worm went about fine-tuning their sound and settling on an atmosphere of both otherworldly grandeur and the stench of the primordial swamp.
---
Skepticism – Companion [Finland]
Released: September 24th, 2021 via Svart Records
Funeral doom pioneers Skepticism take their time – no surprises there – and we had to wait an arduously long 6 years for a follow-up to their experimental 2016 album, Ordeal (an album that was recorded live in front of an audience to scintillating effect). With 6th album Companion wading its way through the mire, it was strangely comforting to encounter this most exquisite of bands once again; safe in the knowledge that quality comes as standard. That's not to say that Skepticism are predictable of course – far from it – but there's only so many places funeral doom can go and where it does go, it….goes….very….slowly.
Opener "Calla" initially came as a welcome surprise with its almost up-beat, higher tempo and folky, melodic death metal temperament. The track raises an immediate question. Had Skepticism morphed into a Tales From A Thousand Lakes, Amorphis-esque outfit whose funeral doom past had now been jettisoned entirely? Had they fuck. They were just lulling us into a false sense of security before the real weight of Companion came crashing down!
While an air of 90's death/doom understandably pervaded, it was to Skepticism's credit that they're still writing songs that have the ability to sideswipe us without fucking with their own distinctive formula to a distractible extent. How funeral doom or death/doom songs can be tragically cheerful is another misnomer but Skepticism are adept at unearthing beauty from utter despair, and ever since 1995's Stormcrowfleet blew the lid off funeral doom's closed casket they've mastered the art arguably better than any other band on the planet.
As is now expected from Skepticism, lumbering beats, crushingly bleak riffs and baritone growls came before moments of tranquil semi-acoustic beauty, with Skepticism's funeral march rhythms seamlessly merging with the near silence and sombre reflection of a wake. The very nature of this controlled and mannered beast seemed to inform a sense of stripped down necessity in Skepticism's performance, with an overarching sense of purity and the deftness of human touch adding layers to the whole experience. To call funeral doom beautiful is a contradiction in terms and yet Skepticism have always turned sorrow into somewhat of an art form and Companion is certainly no exception.
Still the best.