Sacrifice: Ranking All 5 Of Their Studio Albums!
Sacrifice are Canadian thrash royalty. Pure and simple. But where do you start when it comes to their back catalogue?
Well, fear not intrepid thrashers. We've re-assessed Sacrifice's albeit small body of work and done the hard work for you….
5. Apocalypse Inside (1993)
Canadian thrashers Sacrifice have never released a bad album – and that's a fact! But, we've got some ranking to do and 1993's Apocalypse Inside is the album to kick us off.
Sacrifice's last album before a 16 year gap in releases, Apocalypse Inside ended their original 4 album run in relatively fine style. Tempering their own sound – and embracing a more mid-paced approach with groove elements inevitably bleeding through – Sacrifice were deftly adapting to a changing thrash landscape without quite reaching the heights we all know they are capable of.
Slightly mellowed they well have been but Apocalypse Inside was still home to some absolute bangers, with the blistering "Incarcerated" particularly proving that Sacrifice still had an almighty flame (as well as an apocalypse) burning inside.
---
4. Torment In Fire (1986)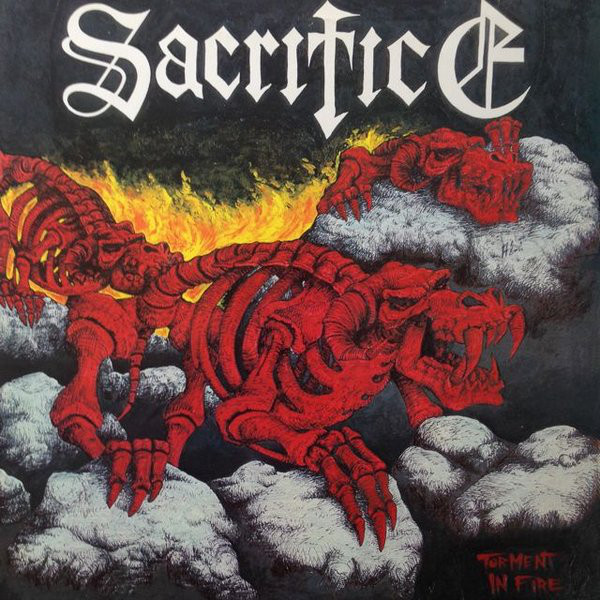 Sacrifice's debut was fiendishly evil, brutally effective and pure diabolical mayhem set to music.
Featuring some truly spine-scraping shrieks and riffs that threatened to veer into all out distorted noise, Sacrifice may have been undeniably immature at this stage….but there's no escaping the sheer impact this feral release still possesses!
These Canadian miscreants often sounded more like their unhinged German counterparts than the clinically precise riffing often found South of the Canadian border. Subsequently, Sacrifice found themselves joining the demented ranks of Destruction, Kreator, Whiplash and Possessed. While a god-awful production job slightly lessened its impact, Torment In Fire remains an integral stepping-stone in thrash metal's eventual transition to death metal.
---
3. The Ones I Condemn (2009)
Making their recorded comeback 16 long years after their last album, The Ones I Condemn found Sacrifice firing on all cylinders and ably re-winding the clock back to the glory days of thrash.
As hungry and as heavy as ever, Sacrifice were still cribbing from their American and German counterparts but they sure as hell had the nerve to out-thrash (and occasionally out-death) the relatively run of the mill tripe released by the likes of Kreator (Hordes Of Chaos) and Slayer (World Painted Blood) back in 2009. Defiantly old-school yet blessed with a modern sheen, the likes of the ripping title track and the blood and thunder of "The Great Wall" proved that Sacrifice were far from a spent force.
The Ones I Condemn is one of the finest comeback albums in thrash metal history – no question!
---
2. Soldiers Of Misfortune (1990)
With a cleaner sound than that found on 1986's Torment In Fire and 1987's Forward to Termination, Sacrifice were now less an animalistic roar of raw noise and were a more considered, technically savvy thrash act. This makes it sound like Sacrifice had wussed out – which of course they most certainly had not! – and perhaps 'matured' would be the more apt description.
To reiterate, by the time Soldiers Of Misfortune rolled round Sacrifice were simply better songwriters, as the ass-kicking likes of "As The World Burns", "In Defiance" and "Pawn Of Prophecy" ultimately proved.
Often the Sacrifice connoisseur's album of choice, Soldiers Of Misfortune stands tall as a bona fide highlight of Canadian thrash metal. However, we believe another Sacrifice album constitutes their finest ever moment….
---
1. Forward To Termination (1987)
Part of Canada's "big four" alongside the potentially more recognisable names of Razor, Voivod and Annihilator, Sacrifice's 2nd album, Forward To Termination, was a fast and ferocious shit-storm of an album that more than warranted Sacrifice's inclusion in such exalted company.
A marked improvement on their admittedly decent debut Torment In Fire, 1987's Forward to Termination upped the ante in almost every department, while also maturing at an astonishing rate. A virtually perfect amalgamation of snarling attitude, ingenious riffs and diverse song structure, Forward To Termination – and the likes of the cult favourite "Re-Animation" in particular – have gone down in history as an all time classic of Canadian thrash!
With this outstanding album, Sacrifice proved once and for all that Canada had thrash bands that could rival those found in the USA and Germany and they should have found themselves at the top of the thrash pile.
Latest Posts