Protector: Ranking All 8 Of Their Studio Albums!
A new level….
4. Excessive Outburst Of Depravity (2022)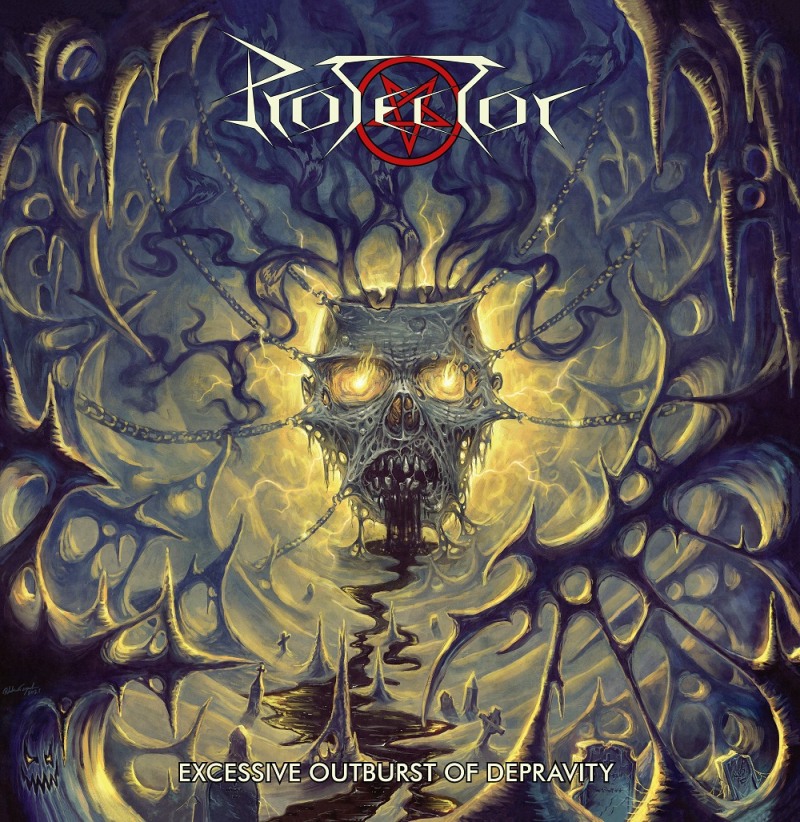 Released: July 1st, 2022 via High Roller Records
Protector's most recent release was a savage shock to the system that proved, once and for all, that Protector were a band more than equipped to survive in the third decade of their existence.
A true necro-blast of thrashing filth and bile, here was a band whose veteran status did little to hide the rampaging hunger that still niggles at their charred souls. An excessive outburst this most definitely is, with wave after wave of sickle sharp riffs and undulating rhythms – not to mention a fine vocal performance from Martin "Golem" Missy – slashing and hacking their way through 11 tracks of blistering blackened death / thrash.
On this evidence, Protector are well and truly here to stay! 8/10
---
Of significance….
3. The Heritage (1993)
Released: September 20th, 1993 via C&C
With their 3rd album, The Heritage, Protector paid homage to their own legacy while managing to release a quality thrash album in 1993 – a time, if you recall, when thrash had all but died on its arse.
As ferociously frantic as ever, Protector's deathly leanings remained rampant and the band had lost none of the vicious bite that made A Shedding of Skin and Urm The Mad so damn appealing.
From the opening salvo of "Mental Malaria" and "Scars Bleed Life Long" sprang death / thrash of the highest order – informed as much by Deicide as Kreator and Destruction – and the pedigree of this late in the day thrash opus was clear to hear. The Heritage would prove to be Protector's heyday swansong – not a bad way to go out we would wager! 8/10
---
Mental!
2. Urm The Mad (1989)
Released: October 1989 via Atom H
A full-on death / thrash onslaught, Protector's 2nd album, Urm The Mad, remains a shockingly visceral experience….but one that comes laced with groove and an endless parade of often mid-tempo, skull-crushing riffs.
"Sliced, Hacked and Grinded" perfectly encapsulated Protector's deathly leanings, while "Nothing Has Changed" indicated a propensity for death / doom's oppressively heavy approach. However, Protector were still a thrash band at heart and when the hyper-speed of "Quasimodo" hits, you'll still be left reeling.
Urm The Mad is quite simply one of the greatest death / thrash albums you're ever likely to hear! 8/10
---
Will flay you alive!
A Shedding Of Skin (1991)
Released: October 28th, 1991 via Major Records International
Protector's 3rd album, A Shedding Of Skin, experimented wildly with daringly diversified dynamics and pacing while still remaining resolutely committed to stripping skin from bone! Comprised of 13 snarling, slashing tracks originally produced by master Producer Harris Johns (famed for producing classic albums by Kreator, Voivod, Sodom amongst many others), A Shedding Of Skin may sound slightly antiquated over thirty years later but, in 1991, Protector had harnessed the perfect blend of thrash heaviness and death metal intensity…..resulting in an album of considerable force.
If Testament's dalliances with death metal on the underrated Demonic caused you to suffer from involuntary liquid explosions then A Shedding Of Skin will require you to be hospitalised with dehydration. Barring a few moments of slower-paced bruising on tracks such as "Death Comes Soon" and "Thy Will Be Done" this blasts harder than ten-tonnes of dynamite down a mine-shaft and should be revered as a progressive death/thrash masterclass from one of the most consistently reliable bands in German thrash history.
With very little variety or subtlety on display, A Shedding Of Skin simply skinned you alive. Fans of Kreator, Sodom and Destruction who haven't experienced A Shedding Of Skin's delights will undoubtedly salivate uncontrollably upon getting their claws on this often under-appreciated classic….and thanks to Holy Roller Records' relatively recent re-issue, now is as good a time as any! 9/10
Also in this Series: