8 Classic Progressive Metal Albums That Haven't Aged A Day (Part 3)
Strap yourselves in for a cerebral pasting, these classic Progressive Metal monsters were purpose built to fry your brains!
Continuing where Parts 1 and 2 of our Classic Progressive Metal Albums That Haven't Aged A Day left off, Part 3 further embraces those progressive metal albums that have stood the test of time remarkably well…..
Psychotic Waltz – A Social Grace (1990)
American proggers Psychotic Waltz may have passed the more casual prog metal fan by and that is the kind of sacrilege these articles aim to address!
Absurdly talented, their debut album, A Social Grace, is perhaps one of the most overlooked and underappreicated prog metal albums of the early 90's. Far superior than the majority of their peers, Psychotic Waltz's brand of heaviness and skilled musicianship was highly original and their syncopated grooves and schizophrenic diversions were arguably at their most impressive on A Social Grace.
Complex arrangements abound as the band walked a very fine line between incomprehensible virtuosity and accessible song structure with relative ease and flawless execution. There's simply no overstating just how unfathomably textured this album is and just how effective Psychotic Waltz were in delivering their distinct vision.
Sheer class.
---
Mekong Delta – Kaleidoscope (1992)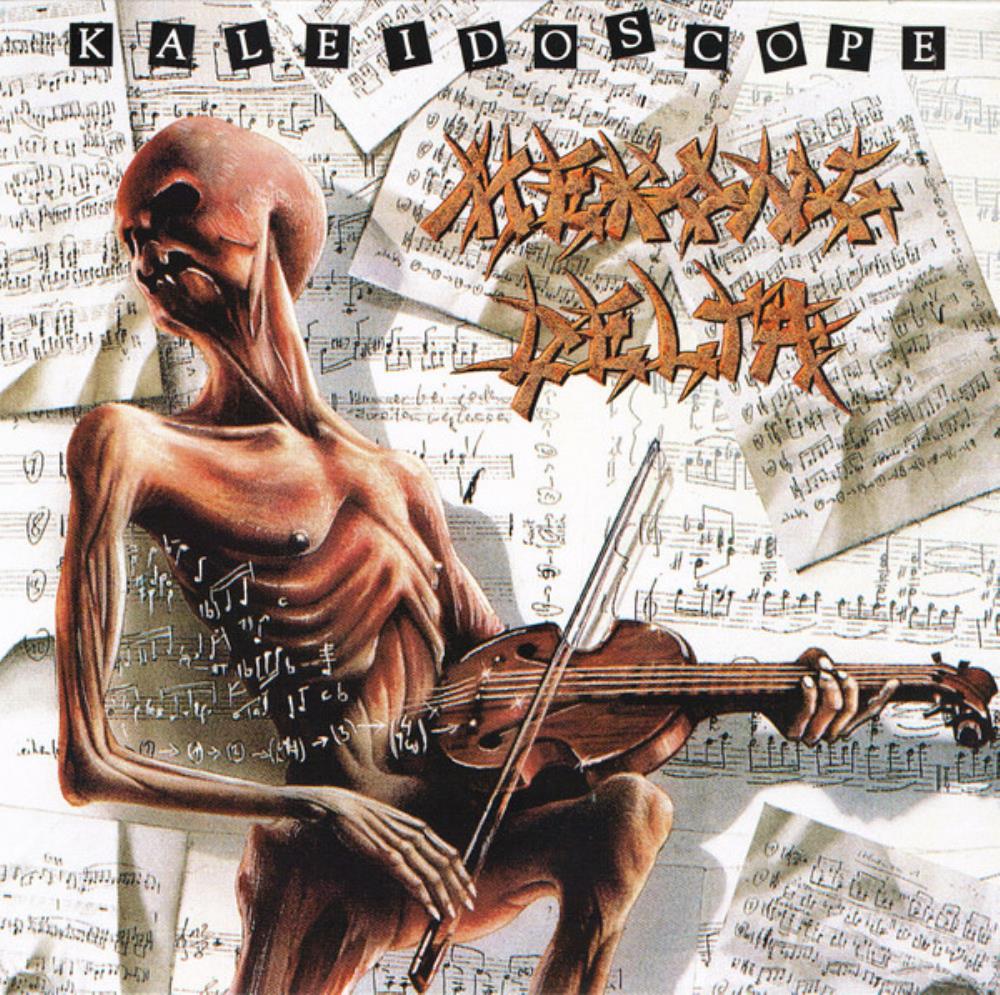 For a band renowned for nigh on undecipherable madness – with labyrinthine song structures and abstract riff-patterns often jostling for attention amidst a sturdy thrash framework – the 5th album from these crazy Germans was arguably their most refined and most accessible. While normally never more content than when thowing a million riff patterns at a song and simply letting chaos reign, the beauty in Kaleidoscope lay in its tempered approach. 
Mekong Delta fanatics were kept happy with "Sphere Eclipse", a track which hit the proggressive thrash ramp at Sabbat meets Voivod levels of speed, while the true prog lovers were catered for via their cover of Genesis' "Dance On A Volcano"(which proved disconcertingly irresistable). The rest of the album was then a collage of wistful melancholy ("Dreaming") and more abstract Voivod-esque weirdness ("Shadow Walker").
Kaleidoscope could easily be considered the finest distillaiton of Mekong Delta's talent to date – such was its ability to fully relay the bands myriad of influences.
---
Believer – Dimensions (1993)
Home to the kind of syncopated riffs which must have had the guys in Meshuggah scheming their own eventual rise to dominance, Dimensions was the third album from Christian progressive / technical thrash metal band Believer and it shook the foundations of thrash to its very core!
While 1990's Sanity Obscure runs it a close second, Dimensions should be considered Believer's masterwork with bewildering tempo changes and psychic interplay transforming 3 mere musicians into a colossal force of heavenly proportions.
Nonchalantly throwing in the violin/viola of Scott Laird and Julianne Laird Hoge's exquisite soprano/operatic vocals added even more layers. Take, for instance, the sheer audacity of "The Trilogy of Knowledge," a 20-minute excursion into pure brilliance inspired by the greats of progressive rock such as Pink Floyd, Yes and Emerson, Lake and Palmer which somehow surpassed the majority of them; a series of 'movements' (so to speak) which need to be heard to be believed!
An uncompromising, labyrinthian progressive / technical metal milestone, Dimensions' ability to send your brain into orbit remains undiminished.
---
Conception – Parallel Minds (1993)
Fans of symphonic power metallers Kamelot take note; ex-lead singer Roy Khan first made his mark in Norway's Conception, the progressive power metal band that created an unheralded early 90's gem in the shape of Parallel Minds.
Suffice to say, Khan's vocals are outstanding here and while the overall sound of Parallel Mind smay have been out of sync with prevailing trends, it's the soaring vocals, power metal melodies, expressive keyboards and crunchy mid-paced riffs, that render Conception's approach timeless.
Well crafted songs – ingenious in their perceived simplicity – masked a band capable of delivering something which bordered on regal; a case of power metal royalty claiming the throne before they'd even been fully conceived!
Latest Posts