Motörhead – Louder Than Noise… Live In Berlin – Album Review
Not a day goes by without metalheads around the world lamenting that Sir Kilmister no longer walks among men and is instead sipping his Jack and Coke and playing one-armed bandit at the Bar of the Gods. Likewise, not a year goes by without another slew of Motörhead releases, be they album reissues or unearthed live material. What arch anti-businessman Lem himself would have made of this is uncertain, and yet, either way, we're all suckers for any contact he makes with us from beyond. And so it goes with the latest Motörhead live release, Louder Than Noise… Live In Berlin: is it necessary? No. But is it necessary? Yes.

Throughout Motörhead's entire 40-year career, the one bastion of loyalty to Lem and the various iterations of the band was Germany. It was German fans who embraced the fledgling band the warmest on their first forays outside the UK in the late '70's. It was German fans who again stood up to be counted during Motörhead's commercially difficult mid-'80's and again mid-'90's period, when the vulturous UK press was hell-bent on destroying Heavy Metal. This was, of course, before the sultans of scum broadly realised that a man of Lemmy's integrity was a marketable commodity after all, not least in the world of zero integrity they themselves created. As such, this record is very clearly a way for the band's remaining members and management to pay tribute to the fans that mattered most. Loyalty is a two-way street, and of this, Lemmy would have approved.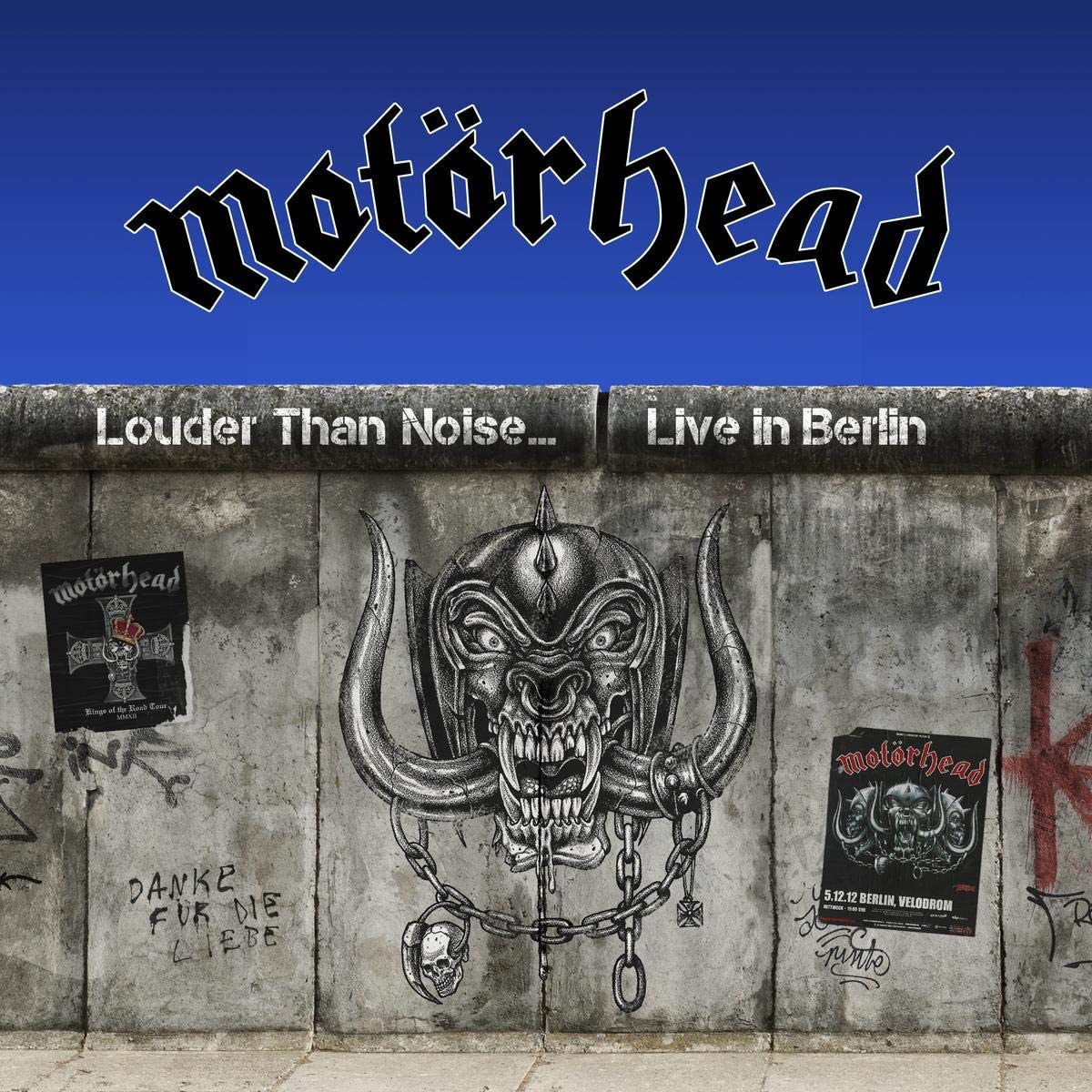 Recorded at the Berlin Velodrom on December 5th, 2012, on the back of the "Kings Of The Road" tour sandwiched between the The Wörld Is Yours and Aftershock eras in Motörhistory, this is a supremely welcome document, because it marks arguably the last period of Lemmy's life in which his health was not constantly under the microscope. It therefore also blows the last Motörhead live release, Clean Your Clock, from their final tour in 2015 and on which Lemmy is audibly frail, out of the water, and happily, Louder Than Noise… is a nice corrective that puts the band's unadulterated power on full display. Beautifully produced, with all the love due to the band evident in the effort, the blistering performance in front of the 12,000 faithful makes it feel like Lem is just having a drink on your sofa while giving you business advice.

Everyone sounds fantastic, Lem as usual bolstered by Phil Campbell, as responsible arguably as the main man himself for taking Motörhead to their commercial top in the band's twilight years (do yourself a favour and check out his band Bastard Sons and Campbell's solo album Old Lions Still Roar). Current Scorpions drummer – "the best drummer in the world", pace Lemmy (yes, yes, it's true, he is) Mikkey Dee is the greatest pleasure as always, not least on the drum solo in "The One To Sing The Blues" – Mikkey is one of the few drummers on earth where going to take a leak during the solo is a criminal act. Bottom line: this was the definitive Motörhead line-up – Lemmy thought so, at least – and this is what should go down for posterity: that the band was as dangerous, filthy and glorious towards the end as it was in the beginning.

Album highlights are the absolutely bewitching "The Chase Is Better Than The Catch (Truth!), a "Metropolis" delivered with full heart, Campbell's blues on "You Better Run", a rare appearance of Ramones-inspired "Going To Brazil", and a wrenching "Killed By Death", where Lem stares down that biggest corporation of them all once again and earns another three years on this bedevilled earth – carried, at least in part, by those German fans.

If you'd have loved to have been there, missed the chance to see Motörhead live, or simply cannot wait for the upcoming 40th Anniversary re-issue of No Sleep 'Til Hammersmith, buy the damn physical product, crank it up, cause the neighbour's lawn to die, and feel alive. Is that necessary? Yes.

10/10 – Because some things are still real.
Louder Than Noise… Live In Berlin was released on April 23rd 2021 via Silver Lining Music.
Latest Posts