General Surgery – Lay Down And Be Counted – EP Review
The surgeons are in.....
Quick bit of background: Sweden's General Surgery were originally formed way back in 1988 and featured members of Swedish death metal royalty Dismember and cult progressive death metallers Afflicted. Taking their cues from Carcass, the gore quotient was high and the sickness was strong and their debut EP, the acknowledged classic Necrology (1991), vomited forth all that a goregrind / deathgrind fan could ever have wished for.
Hardly prolific, General Surgery then spent the next 30 years releasing occasional splits, EP's and 2 full length albums (2006's Left Hand Pathology and 2009's Corpus In Extremis: Analysing Necrocriticism) with Lay Down and Be Counted following on from 2012's Like An Ever Flowing Limb EP (lovely Dismember reference there). It should come as no surprise that Lay Down And Be Counted is hardly a departure from previous releases, with these macabre medical masters' wanton knack for taking a bonesaw to unwanted limbs and documenting the process still very much the order of the day.
As pungently sick as ever, you don't need to be a medical examiner to see where General Surgery are going with the likes of "Liquefactive Decay of Remnant Lung Tissue" and "Sentenced to the Slab/Organ Failure". We're still locked in a nightmarish world of fermenting innards, dead body desecration and licensed medical practitioners abusing their powers – which is glorious and gross in equal measure.
Opening with a sample of an embalmer gleefully detailing her love for the job ably sets the scene (if you're gonna do a job, you might as well love it!), the gargling, bodily-fluid-doused grind of "Effusive Opulent Decampment/Lay Down and Be Counted" showcases a band still very much at home in the sounds of early 90s death/grind, with more than a little melody and groove thrown in (thrown up?) for good measure.
There are moments in "Cut Throat Speed" and "Liquefactive Decay of Remnant Lung Tissue" which settle into monumental grooves and recall the eternally satisfying sounds of Carcass circa Heartwork, but General Surgery never fail to lurch back into more familiar death/grind territory. It's all relatively predictable but no less satisfying because of it.
We're pleased to say that General Surgery remain rotten to the gore….and we wouldn't want them any other way! 7/10
General Surgery's Lay Down And Be Counted is released on 11th June 2021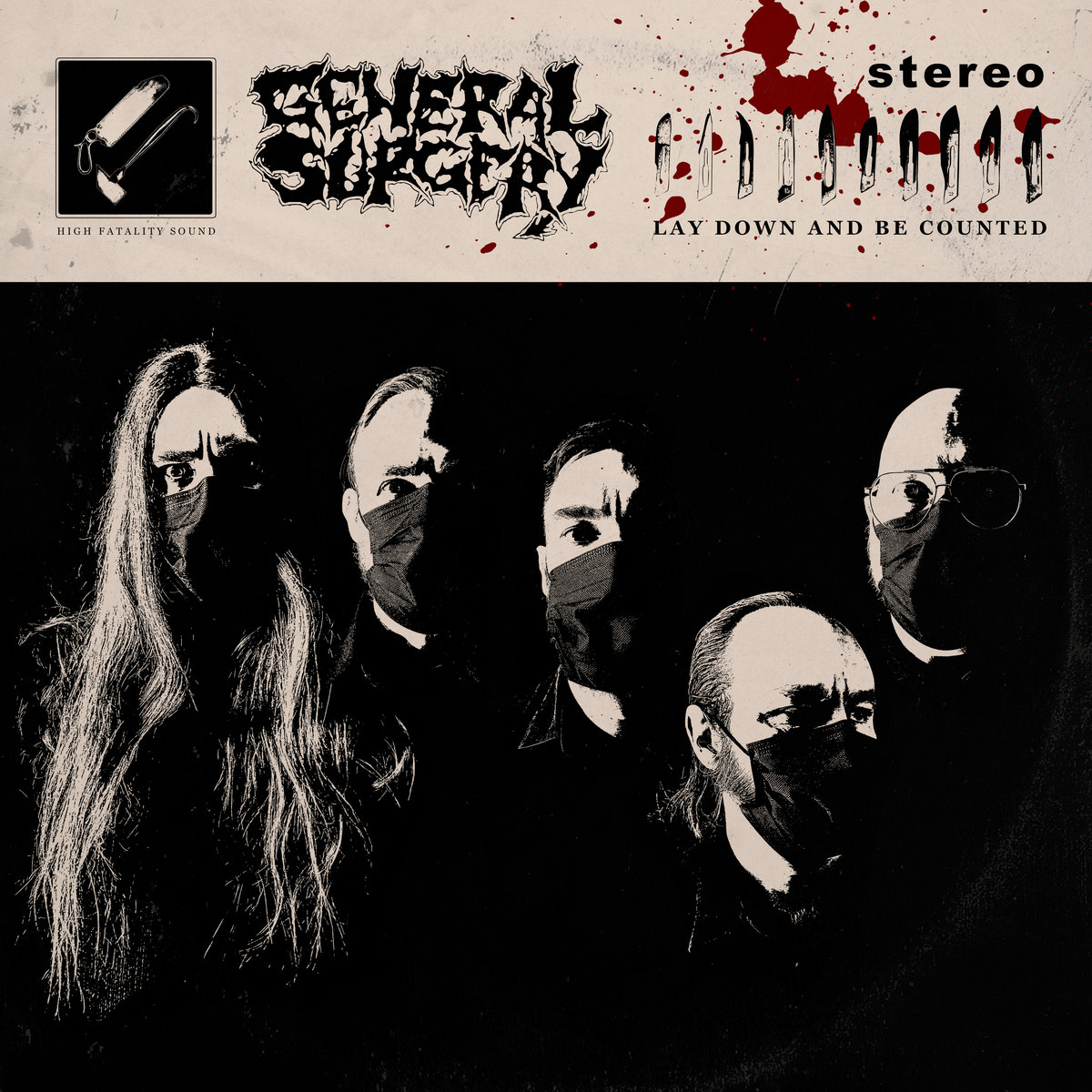 Latest Posts