The 5 Greatest German Thrash Albums Of 2022
Teutonic terrors!
Acknowledging that we couldn't possibly have heard every single German thrash album released this year, these are our 5 Greatest German Thrash Metal Albums of 2022.
These are the 5 German thrash albums that blew us away, the albums that warranted endless spins, the albums that prompted involuntarily head-banging and generally put a big fuckin' smile on our grumpy ol' faces!
5. Tankard – Pavlov's Dawgs
Yes. We enjoyed Tankard's 18th(!) album more than Kreator's Hate Über Alles. And no, Kreator's Hate Über Alles does not turn up later in this list. Sorry. Not Sorry.
We'd rather hear Tankard play hard and fast and sing about beer and whiskey for the umpteenth time than witness Kreator going 'soft' and Tankard, as reliable as ever, gave us MORE of what we love about this prolific band.
As hungry and as thirsty as ever, these drooling dogs still know how to let themselves off the leash and the pile-driving likes of "Ex-Fluencer" and "Dark Self Intruder" offered all an old-school teutonic thrash fan could ask for.
Admittedly, much of the lyrical content was still as dodgy as fuck but you'll be too pissed to care. Raise them tankards!
---
4. Tempest – Point Of No Return
Released: Independently on May 28th, 2022
With a ton of Iced Earth (can we still mention them? Too late!), Sacred Reich and Heathen providing inspiration, Tempest's power/thrash persuasion left us with an old-school sounding jolt of pleasingly melodic thrash.
Despite a template that could easily sound stale, Tempest took late 80s / early 90s thrash and refreshed it, wrung new life out of it even, and ably passed it off as their own. At heart, Tempest relished in delivering hook after satisfying hook and once the likes of "Unbroken" and "The Backwater Gospel" were through with you, you were simply left begging for more.
Muscular, groovy and as punchy as all hell, Tempest's sophomore album was ripe with prime crunch and proved that old-school sounds, when handled correctly, can still be as effective as ever!
---
3. Destruction – Diabolical
Released: April 8th, 2022 via Napalm Records
Sometimes only a sure-fire blast of old school THRASH will do and Destruction (in virtually their 40th year of existence no less!) ticked all the damn boxes for those of us craving a satisfying dose of 80's thrashin' mayhem.
With nothing new to report (other than a new line-up, of course), we simply took solace in the fact that Schmier and his band of mercenaries were still churning out high-calibre Teutonic thrash. While recent lapses into semi-mediocrity threatened to tarnish this legendary band's formidable legacy (all 4 albums post 2011 had been good….but not great), Diabolical showcased a reinvigorated and rejuvenated Destruction….and one with a collective fire in their belly's once again.
The Mad Butcher lives!
---
2. Traitor – Exiled To The Surface
Released: July 8th, 2022 via Violent Creek Records
Someone asks you to name a German thrash band. The one German thrash band you'd recommend they listen to. That band? Probably Kreator, right? Thought so. Traitor love a bit of Kreator too. So much so, they've taken to sounding exactly like 'em circa Extreme Aggression and, blatant plagiarism aside, we've gotta admit to enjoying the bloody hell out of it!
Frontman Andreas Mozer sounds exactly like Mille Petrozza and the band sound like they ignored most of Kreator's 90s output post Coma Of Souls (much like we did) and simply wanna slavishly let rip in old-school Kreator style.
So, why do we rate Exiled To The Surface so highly?
It's fun, it's fast, it's rabid and it's relentless. It's FRASH with a capital fuckin' 'F'. It rips your tits off and fires your nipples back at ya like bullets. It's the album we wish Kreator had released instead of Hate Über Alles! What's not to love?!
The biggest irony is that Sodom's Tom Angelripper lends his vocals to "Total Thrash". Was Mille busy??
---
1. Protector – Excess Outburst Of Depravity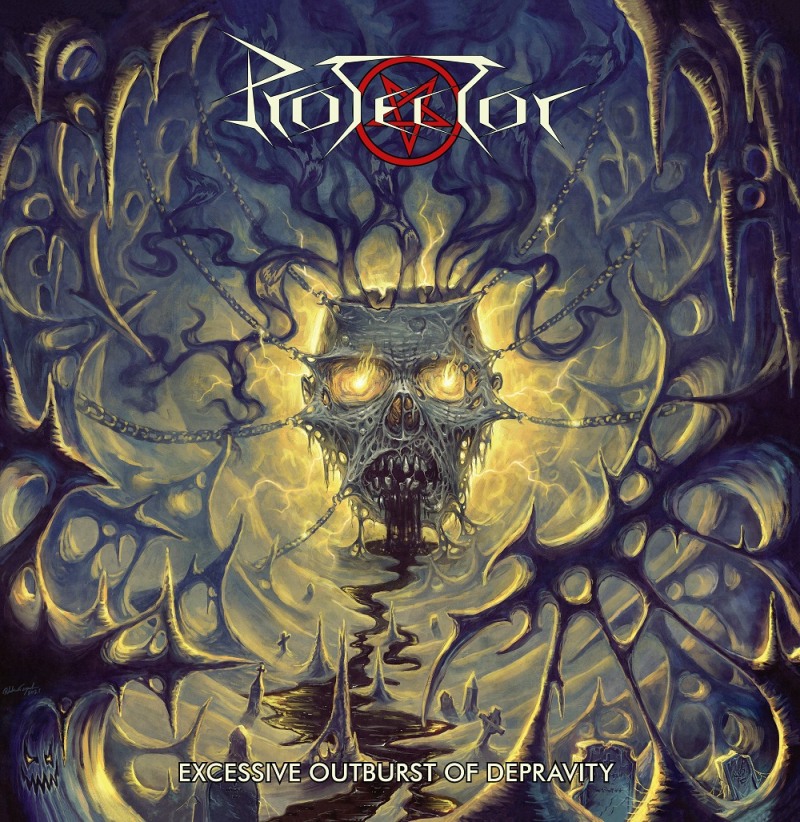 Released: July 1st, 2022 via High Roller Records
Protector's 9th album, Excessive Outburst Of Depravity, was a savage shock to the system that proved, once and for all, that this was a band more than equipped to survive into the third decade of their existence.
A true necro-blast of thrashing filth and bile, here was a band whose veteran status did little to hide the rampaging hunger that still niggled at their charred souls. An excessive outburst of absolute depravity this most definitely was, with wave after wave of sickle sharp riffs and undulating rhythms – not to mention a fine vocal performance from Martin "Golem" Missy – slashing and hacking their way through 11 tracks of blistering blackened death / thrash.
Those of us with an appetite for cult classics Urm The Mad (1989) and A Shedding Of Skin (1991) were left suitably sated, with the band delivering easily their finest release since their reformation back in 2013.
On this evidence, Protector are well and truly here to stay!
Latest Posts