15 Of The Most Essential Old-School SWEDISH DEATH METAL Albums
Unleashed –Where No Life Dwells (1991)
Unleashed cannily unleashed the ultimate in hellish groove with their outstanding debut album, Where no Life Dwells, an album that showcased a band whoseskill lay in perfectly alternating speed with an ominous atmosphere and no end of memorably brutal songs.
Unleashed's lyrical focus on Viking culture and folklore wouldn't be fully realised until 1993's Across The Open Sea. However, there's no doubting that, even on their debut, Unleashed sounded like a pack of marauding vikings with "Before The Creation Of Time" and "If They Had Eyes" rampaging their way through your earholes with little to no mercy.
One of the big four of the Swedish death metal scene for bloody good reason, Where No Life Dwells was just the start for a band who've gone on to be the most reliable band in Swedish death metal history!
Also check out: Both Shadows In The Deep (1992) and Across The Open Sea (1993) re strong but, ultimately, inferior versions of their debut.
---
Pan.Thy.Monium – Dawn Of Dreams (1992)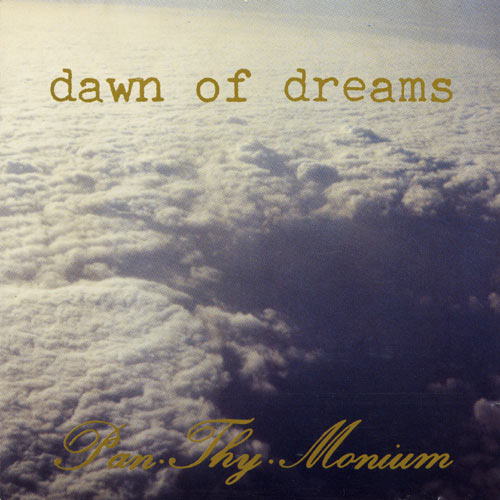 As progressive a death metal band as they come, Pan.Thy.Monium's debut was the polar opposite of the output from Entombed, Dismember, Grave etc. That being said, Dawn Of Dreams was still resolutely Swedish death metal in spirt but you wouldn't have found L.G. Petrov and co. throwing free jazz saxophone into the mix!
Opening with a 21+ minute track was also against the norm and "Untitled" (all 7 tracks on Dawn Of Dreams are titled "Untitled" incidentally) was otherworldly – alien even – and took death metal into realms hitherto unexplored. The remainder of the album was slightly more accessible, unfolding in a series of six shorter vignettes which were just as progressive but blessed with a stronger sense of groove and old-school death metal / death-doom mentality.
Dawn Of Dreams retains the power to leave you speechless….even 30 years after the fact!
Also check out: 1993's Khaooohs was just as experimental and just as daunting as their debut.
---
Desultory – Into Eternity (1993)
Into Eternity was the debut album from the perennially undervalued Desultory and despite its obscure nature, this is an album of considerable importance – and considerable skill – from Sweden's early 90's death metal scene!
Sure, Into Eternity essentially repeated the same formula over and over – much like the majority of their compatriots – but when your thrashy, semi-melodic, semi-progressive death metal is as uniformly consistent and consistently impressive as this, variety can fuck off!
At this stage in their career, Desultory were the equals of their more famous peers and with an abundance of soaring, clean leads and expressive bass lines, Into Eternity is an album that should be celebrated for perfectly combining a keen sense of melody with ultimate aggression
Also check out: 1994's Bitterness was equal to Into Eternity in almost every way!
---
God Macabre – The Winterlong… (1993)
God Macabre's only album arrived fully formed in 1993 and, while they never managed to record a follow-up, it is testament to the quality of this obscure gem that we're still talking about it all these years later.
God Macabre's reign may have been short but it was decidedly sweet and The Winterlong's occult horror atmosphere – enriched with a diversity often found wanting in death metal – means this intricate, varied, complex and bold album retains it's allure.
True connoisseurs of death metal know exactly how good this one of a kind album really is….while a welcome surprise awaits the uninitiated!
---
Hypocrisy – Osculum Obscenum (1993)
Peter Tägtgren's Hypocrisy were a Swedish anomaly from the start, heavily influenced by the sounds emanating from America (Tägtgren resided in the US in the late 80's/early 90's) they delivered a far more focused, technically proficient exercise in barbaric brutality than the majority of their peers.
Here was the sound of pure evil, with elements of black metal seeping in via Masse Broberg's unholy screeches and an intermittent use of atmospheric keyboards.
The result was an album that neither nestled alongside those in the Swedish death metal ranks nor the devilish cacophony emanating from the United States (namely Deicide), resulting in its 'black sheep of the family' status.
Osculum Obscenum: 36 mins of pure genius. Behold the twisted truth!
Also check out: 1992 debut Penetralia which gave more than just a hint of the genius to come.
---
Necrophobic – The Nocturnal Silence (1993)
Breathing putrid air since 1989, Necrophobic have diligently toiled away as Swedish underdogs, always delivering the goods but with little to no fanfare when compared to the likes of Entombed, Dismember, Unleashed etc.
However, Necrophobic had just as much influence on Sweden's death metal scene, offering something darker, more malevolent and, ultimately, a little more blackened than their peers but still delivering brutality and ingenuity in equal measure.
Ice cold, morbidly sinister and indefatigably satanic, The Nocturnal Silence was at its best when delivering eerie, tremolo-picked soliloquy's such as "Before The Dawn" and the overwhelmingly intense title track. The most striking aspect is how something this diabolically depraved could sound so damn catchy, an achievement that can only be attributed to the sheer quality of Necrophobic's songwriting.
---
Gorement – The Ending Quest (1994)
Concluding this list with one of the finest examples of death metal known to man – Swedish or otherwise – seems fitting….and Gorement's The Ending Quest is god-tier death metal from a band who sadly failed to follow-up this genre defining moment.
Not many albums earn the accolade of being flawless but The Ending Quest is one such album. From production to song writing, atmosphere to lyrical content, Gorment were masters of their craft and this devastatingly heavy, yet strangely melancholy exercise in sonic brutality is a unique moment in Swedish death metal history.
The perfect companion piece to Entombed's Left Hand Path, Gorement left an indelible mark with their one and only album and its standing as a landmark in the underground Swedish death metal scene remains undiminished.
---
Bonus EP recommendation:
General Surgery – Necrology [EP] (1991)
Sweden's General Surgery were originally formed way back in 1988 and featured members of Swedish death metal royalty Dismember and cult progressive death metallers Afflicted.
Taking their cues from Carcass, the gore quotient was high and the sickness was strong in this 'un and their debut EP – the acknowledged classic Necrology (1991) – vomited forth all that a goregrind / deathgrind fan could ever have wished for.
---
Honourable mentions: Authorize – The Source Of Dominion (1991) / Cemetery – An Evil Shade of Grey (1992) / Centinex – Subconscious Lobotomy (1992) / Edge Of Sanity – Nothing But Death Remains (1991) / Edge Of Sanity – Unorthodox (1992) / Epitaph – Seeming Salvation (1992) / Luciferion – Demonication (The Manifest) (1994) / Mega Slaughter – Calls From The Beyond (1991) / Seance – Forever Laid To Rest (1992) / Therion – Of Darkness…. / Wombbath – Internal Caustic Torments (1993)…. and more!
Check out The Worship Metal Podcast's demonically delicious death metal discussion for more on Swedish Death Metal ….