Old-School Death/Doom: 5 Of The Greatest One-Album Wonders
Death / doom classics from bands with a 'one and done' attitude.
Presented in order of release as opposed toany kind of ranking…..
Sempiternal Deathreign – The Spooky Gloom (1989) [Netherlands]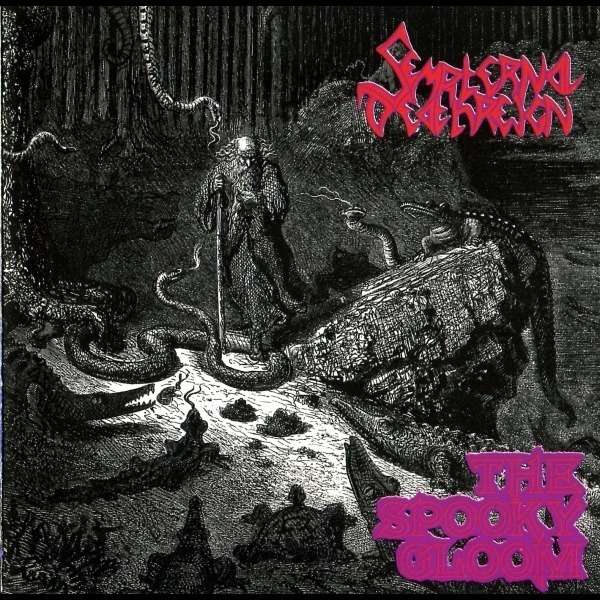 An obscure release, Sempiternal Deathreign's only album is a shockingly underrated yet vital death/doom release that demands to be rediscovered.
While leaning more towards the death than the doom, openers "Creep-O-Rama" and "Resurrection Cemetery" mimic much of the death/thrash that reared its ugly head in the late 80's with breakneck speed and bowel-loosening growls misleadingly omitting practically all doom elements. Stick with it though and this 'lost classic' truly elevates itself to must-hear status with its subtle introduction of doom on the simply awe-inspiring "Devastating Empire Towards Humanity". Its acoustic intro instantly brings to mind the likes of Candlemass before a classic doom metal riff – the kind Tony Iommi would have been proud to have penned – tuns The Spooky Gloom on its head and its pioneering death/doom intentions become clear. Interspersed with death metal speed, this epic flits between the two genres with consummate ease.
Way, way ahead of their time, Sempiternal Deathreign may be a mere footnote in metal history but The Spooky Gloom is one album that epitomises death/doom more then most.
---
Winter – Into Darkness (1990) [USA]
Into Darkness is the first and only full-length album from American death / doom band Winter and it remains one of the most singularly devastating metal albums in existence.
Winter were way ahead of their time as they took everything people thought they know about doom and contorted it into something unrecognisably bleak and sinister. With the advent of death metal's supremacy looming large, Winter simply took the sub-genres overwhelming aggression and fashioned it to doom's cataclysmic framework.
The result was music more depressingly apocalyptic than anyone had ever heard before….and the sounds that erupted from this fearsome three-piece were akin to an oncoming nuclear winter!
---
Sorrow – Hatred And Disgust (1992) [USA]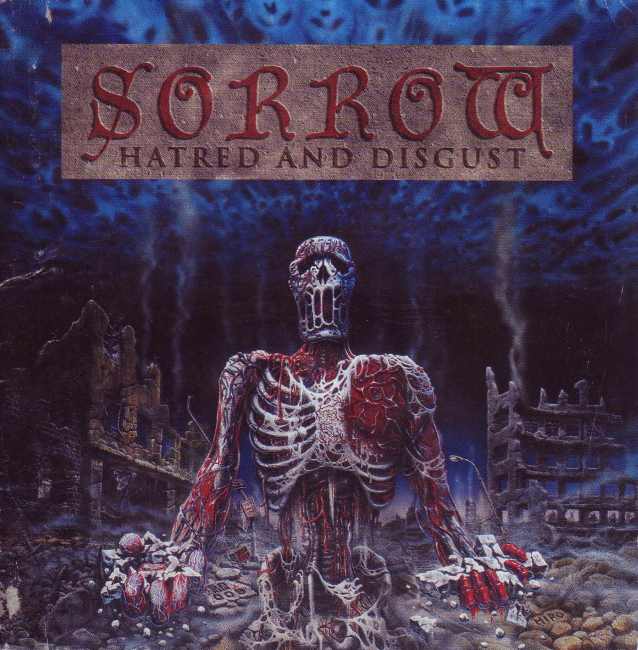 Hatred and disgust….there's no more apt a way to describe Sorrow's one and only album. This malicious beast positively oozes negativity and its slovenly dirges of dank dismay are as compellingly disgusting as ever!
Featuring the guitar work of Brett Clarin (Journey Into Darkness), Sorrow were a fearsome act whose decent into hell favoured a more simplistic and brutal approach, but one that was no less powerful because of it.
The likes of "Forced Repression" were hardly doom incarnate – with enough old-school death metal circa Obituary to sate the appetites of true early 90's death metal fanatics – but they were arguably at their best when slowing….things…right down…. such as on the efficiently evil "Human Error".
A hidden gem!
---
Cruciform – Atavism (1993) [Australia]
To those in the know, Cruciform were one of the formative Australian death metal bands in the early '90s and with Atavism they played a major part in ushering in the age of death / doom. This could be a surprising statement to those who believe death / doom's humble beginnings were as a result of Peaceville giving the world Paradise Lost, Anathema and My Dying Bridebut Cruciform arrived on the scene at almost the same time as the Peaceville three….they just happened to be 9,500 miles away! Regardless of location, it's a crime that Cruciform failed to capitalise on what should be considered a genre defining recording.
Making a relatively inauspicious start, "Prologue" sets the scene but offers precious little but "Sanctuary", on the other hand, remains a shockingly abrasive and instantly memorable death/doom classic. Unencumbered by the use of violin, strings, keyboards and other familiar death / doom tropes, the minimalist approach served Cruciform well as they simply went about their business of wringing in misery and woe while constantly hovering perilously over the precipice of all-out death metal – the increased pace of "Reduced To Dust" and "Proboscis" showcasing Cruciform's A-grade death metal credentials.
---
Decomposed – Hope Finally Died… (1993) [UK]
Possibly the most overlooked album in death/doom history – and UK metal in general – Decomposed's Hope Finally Died… deserves to be mentioned in the same breath as those seminal releases from the Peaceville three (Paradise Lost, My Dying Bride, Anathema) namely Gothic, Turn Loose The Swans and Serenades respectively.
Deceptively simple, the beauty of this staggering release lies not in its musicality, nor its vocal prowess or even its songwriting nous. At face value, all these facets seem relatively generic but the true reason this savagely under-appreciated cornerstone of death/doom deserves higher praise, is down to the almost unparalleled way in which Decomposed blend the mournful melancholy of doom with the caustic and cathartic blur of death metal aggression; each song unearthing a new spin on an already standard formula and expertly fusing sorrowful soliloquay's with neck-breaking riffs.
Whether primitive old-school death metal savagery or shuffling excursions into doom metal's swampy territory peels your onions, Decomposed's one and only full length should be mandatory listening. Unearth its treasures and discover why Hope Finally Died… is not only a hidden gem butshould also be held in the same regard as the majority of death/doom's so-called classics!