5 Metal/Hard Rock Songs From Artists You Wouldn't Expect!
They didn't? They did!
Over the years a few artists from outside of the metal & rock stratosphere have made the tricky decision to defy expectation and courageously dabble in all things heavy. A brave move. After all, we rock & metal fans can be a cynical bunch when it comes to interlopers trading their wares on our hallowed and sacred turf!
Regardless of our cynicism, we decided to seek out the most hard rocking tunes recorded by artists who were always more pop than rock. Frankly, we were blown away by the quality of the results.
Brace yourself for a few surprises, here are 5 metal / hard rock songs from artists you wouldn't expect…..
5. Diana Ross – "Fool for Your Love"
One listen to "Fool For Your Love" and you'd be forgiven for thinking that KISS fired Paul Stanley in the early 80's and replaced him with Diana F*ckin' Ross!
The Queen of Motown's one and only foray into hard rock and heavy metal is a surprisingly hard-rockin' affair.
Totally against the grain of anything she had recorded before or since, it's strange to hear Miss Ross belting out such a hard-hitting glam metal number but it's not without merit.
Proving there was no genre Diana Ross couldn't handle, "Fool For Your Love" may confuse but you'll at least have a big ol' grin on your face while you listen to it!
---
4. David Bowie – "She Shook Me Cold"
Taken from The Man Who Sold The World, David Bowie's folk past and glam rock future may be apparent but this is the closest The Thin White Duke ever came to being labelled as 'heavy metal'.
On "She Shook Me Cold", Bowie and Mick Ronson settle into a blackened doomy head-trip which recalls the blueprint laid down by Black Sabbath just 9 months earlier. The heavy metal chaos resembles a drug-addled jam session with Ronson's unorthodox guitar solo proving to be accomplished, extraordinary and completely off the wall; the perfect accompaniment to Bowie's abstract lyrics.
David Bowie was always something of a chameleon – even in the early days – and after his lesser known folk-rock self-titled debut and iconic follow up, Space Oddity, it can be no coincidence that he set his glassy eyes firmly on heavy metal's burgeoning popularity.
Judging by "She Shook Me Cold", Bowie could have been a heavy metal monster if he'd so desired!
As it turned out, some Spiders From Mars caught his attention instead!
---
3. Hot Chocolate – "Go Go Girl"
Hot Bleedin' Chocolate did not write a hard rock / heavy metal song we hear you cry!
They were just snake-hipped, smooth-talking, lounge-lizards you say!
Well, it appears that there was a time when the smooth larynx of Errol Brown and his cohorts laid down some fuzzy riffs and some bad-ass grooves and the result was some unexpectedly solid psychedelic pop-rock.
Released as the B-side to 1972's "You'll Always Be A Friend", "Go Go Girl" is a complete and utter anomaly in the Hot Choccy back catalogue. Opening with a classic 70's Riff, the melodies may be marshmallow pop but the music is pure psychedelia; excellent use of the obligatory Hammond Organ included.
Who knew Hot Chocolate were so full of surprises; you hard rockin' sexy things you!
---
2. The Sweet – "Man From Mecca"
Often dismissed as mere glam metal fluff, The Sweet actually could rock-out with the best of 'em and "Man From Mecca" is a barn-stormer; riffed-up to the rafters and ready to rumble.
Originally released as the B-Side to "Little Willy" (stop sniggering), "Man From Mecca" is a prime cut of early 70's proto-metal that rocks harder and faster then you could possibly imagine.
Opening with a riff that would sit comfortably on any Black Sabbath album, The Sweet's penchant for high energy and catchy hooks is backed up by a surprisingly heavy sound that'll have you head-banging like a loon.
This is certainly not the bubblegum pop the band became known for. Instead, "Man From Mecca" is a short, sharp blast of riff heaven from a band that, on this evidence, could easily have stood toe to toe with the hard rock greats if they'd so desired.
Still touring the UK & Europe as Andy Scott's Sweet, "Man From Mecca" proves that The Sweet were and are so much more than just "Blockbuster" and "Ballroom Blitz".
---
1. The Osmonds – "Crazy Horses"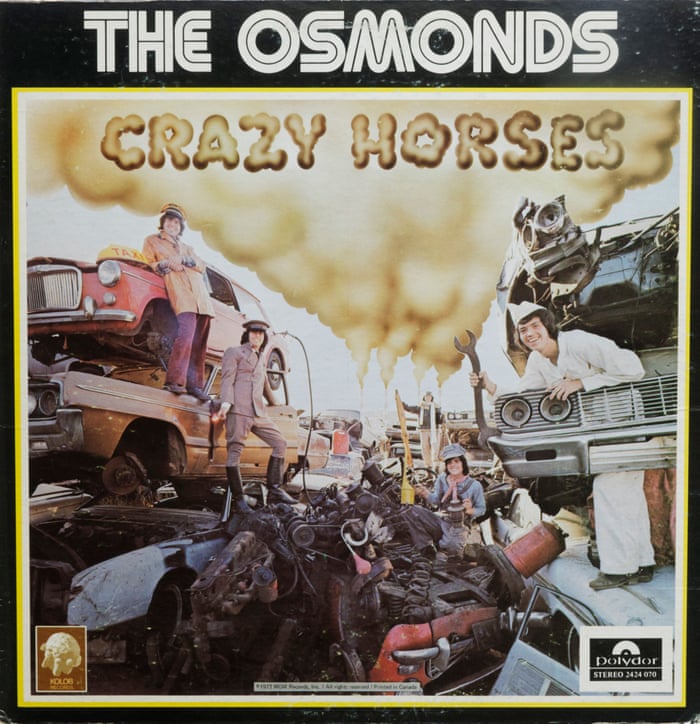 Admittedly, this one may not come as too much of a surprise but credit where credit's due; "Crazy Horses" kicks ass!
Featuring solid riffs, gruff (ish) singing, obligatory guitar solo and thrash metal style gang vocals; it ROCKS and if you say you don't like it, you're only lying to yourself!
Known for their syrupy, vomit-inducing odes to puppy love (we know that was a Donny Osmond solo song but you get the idea), "Crazy Horses" bucks the trend and is the one Osmonds song you can love regardless of how vehemently you may despise the remainder of their back catalogue.
It's mind-boggling that The Osmonds recorded this song and yet perfectly encapsulates the point of this article; the best things often materialise when you least expect them!
Fuck it, we're off to listen to "Crazy Horses" again. WAH WAH!!
Latest Posts