10 MORE Often-Forgotten Classics of 80s Thrash….
These often overlooked classics of 80s thrash deserve your love!
Anacrusis – Suffering Hour (1988) [USA]
Anacrusis' debut, Suffering Hour, remains an overlooked moment in thrash history and is the only album in their formidable back catalogue to be classifiable as true 'thrash'.
Joining the likes of Watchtower, Voivod and Mekong Delta in constructing complex arrangements and schizophrenically unique songs that flow through dozens of exhilarating tempo changes, Anacrusis' youthful exuberance and disjointed clamour exhibited nothing but an alluring charm and a desire to challenge thrash's boundaries.
Anacrusis' debut had it all – intelligence, alarming momentum, hollowed-out groove, fiendish rhythms, atonal experimentation, a forebodingly dark and dense sound and a character all of its own. Precious few albums are capable of surprising the listener with each repeat listen but Suffering Hour achieved this and more.
---
Cyclone – Brutal Destruction (1986) [Belgium]
Belgium's Cyclone weren't particularly active – just 2 albums in a 9 year career – but they were the instigators of some distinctive riffage and Brutal Destruction remains an underrated collection of tenacious, tightly focused and terrorising thrash anthems.
Admittedly, Brutal Destruction may sound antiquated to modern ears but this semi-forgotten title had some clout in '86! Dubious title aside, "Incest Love"(?!) remains one hell of a closer while the razor-sharp riffs and unrefined shrieks found on "Long To Hell" and "Fall Under His Command" still leave scars!
One of those albums that belongs in a true thrashers collection – even though it may not receive a regular airing – Cyclone's sound was more mid-level American than European and for this reason alone, Cyclone were up against it; they were never going to make an impact in the US when bands of this calibre were already ten a penny.
---
Destructor – Maximum Destruction (1985) [USA]
With band members christening themselves Matt Flammable, Pat Rabid, Dave Overkill and Dave Holocaust, you're not looking for subtlety when you blast Destructor's 1985 debut Maximum Destruction….. you're looking for unadulterated THRASH with a side order of POWER!
And guess what? That's exactly what you get!
Maximum Destruction's riotously rudimentary nature may sound antiquated to modern ears but these guys were at the forefront of extremity in 1985, matching Slayer in the ferocity stakes and unleashing all manner of merry thrashin' hell in the name youthful abandonment. An often overlooked release, Maximum Destruction was every inch the equal of Slayer's Show No Mercy and Anthrax's Fistful Of Metaland Destructor fully deserved to reach a wider audience with their reprehensibly raw racket.
DESTROY!
---
Disciples Of Power – Power Trap (1989) [Canada]
One of those more obscure thrash albums (and bands) who had everything, Disciples Of Power were already sucker-punching the majority of their peers with debut full length Power Trap; a release which showcased this outstanding band's ability to meld primal thrash aggression, death metal tendencies and progressive thrash structures into a satisfying whole.
The acoustic interplay and almost jazzy swing of exquisite opener "Shades of Grey" reels you in from the get-go and once Disciples of Power fully let rip with their metallic tendencies there's no turning back! Think a heavier, more death/thrash inclined version of Artillery circa By Inheritance and you'll have an idea of what (hell) awaits.
The production may be shite but there's no denying the talent Disciples Of Power clearly had in spades and the merciless nature of their attack – coupled with Watchtower-esque levels of technicality – marks Power Trap out as one of the best thrash albums you've probably never heard.
---
Flames – Merciless Slaughter (1986) [Greece]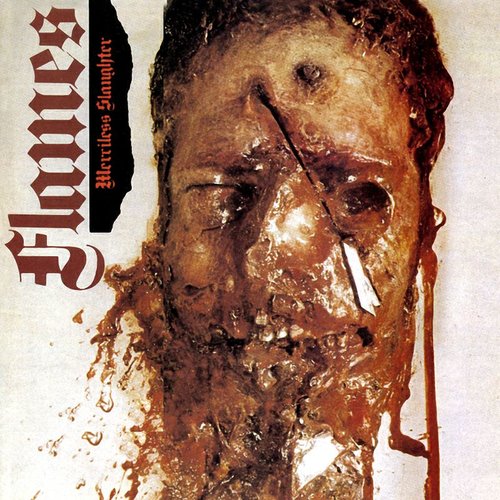 Horrific cover art + nasty as fuck sound = Greece's Flames; an unholy racket of lightning fast trebly riffs and barked vocals….in other words, awesome 80's thrash!
Another record lost in the avalanche of outstanding titles from 1986, Merciless Slaughter still holds up as an intriguing time-capsule from an era when thrash was king and should seriously surprise those yet to hear its delights!
Tupperware drums aside, Flames picked up a (disembodied) head of steam and their dirty raucous sound still packs a killer, Possessed-inspired, punch with the likes of "Evil" neatly summarising all that was great about Flames' classic proto-death metal leanings.
---
Intruder – A Higher Form of Killing (1989) [USA]
Intruder's second album was an aural assault that blew conceptions of thrash apart. Instrumental "Time of Trouble" aside, opener "The Martyr" had not one but three intro riffs before we even got to the meat of the piece, and each one ramped up the urgency and the expectancy like a catholic priest watching the new choir boys march in. And the pace did not let up. Shit, it's heavy, even in 2021.
Guitarists Arthur Vinett and Greg Messick played their hearts out on this record, with their down-picked, string skipping madness played so fast your left hand will look like a Taiwanese prostitute giving a 30 second handjob. Anthrax were famous for the left-hand speed (picking, not handjobs. Well….) but this was another level.
There was humour too. "Mr Death is here!" exclaimed Mr. Death on the last track (Did he get paid for his guest appearance?). And we can't speak about AHFOK without mentioning the awesome Monkees cover "(I'm Not Your) Stepping Stone" in which John Pieroni growled his way through a great Mickey Dolenz pastiche….but it's the chorus harmony vocals that still make you sit up and take notice!
---
Risk – The Daily Horror News (1988) [Germany]
Roll up, roll up, read all about it….daft Germans in excellent speed/thrash shocker!
With a history dating all the way back to 1967(!), Risk took the relatively safe gamble of updating their hard rock/prog rock sound – originally finessed when they were known as Faithful Breath – and went hell for leather with 'debut', The Daily Horror News.
With precise riffing and unruly speed, the raw nature of this obscurity may prove to be a shock to those expecting something a little cleaner from a band who had originally plied their trade two decades prior.
As it turned out, Risk proved more than adept at out-riffing the majority of their peers and seemed to have thrash flowing through their veins…. and a more cohesive and intelligent late 80's speed/thrash album you'd be hard pressed to find.
Ridiculous artwork, cracking album!
---
Sentinel Beast – Depths Of Death (1986) [USA]
Californian power / thrashers Sentinel Beast hit the ground running with their rough and ready debut, Depths Of Death.
Full of bite (particularly in the feral vocals of frontwoman Debbie Gunn), Sentinel Beast were a rabid blast of high energy, no-nonsense, thrashing rage. Catchy and yet suitably caustic, Depths of Death's 9 tracks were over in a flash, but when you've got the likes of "Dogs Of War" in your arsenal, speed is ultimately of the essence!
Kerry King apparently 'discovered' and subsequently championed Sentinel Beast.…and who are we to disagree with the great man himself?
Depths of Death was fuckin' killer. And that's the truth.
---
Viking – Man Of Straw (1989) [USA]
A classic slice of technical thrash, Viking's Man Of Straw had all the necessary ingredients to propel them into the upper echelons of thrash's hierarchy but would prove to be their last album before regrouping with Dark Angel's Mike Gonzalez and Gene Hoglan and Vindicator's Justin Zych to record 2015's excellent No Child Left Behind.
A massive improvement on their Do Or Die debut, the incendiary guitar work of Brett Eriksen (Dark Angel) and the improved songwriting and performances across the board marked out Viking as a thrash metal band to be reckoned with. From the barely in control thrash attack of "They Raped The Land" to the riff-fests of "White Death" and "Man Of Straw", and the truly epic Sodom-esque "Winter", Viking rarely faltered on an unsung classic custom built for fans of Vio-lence and Dark Angel.
It speaks volumes that Brett Eriksen went on to ply his trade with Dark Angel – and contribute massively to their classic album Time Does Not Heal – as Man Of Straw is the perfect precursor to the exhausting number of riffs and vocal patterns found on Dark Angel's seminal 4th album.
---
Wargasm – Why Play Around? (1988) [USA]

Fusing the sonic onslaught of all-out thrash with the melodic nous of the New Wave Of British Heavy Metal and the classic sounds of old-school heavy metal, Wargasm's Why Play Around? is ignored by the majority… but beloved by thrash connoisseurs!
"Bullets & Blades" took the speed and aggression of Motorhead and Tank and thrashed the shit out of 'em, while "Revenge" harnessed a mid-paced crunch to drive home some truly catchy riffing and its "knee deep in blood" refrain.
So much potential, so much talent. In 1988, Why Play Around? may have failed to stand out in a crowded scene of quality releases (Metallica's …And Justice For All, Anthrax's State Of Euphoria, Exodus' Fabulous Disaster, Flotsam's No Place For Disgrace, Testament's The New Order etc, etc) but that's no reason for ignoring it now!
Also in this Series:
10 Often-Forgotten Classics of 80s Thrash….