The 15 Greatest Thrash Metal Debuts Of 1986
Debuts from heaven!
Flotsam and Jetsam – Doomsday For The Deceiver [USA]
One of the greatest thrash debuts known to man, Flotsam and Jetsam's Doomsday For The Deceiver led the world to believe that a new thrash superpower had arrived (not quite, unfortunately) with a collection of tunes both overwhelmingly powerful and expertly performed.
Taking the very best bits of speed metal, power metal and thrash metal and perfecting them amongst a flurry of cranking bass, warp-speed riffs and Erik A.K's formidable pipes, the likes of the feral "Hammerhead", the intense "Iron Tears" and the epic ability of the exquisite title track mark out Doomsday For The Deceiver as an undisputed all-time thrash classic.
Many will recall the rarely used 6K mark awarded by Kerrang back in '86 but that does this legendary release a disservice…this one truly does go up to 11!
---
Holy Moses – Queen Of Siam [Germany]
Female thrash singers in '86 were firmly making their mark on the scene and Holy Moses' Sabine Classen was no exception. At this stage, Holy Moses were no great shakes in the songwriting department but what they lacked in dynamics was made up for with blunt force riffing and those throat-shredding vocals!
The rapid fire Venom-isms of "Walpurgisnight" and opener "Necropolis" indicate the influence the more ill-refined members of the NWOBHM had on these Germans and coupled with the unholy racket conjured by Sodom etc at the time, these 'black' metallers (Holy Moses' words not ours!) were already catching up with the Teutonic three of Sodom, Kreator & Destruction.
While Queen Of Siam could never be described as the definitive Holy Moses release (that honour surely goes to 87's rabid Finished With The Dogs), there's a primitive charm on display here that rewards the listener to this day.
Finally, this may be a throwaway comment, but could Queen Of Siam be described as one of the earliest death metal releases? Sabine Classen's vocals would certainly suggest so!
---
Mysto Dysto – The Rules Have Been Disturbed [Netherlands]
Obscure but well worthy of mention, Dutch thrashers Mysto Dysto may have gone on to become the slightly (but only slightly) more well known Mandator….but it all started here.
With Peter Meijering's ridiculous falsetto leading the charge, Mysto Dysto could hardly be accused of subtlety and while The Rules Have Been Disturbed may sound like utter nonsense to uncultured ears, the rest of us are left to revel in Mysto Dysto's metal majesty.
With speed metal freakouts like opener "Power Of The Law" nestling next to the Iron Maiden-influenced semi-ballad "Confused", The Rules Have Been Disturbed is, ironically, a confusing listen. But then Mysto Dysto were all about fucking with the rules, so this shouldn't come as too much of a surprise!
---
Nuclear Assault – Game Over [USA]
Another thrash milestone – 1986 truly was the greatest year in thrash metal history – Nuclear Assault's debut album saw Danny Lilker and his merry men release an unrefined and cataclysmic thrash metal assault on the world!
Still tapped in to the raw emotion and pure power over technical skill mentality of thrash metal's early releases – that's not to say these boys couldn't play but it's the attitude that shines through – Game Over bordered on a crossover release; revelling in gang vocals, thunderous bass and John Connoly's unhinged and apocalyptic screeching diatribes.
From the blacker than black humour of "Hang The Pope" to the end of the world announcing "Nuclear War", "After The Holocaust" and "Radiation Sickness", Nuclear Assault hit like the proverbial atomic bomb in '86 and instantly cemented their place amongst the greats of thrash metal.
---
Sacrifice – Torment In Fire [Canada]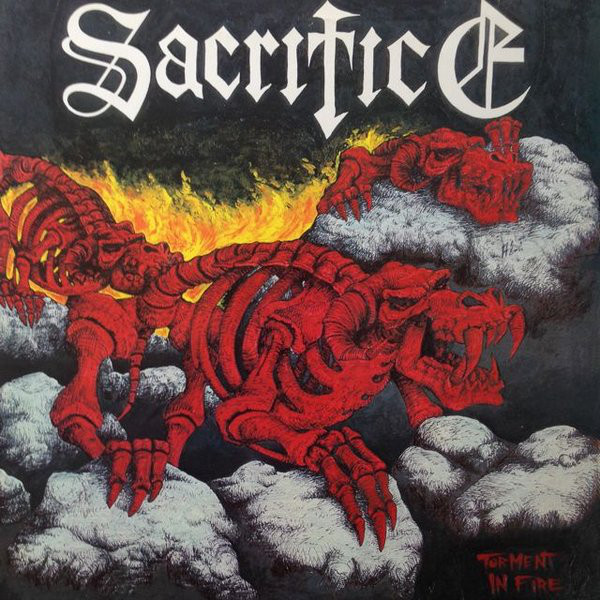 Sacrifice's debut was fiendishly evil, brutally effective and pure diabolical mayhem set to music.
Featuring some truly spine-scraping shrieks and riffs that threaten to veer into all out distorted noise, Sacrifice may have been undeniably immature at this stage but there's no escaping the sheer impact this feral release still posseses.
These Canadian miscreants often sounded more like their unhinged German counterparts than the clinically precise riffing found south of the border. Subsequently, Sacrifice found themselves joining the ranks of the demented Destruction, Kreator, Whiplash and Possessed and while a god-awful production job slightly lessens its impact, Torment In Fire remains an integral stepping stone in thrash metal's eventual transition to death metal.