The 15 Greatest Thrash Metal Debuts Of 1985
Debuts from heaven!
Possessed – Seven Churches [USA]
On their debut album, Possessed took a cut and paste approach to their music by incorporating the viciousness of Venom, the speed of Motörhead and the thrashing, atonal guitars of early Exodus and Slayer…..and the result was an innovative and primitive thrash metal sound which came to define death metal.
"The Exorcist", "Burning In Hell" and "Seven Churches" were held together by Jeff Becerra's unholy roar; simultaneously aping Lemmy from Motörhead yet producing a guttural tone that would go on to be the bread and butter of death metal.
Possessed take the honour of inventing death metal on their debut album, this is constantly up for debate but we're standing by it; no Seven Churches, no death metal.
---
Razor – Executioner's Song [Canada]
In thrall to the pioneering sounds of Motörhead and early Iron Maiden, Canada's Razor were hardly unique (even on their debut) but what they lacked in originality they made up for by being resolutely fast and loud!
Executioner's Song was balls-to-the-wall NWOBHM-tinged thrash of the highest order and its raw energy and unbridled passion remains a joy to behold. While 4 of Executioner's Songs' songs (sic) had already been released on 1984's killer Armed and Dangerous EP, that did nothing to lessen the album's overall impact with "Take This Torch" going down in history as one of thrash metal's greatest tracks.
Gloriously unrepentant and revelling in its own heads-down simplicity, Executioner's Song's ability to bang that head remains undiminished – 100% breakneck THRASH!
---
Sacrilege – Behind The Realms Of Madness [UK]
A furious cacophony of pure thrashing noise, Sacrilege's seminal debut was a crust punk, D-beat, thrash combo designed to floor apathetic listeners who thought they knew the meaning of 'heavy'. Ably blurring the lines between more traditional hardcore punk and the darker side of thrash metal, Sacrilege's blitzkrieg riffing and Lynda 'Tam' Simpson's feral shouts marked them out as true progenitors of crust.
With an antagonistic vigour unrivalled by any other band in the scene, Sacrilege were heavy in every sense of the word with their perfectly rendered noise counterbalanced by political
Behind The Realms Of Madness was/is the kind of album that transcends borders and acts as a defining moment in the 80's cross-pollination of both punk and metal……its influence cannot be underestimated!
---
S.O.D – Speak English Or Die [USA]
S.O.D were completely devoid of tact, politically incorrect, full of humour (very black humour) and capable of thrashing your nuts clean off!
One of the first bands to throw hardcore punk and thrash into a blender, S.O.D were just some young punks letting off steam (Anthax's Scott Ian and Charlie Benante reuniting with ex-bassist Dan Lilker and recruiting vocalist Billy Milano) but turned out to be one of the 80's most influential bands.
S.O.D invented crossover thrash and systematically crushed your head in with heavy-hitters such as "Sargent D and the S.O.D.", "Milano Mosh" and "Identity". In hindsight, much of Speak English Or Die's lyrical content is dubious at best but that doesn't detract from the fact it remains a crossover thrash masterpiece!
---
Watchtower – Energetic Disassembly [USA]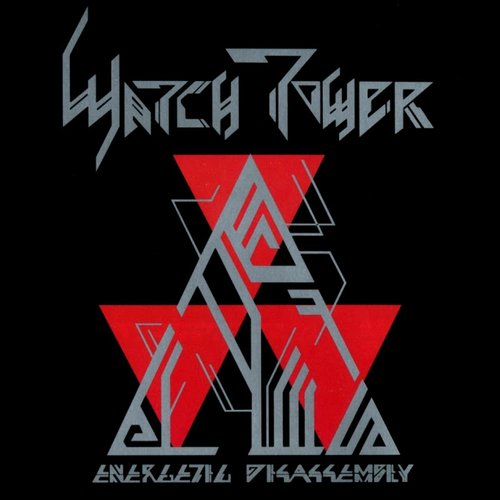 Technical progressive thrash written by a band so far ahead of their time they probably already knew how Avatar 3 is going to end, Watchtower's Energetic Disassembly borders on impossible to describe….but we'll give it a go anyway.
Overflowing with complexity, neck-shredding tempos and banshee solos, Energetic Disassembly is a consistently impressive listen but one let down by a tinny, sub-standard production.
Production woes aside, Watchtower set the bar so high on this release that they probably spilt their drinks and any fan of progressive metal unfamiliar with Energetic Disassembly's riches are encouraged to seek it out.