Helloween: Ranking All 16 Of Their Studio Albums!
Album title's apparently don't come easy either…..
10. Rabbit Don't Come Easy (2003)
Finally re-establishing themselves in the new millennium as a power metal band of considerable note, 2003's Rabbit Don't Come Easy (eh?)remains a relatively underrated album in Helloween's oeuvre (even by us ironically, if this placing is anything to go by). Back were the soaring, catchy anthemic choruses and full-tilt power metal riffs, with Helloween emphatically announcing their 're-birth' as the tongue-in-cheek titans of Euro-power we always knew they were!
Fast and heavy, yet melodic in that inimitable Helloween way, Rabbit Don't Come Easy (still a crap title, though) harked back to more 'traditional' times while resolutely announcing itself as a modern power metal album.
"The Tune" may be bawdy nonsense but the likes of the speedy, in-your-face metal of "Liar" and the classic, punchy Helloween sounds of "Hell Was Made In Heaven" and "Listen To The Flies" enabled Helloween to re-establish themselves as more than just mere contenders to the modern power metal throne. 7/10
---
Turning to the dark side…..
9. The Dark Ride (2000)
The darkest of Helloween's albums is quite the anomaly, with the band tuning down and Andi Deris employing a gruffer vocal style, but it remains a curiosity well worth checking out if power metal with added grit tickles your fancy.
The thrills come not from the de rigeur cheese of "All Over the Nation" but from the less expected crushing mid-tempo stomp of "Escalation 666" and the black, S&M themed, humour of "Mr Torture" – which gets by on its incessant chug alone – while "Mirror, Mirror" ably balances both styles and is an album highlight.
The Dark Ride is Helloween at their most mature and, by dialling back on the histrionics, is a perfect entry point for metal fans looking to expand their power metal palette. 7/10
---
Helloween come full circle……
8. Helloween (2021)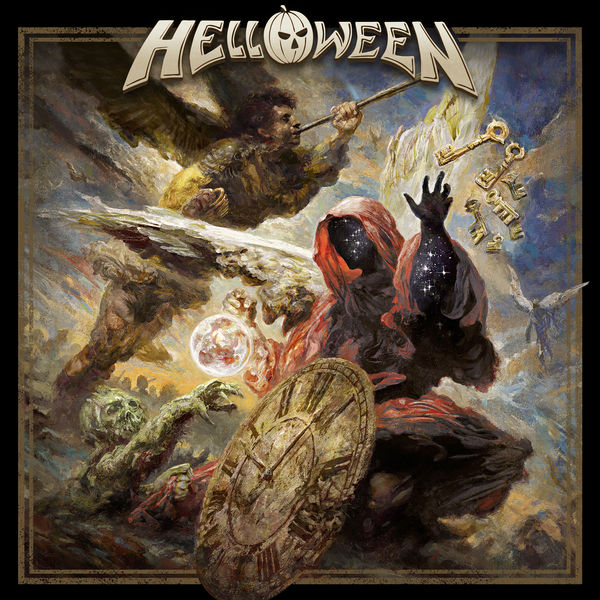 The idea of Michael Kiske and Kai Hansen returning to Helloween, without Andi Deris having to depart to make space for them, sounded great on paper….but whether they could be seamlessly integrated back into the fold on a permanent basis was another thing entirely. While the Pumpkins United performances laid to rest the majority of concerns, the recording of a new album with all three involved was always going to be a trickier test and one that this seven-strong line-up thankfully handled with aplomb!
This was Helloween ramped up to obscene levels – with Kai Hansen proving his worth on guitar and vocals and Michael Kiske and Andi Deris effortlessly combining – and the majority of Helloween was an unmitigated success and one that ably balanced this much talent without detriment to the song writing. With the threat of compromise eliminated and ego's seemingly in check, it's clear that this wasn't a marriage of convenience but a coming together of passionate, like-minded individuals intent on pushing the band to hitherto unreached heights. While surpassing their most worshipped releases would be an almost impossible task – it would take something ridiculously special to usurp Keeper of the Seven Keys Parts I & II from their lofty perch – Helloween nevertheless defiantly reached for the stars and, ultimately, succeeded in virtually every department.
We never should have doubted them. 8/10