ANTHRAX: The East Coast Legends 5 Greatest Albums!
The Be All And End All Of Thrash Metal!
Beloved by thrash metal fans nigh on four decades, Anthrax's unique style, sense of humour and pioneering attitude towards mixing styles and genres of music (yes, rap metal is pretty much their fault but we forgive them) has led to an enviable career which has yielded some of the finest thrash albums in existence.
The only question that remains is which albums stand out as the finest of Anthrax's illustrious career?
5. For All Kings (2016)
Five years on from the immense Worship Music – and after months of press build up – Anthrax finally unleashed For All Kings, their first album since recruiting Jon Donais on lead guitar.
Simply put, this album has everything you want and expect from a band of Anthrax's calibre. Stomping riffs courtesy of Scott Ian? Check! Frank Bello's live wire bass lines? Check! Charlie Benante's always phenomenal beats? Check fucking check! Credit must go to Jon Donais who fits the band like a metal studded glove, some of his leads and melodies on this album stand toe to toe with the bands finest work and the man solo's like the glory days of 80's thrash never ended.
"You Gotta Believe" is a ferocious opener, all razor sharp riffs to begin with before launching into a mellifluous mid section that gradually builds into what Anthrax of 1987 would label on the inlay card as the "mosh part". It's sure to become a live favourite. Next up is the mid paced "Monster At The End", which along with "Breathing Lightning" is as catchy as a particularly virulent dose of herpes.
Anthrax have been at this game long enough to know that speed is not the be all and end all (pun completely intended) and there is a grinding malevolence to the music – and a political edge – that harkens back to the classic Persistence Of Time. The band have rarely been sounded so pissed off at the world with the likes of "Evil Twin" and the hulking "All Of Them Thieves", taking aim at religious extremism and crooked politicians.
For all the real world rhetoric, mature and expressive songwriting and stomping riffs, For All Kings is a triumph for one good reason; Joey Belladonna's vocals. In the 80's, Anthrax set themselves apart from their peers through Joey Belladonna's classic rock and metal vocals, a huge contrast to the standard barking of most thrash throats. On For All Kings Belladonna simply serves up one exquisite vocal after another, delivering what is possibly his finest performance to date.
If you like your thrash with a hefty – and we mean hefty – dollop of melody then look no further, Anthrax have served up a veritable head banging melodic thrash masterclass here. So far in 2016 we've had a seering return to form from Megadeth and now this gem! When compared to the lacklustre Repentless and the never-ending lack of new material from Metallica, it's a comfort to know that at least half of The Big 4 are still writing world class albums!
---
4. Sound Of White Noise (1993)
Recommended Track: "Only". Metallica's James Hetfield described "Only" as the perfect song and who are we to argue, the man knows a thing a two about heavy metal. It helps that he's right of course; "Only" stands proud as one of Anthrax's finest compositions.
Fans could be forgiven for feeling extremely worried when Joey Balladonna quit Anthrax in 1992 to be replaced by Armored Saint's John Bush. Armored Saint were not thrash, more power metal meets hard rock and although they were a solid band (expectations were deservedly high when they released their excellent March Of The Saint debut in 1984) they were definitely not in the same league as Anthrax and John Bush was a very different singer to Joey.
Consequently, Sound Of White Noise is not strictly a thrash album, more a heavy metal release containing thrash elements but it is home to two of Anthrax's finest songs; "Only" and "Room For One More". Both tracks are blessed with choruses big enough to fill arena's and are foot-stomping, gear-crunching, anvil-heavy classics which were a blessed antidote to the grunge/alt rock stylings that were bothering the charts on its release.
John Bush made a massive contribution to Anthrax and its important to recognise his influence. Admittedly, Anthrax were forced to tailor their sound to match his classic rock style vocals but one thing can be said about his output, the boy sure could sing.
As a result, Anthrax were one of very few thrash bands to successfully adapt to the death of the genre in the 90's, channeling their sound to incorporate elements of old and new without sacrificing their trademark crunch. Only Slayer competed with them during this turbulent period and that's simply because they refused to change at all. Metallica and Megadeth however did not fair as well, adopting a watered-down, commercialised sheen resulting in sub-standard albums (Load and Reload, Cryptic Writings and Risk) which tarnished their respective reputations and lacked the vicious thrash attack fans had come to expect and demand from The Big 4.
Thankfully, Anthrax did not follow the same path and Sound Of White Noise was the unexpectedly rewarding result.
Final score… Anthrax 1 – 0 Metallica / Megadeth
---
3. Spreading The Disease (1985)
Recommended Track: "A.I.R." An undeniable thrash classic, sophisticated and controlled, yet bouncy and energetic enough to get any mosh-pit jumping. Refreshingly, neither as harsh and brutal as many of their contemporaries, Anthrax's knack for writing thrash with melody could not be better exemplified than on "A.I.R."
Now this is THRASH!
Anthrax found their melodic yet crunching sound on this, only their second full length album, and it catapulted them to the forefront of the then fledgeling thrash metal scene.
Containing perennial favourites "A.I.R", "Madhouse" and "Gung Ho", this record never lets up from start to finish and ranks as one of the best thrash metal records to emerge from the genre's infancy.
Joey Belladonna impressively sings, screams, shouts and wails his way through 9 tracks of seriously consistent material which elevated Anthrax to the top of the thrash pack. Belladonna stood out as a vocalist who incorporated significantly more melody than the the generic bark adopted by lesser thrash bands.
Anthrax were fortunate to be blessed with a classic metal vocalist in the vein of Rob Halford and Ronnie James Dio as opposed to the gruff, no-thrills approach adopted by the barking and screeching vocalists of many lesser thrash bands. More importantly, he was a full-time frontman. Unlike Metallica and Megadeth who's singers also had to play guitar, Belladonna, unencumbered by playing an instrument, could concentrate on singing and his showmanship and subsequently the band benefitted greatly.
Bucking a trend that had barely begun, Spreading the Disease embraced the classic heavy metal of old as opposed to worshipping the likes of Venom, Raven and other New Wave of British Heavy Metal alumni.
It was this nod to the old school that led to an instant classic.
---
2. Among The Living (1987)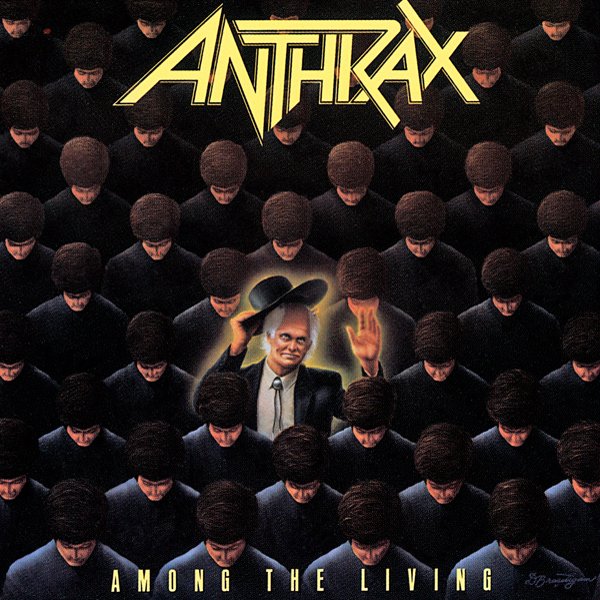 Recommended Track: "Caught In A Mosh"; a true thrash metal anthem and one of the greatest thrash tracks ever written.
This is the real deal and one of the greatest thrash records of all time. On "Among the Living", all the ingredients that make Anthrax great came together to form the perfect whole. Joey Belladonna had bedded in and his melodic yet powerful vocals are exceptional throughout. Scott Ian and Dan Spitz combine thrillingly and cement their reputation as one of the most skilled guitar partnerships in metal and Charlie Benante's stunning, highly influential bass drum work propels the band forward at breakneck speed throughout the entire album.
Lyrically and thematically Among the Living combines the comic book/horror movie aesthetic which can be found on Spreading the Disease and State of Euphoria with the social commentary found on Persistence Of Time, resulting in a near-perfect thrash album which holds it's own against the greatest albums the genre has to offer.
Heavy on comic book, pop culture and horror movie imagery, (the cover artwork depicts the diabolical Rev. Henry Kane character from Poltergeist II & III), the most iconic reference is "I Am the Law", their tribute to comic book enforcer Judge Dredd. This head-crushing stomp through nearly 6 minutes of coruscating riffs, courtesy of rhythm master Scott Ian, remains a fan favourite an incredible 35+ years after it was written.
Another highlight is "Efilnikufesin (N.F.L.)" ("nice f*ckin' life" spelled backwards) which tackles tragic comedian John Belushi's drug and alcohol addiction and early demise and its shred-heavy riffs and hardcore backing vocals are as effective as ever.
The pick of a very good bunch though are stonewall classics "Indians" (a politically charged indictment of the treatment of the Native American and a nod to singer Joey Belladonna's ancestry) and the mosh pit anthem "Caught in a Mosh". These songs stand toe-toe with the best tracks thrash metal has to offer and are as thrilling today as they were way back in 1987.
---
1. Persistence Of Time (1990)
Recommended Track: "Blood". Angry, opinionated and massive in scope, Anthrax's trademark humour is dropped in favour of 7 plus minutes of ridiculously heavy and epic thrash which never bores despite its lengthy running time.
Persistence Of Time was the last Anthrax album to feature vocalist Joey Belladonna until 2011's Worship Music and he bowed out with a bang; Persistence Of Time is a timeless thrash record which ranks as an all time classic in the genre.
All but abandoning the recognisable goofy sense of humour which permeated throughout 1988's State Of Euphoria, on Persistence Of Time Anthrax changed tact entirely and the tone is noticeably more mature. The only track to seem ill-fitting in this context is their insanely popular cover of Joe Jackson's "Got the Time", slightly out of place on an album intent on bludgeoning the listener with social commentary and a harder, more mature edge but their sense of humour inevitably had to bleed through somewhere.
Elsewhere, balls-out thrashers "Gridlock" and "Discharge" are powered as always by Charlie Benante's inventive and powerful double kick drum patterns but the tracks which elevate this album to classic status are the dark and for forboding epics "Blood", "Keep It In the Family" and "In My World". Perhaps more reminiscent of Black Album era Metallica than Anthrax's speed metal of old these tracks highlight the bands growing confidence and musicianship. By 1990, Anthrax had no option but to up their game in light of the progression made by Metallica and Megadeth and this darker sound and mature approach was admirable and frankly necessary.
On Persistence Of Time, Anthrax demonstrated a social awareness previously hinted at ("Indian's", from their Among The Living Album springs to mind) but rarely employed as succinctly and with such righteous conviction; less comic book and more social realism penned to exhilarating and challenging thrash metal.
Persistence Of Time is an impressive, against the grain, descent into the plight and perils of urban life and it's those attributes that have us laud it as the best album Anthrax ever recorded.
If we've committed a cardinal sin and omitted your favourite Anthrax album, stake your claim for Fistful Of Metal, State Of Euphoria, We've Come For You All etc in the comments section below.