6 Of The Most Essential Old-School SWEDISH DEATH METAL Albums
This is just Part 1....plenty more to come!
The rules: No Gothenburg melodeath allowed. Old-school death fuckin' metal only – nothing after 1994. This is just Part 1 of an ongoing series, more will follow! If you haven't heard these albums, you need to have a few harsh words with yourself. That is all. Thank you for reading.
Presented in order of release as opposed to any of kind ranking….
Entombed – Left Hand Path (1990)
Entombed may have only been in their late teens when they released this seminal work but their youth was no reflection on the game-changing, buzzsaw noise that erupted from their fetid, putrid pool of groove and gore.
Brandishing a guitar-tone that sounded like a chainsaw cutting a swathe through decaying corpses, Entombed initially shouldered the burden of channeling Sweden's endless pool of creativity and created an instant classic at the very first attempt!
While the influence of anarcho-punk pioneers Discharge can clearly be heard, this was an album that entered the new decade with nothing but nihilism and a new dawn on its mind. D-Beat repetition may have been an inspiration but Entombed were so much more than just mere plagiarists. Each track on Left Hand Path takes on a deathly life of its own, from the thrashing belligerence of "Revel In Flesh", to the glorious grooves of "When Life Has Ceased" and on to the Satan-summoning "Premature Autopsy" in an exhilarating and enthralling 45 minutes.
The albums piece de resistance though is the eponymous, opening track itself, an epic masterpiece which should be heralded as one of death metal's most breathtaking songs. It's not often that a band can harness the entire power of their sound on the opening song of their debut album – Black Sabbath are one of the few to manage it – and "Left Hand Path" is the death metal equivalent of that heavy metal milestone.
---
Merciless – The Awakening (1990)
If you're after one of the finest examples of death/thrash imaginable look no further!
Merciless's debut, The Awakening, took Kreator's ferocity circa Pleasure To Kill and put a raw as fuck Swedish spin on it. In turn, Merciless walked a very fine line between a genre that had peaked (thrash) and a genre that was about to become the dominant force in metal (death). The result was an album that was hugely influential yet failed to break Merciless into the collective consciousness alongside their one-time contemporaries in Entombed, Dismember etc.
At just 27 minutes, The Awakening was a relentless and savage attack of extreme violence. Merciless by name, merciless by nature.
---
Carbonized – For The Security (1991)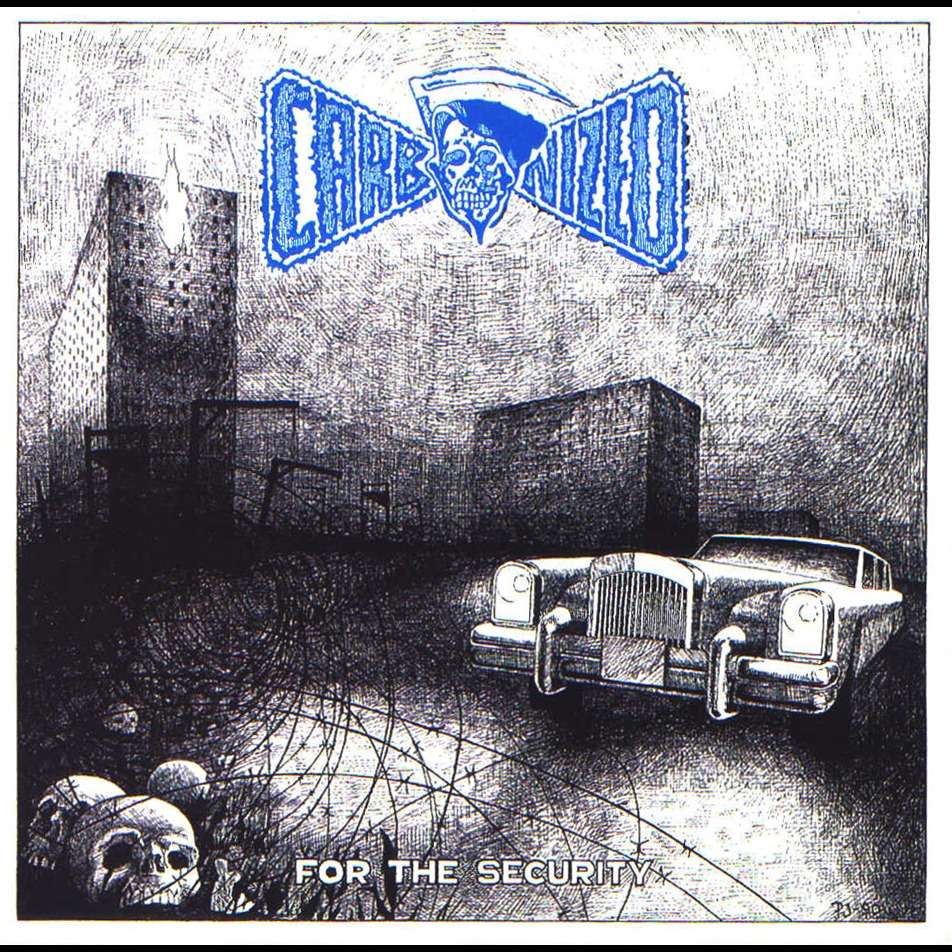 Grinding Swedish death metal masters, Carbonized may be somewhat of a Swedish secret but those in the know understand that few bands from the Swedish scene were embracing such a progressive, polyrhythmic attitude combined with the most primitive, yet organic, blast beats around!
With all 3 members of Carbonized having intrinsic ties with Therion, it should come as no surprise that with For The Security, boundaries were being unceremoniously broken and a progressive attitude to death metal prevailed!
Technically advanced yet wallowing in urbanised filth, Carbonized were a shrieking, guttural shock wave of influences; with this Swedish version of UK d-beat punk – spliced with grind and formative death metal – proving both revolutionary and unique among Swedish death metal bands of the early 90's.
---
Unleashed –Where No Life Dwells (1991)
Unleashed cannily unleashed the ultimate in hellish groove with their outstanding debut album, Where no Life Dwells, an album that showcased a band whoseskill lay in perfectly alternating speed with an ominous atmosphere and no end of memorably brutal songs.
Unleashed's lyrical focus on Viking culture and folklore wouldn't be fully realised until 1993's Across The Open Sea. However, there's no doubting that, even on their debut, Unleashed sounded like a pack of marauding vikings with "Before The Creation Of Time" and "If They Had Eyes" rampaging their way through your earholes with little to no mercy.
One of the big four of the Swedish death metal scene for bloody good reason, Where No Life Dwells was just the start for a band who've gone on to be the most reliable band in Swedish death metal history!
---
Necrophobic – The Nocturnal Silence (1993)
Breathing putrid air since 1989, Necrophobic have diligently toiled away as Swedish underdogs, always delivering the goods but with little to no fanfare when compared to the likes of Entombed, Dismember, Unleashed etc.
However, Necrophobic had just as much influence on Sweden's death metal scene, offering something darker, more malevolent and, ultimately, a little more blackened than their peers but still delivering brutality and ingenuity in equal measure.
Ice cold, morbidly sinister and indefatigably satanic, The Nocturnal Silence was at its best when delivering eerie, tremolo-picked soliloquy's such as "Before The Dawn" and the overwhelmingly intense title track. The most striking aspect is how something this diabolically depraved could sound so damn catchy, an achievement that can only be attributed to the sheer quality of Necrophobic's songwriting.
---
Gorement – The Ending Quest (1994)
Concluding this list with one of the finest examples of death metal known to man – Swedish or otherwise – seems fitting….and Gorement's The Ending Quest is god-tier death metal from a band who sadly failed to follow-up this genre defining moment.
Not many albums earn the accolade of being flawless but The Ending Quest is one such album. From production to song writing, atmosphere to lyrical content, Gorment were masters of their craft and this devastatingly heavy, yet strangely melancholy exercise in sonic brutality is a unique moment in Swedish death metal history.
The perfect companion piece to Entombed's Left Hand Path, Gorement left an indelible mark with their one and only album and its standing as a landmark in the underground Swedish death metal scene remains undiminished.
---
Bonus EP recommendation:
General Surgery – Necrology [EP] (1991)
Sweden's General Surgery were originally formed way back in 1988 and featured members of Swedish death metal royalty Dismember and cult progressive death metallers Afflicted.
Taking their cues from Carcass, the gore quotient was high and the sickness was strong in this 'un and their debut EP – the acknowledged classic Necrology (1991) – vomited forth all that a goregrind / deathgrind fan could ever have wished for.
The next part in this series is already in the works! However, that shouldn't stop you from adding your favourite old-school Swedish Death Metal albums to the comments below!
Check out The Worship Metal Podcast's demonically delicious death metal discussion for more on Swedish Death Metal ….