35 Outstanding Metal Albums That Turned 35 Years Old in 2021!
15. Sacrifice – Torment In Fire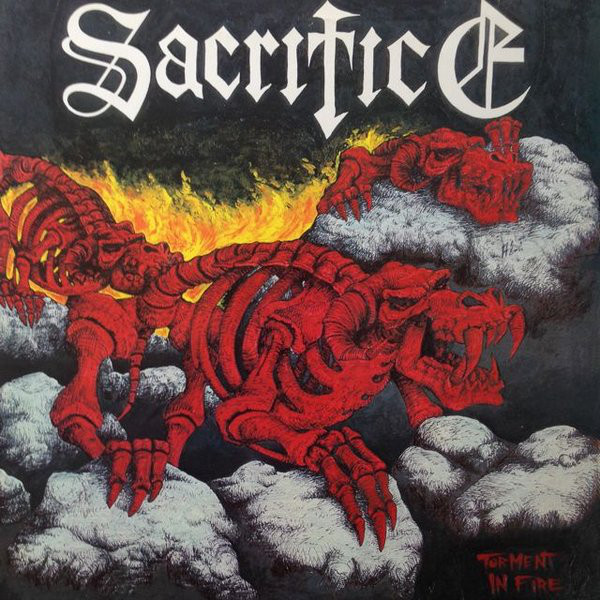 Sacrifice's debut was fiendishly evil, brutally effective and pure diabolical mayhem set to music.
Featuring some truly spine-scraping shrieks and riffs that threaten to veer into all out distorted noise, Sacrifice may have been undeniably immature at this stage but there's no escaping the sheer impact this feral release still posseses.
These Canadian miscreants often sounded more like their unhinged German counterparts than the clinically precise riffing found south of the border. Subsequently, Sacrifice found themselves joining the ranks of the demented Destruction, Kreator, Whiplash and Possessed and while a god-awful production job slightly lessens its impact, Torment In Fire remains an integral stepping stone in thrash metal's eventual transition to death metal.
---
14. Iron Maiden – Somewhere In Time
By 1986, Iron Maiden were so entrenched in the very foundations of modern metal that they could have released a bag of shit and fans would have lapped it up!
Fortunately, Maiden released the slightly experimental – they used synthesisers for god's sake(!) – and utterly brilliant Somewhere In Time and maintained their incredible and meteoric rise to the peaks of metal's hierarchy.
Home to the Adrian Smith classic "Wasted Years" and the anthemic "Heaven Can Wait", a whiff of 'filler' rears it's stinky head on the ironically forgettable "Deja Vu" but that aside, Somewhere In Time was another unmitigated success for the UK's greatest band of the 80's!
---
13. Onslaught – The Force
The first band to truly raise hell in the name of British thrash, Onslaught turned heads with the The Force – was there ever a more appropriate album title – and their forceful and vitriolic sound hit like a ten ton hammer; thrashing harder than most and with as much conviction as the likes of Dark Angel and early Slayer.
Still considered a thrash classic, The Force is probably the most convincing thrash album ever recorded by a British band. Capable of ripping your head clean off, Onslaught were a powerhouse who unleashed a multitude of sinister, stabbing riffs without even breaking a sweat.
"Let There Be Death", "Flame Of The Antichrist" and "Metal Forces", were all instant classics; brutal, utterly devoid of mercy and terrifyingly demonic.
---
12. Possessed – Beyond The Gates
Perfectly melding early-doors death metal with thrash, Beyond The Gates had the unenviable task of following the extreme metal masterpiece that was Seven Churches and while production woes robbed it of impact, the talent and progression of Possessed was still immediately apparent.
Often criticised for embracing a more commercial style – although Beyond The Gates can hardly be considered mainstream by any means – Possessed did fine-tune their sound resulting in some hit and miss tracks but the 'hits' were massive!
The 80s horror intro which bleeds into the maddening thrash heaven of "The Heretic" kicked things off in considerable style while the mid-tempo savagery of "Phantasm" and the bass heavy "Seance" maintained the quality. No matter what the naysayers think, Beyond The Gates should be remembered as an outstanding follow up to a groundbreaking debut!
---
11. Saint Vitus – Born Too Late
To be frank, doom metal announced its arrival in the metal world at the worst possible time….and Saint Vitus knew it!
Wino and the boys did not fit in, their music certainly wasn't 'popular' and their image was beyond archaic and yet despite these obstacles Saint Vitus persevered and an American classic – and a bona fide doom metal masterpiece – was born.
Home to sludgy Black Sabbath worshipping riffs, that completely ignored the decade's penchant for excess, spandex and an overuse of annoying keyboards, Saint Vitus were there to re-address the balance.
Born just in time we say!
---
10. Cro-Mags – The Age Of Quarrel
A legendary debut, The Age Of Quarrel saw the Cro-Mags define the hardcore movement in 15 easy lessons!
A sickle-sharp, metallic sound that was rooted to a blue-collar sensibility, the concise delivery of the hard-hitting "World Peace", "We Gotta Know", "Street Justice" and "Hard Times" brawled their way into your head, insistent, impossible to ignore and delivered with brass-knuckles on.
Few albums can capture pure rage and emotion as perfectly as this, the reality of street life rampaging through the very heart of each track and through each vocal frustration delivered by the incomparable John Joseph.
Consider The Age Of Quarrel the crossover equivalent of Slayer's Reign In Blood, it's that influential and that genre-defining!
---
9. Voivod – Rrröööaaarrr
A huge step up from their relatively primitive debut, Voivod's Rrröööaaarrr was still a thrash album but the seeds were already being sown for the progressive metal majesty that was to come.
"Thrashing Rage", "Ripping Headaches" (the two go hand in hand, right?) and "Korgull The Exterminator" have rightfully gone down as Voivod classics, unashamedly raw, sonically abrasive and totally unique in construct; futuristic thrash personified while the genre was still finding its feet.
Rrröööaaarrr – the first sign that Voivod were to become a truly progressive global force – may be an abrasive experience but its merciless, mechanised and monstrous sound remains an enthralling and engrossing listen.
---
8. King Diamond – Fatal Portrait
A quasi-concept album from the concept king, Fatal Portrait was the first King Diamond album following the disbandment of Mercyful Fate and while King Diamond would go on to perfect his theatrical sound on future releases, this was a pretty spectacular place to start.
Ever experimenting with an endless array of vocal styles, King Diamond's recruitment of Andy LaRocque and ex-Mercyful Fate bandmate Michael Denner was inspired, the duos intricate riffing and atmospheric phrasing providing the perfect backdrop for King Diamond's macabre storytelling.
From the more streamlined "Lurking In The Dark" to the terrifying opening triumvirate of "The Candle", "The Jonah" and "The Portrait", the essence of what makes King Diamond's solo material so indispensable is clear to hear.
---
7. Crimson Glory – Crimson Glory
Few bands could rival the metal perfection engineered by Crimson Glory on this, their debut album, and its follow up Transcendence. Bombastic, heavily charismatic and enlivened by the outstanding vocals of frontman Midnight, Crimson Glory had it all.
Masterful musicianship and a theatricality that left even Queensrÿche flailing, the likes of "Azrael" remain mind blowing; a true classic of 80's metal overflowing with enough ideas and perfect riffs to fill an entire album.
A band that should have experienced the success of the Maiden's and Priest's of this world, their footnote standing in the annals of metal history is a disgrace. While Crimson Glory may sound quintessentially 80's, this incredible album has lost none of its power over the last 30+ years, leaving this band perennially under-appreciated but beloved by those in the know!
---
6. Kreator – Pleasure To Kill
This precociously vicious shitstorm instantly struck a chord with thrashers worldwide and in 1986 Kreator found themselves leading the way in the teutonic scene.
Unhinged to the point of incarceration, Pleasure To Kill's track-list borders on a greatest hits selection with the wall of noise maelstrom of "Ripping Corpse", the unforgettable "Pleasure To Kill", the death metal influencing "Riot Of Violence" and the epic and surprisingly complex "The Pestilence" all meriting classic status.
Kreator altered the German thrash landscape with Pleasure To Kill and frankly, mayhem of this calibre never again sounded so good!