30 Incredible Death Metal Albums That Turned 30 Years Old in 2021!
The greatest year in death metal history!
Broken Hope – Swamped In Gore [USA]
As early examples of brutal death metal go, you'd be hard pressed to find a more convincing album than Broken Hope's malformed debut, Swamped In Gore!
These pioneers of putridity out-growled, out-blasted and out-grooved the majority of their peers and with any essence of thrash all but jettisoned entirely, it was left to Joe Ptacek's ultra-low vomitous gutturals and Broken Hope's focus on crushing breakdowns and gore-obsessed grooves to herald a new dawn in death metal extremity.
A superb companion piece to Suffocation's Effigy Of The Forgotten (released a month after Swamped In Gore!), Broken Hope's contribution to death metal should not be underestimated….just give the title track a spin and revel in its chugging brutality and often mid-paced morbidity.
---
Cannibal Corpse – Butchered At Birth [USA]
Cannibal Corpse had already announced their arrival with thrashier debut Eaten Back To Life (1990) but it was with Butchered At Birth that the world truly took notice of this death metal powerhouse.
Extreme metal had found its new poster boys and Cannibal Corpse weren't about to miss an opportunity to out-gross, out-heavy and out-manoeuvre their death metal brethren at only the second time of asking.
Appropriately savage, the likes of "Meat Hook Sodomy" and "Gutted" delivered gore galore and with the band content to hammer home their message with precious little finesse, it was actually the lack of diversity and 100% commitment to brutality that endeared Butchered At Birth to the masses.
Simplicity in its most horrendous form.
---
Gorefest – Mindloss [Netherlands]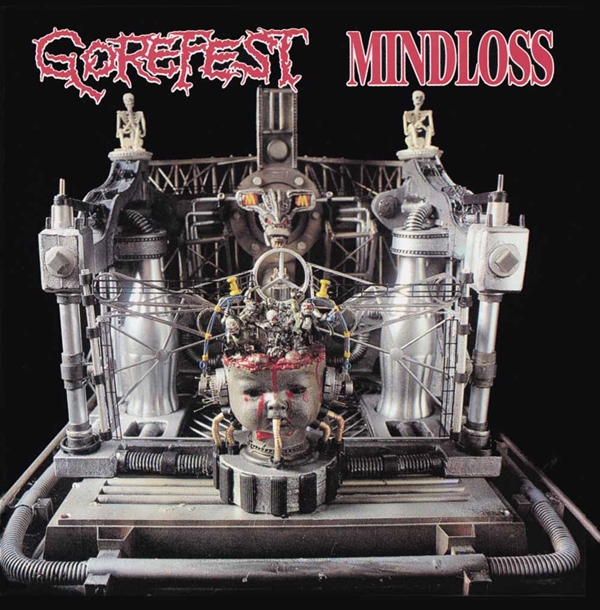 The dutch have never shied away from death metal's delights and Gorefest ranked alongside Asphyx and Pestilence in the quality stakes, with debut album Mindloss proving particularly effective and decidedly memorable.
As direct a death metal album as you'd hoped to find, Mindloss forgoes experimentation for a more standardised appropriation of both the Scandianvian and Floridian sounds of the era, culminating in an album that hit hard with both Jan-Chris de Koeyer's's undeniably ferocious vocals and riffs that bulldozed their way into your brain.
One for the completists maybe but still another prime example of the quality emerging from the death metal ranks in 1991!
---
Master – On The Seventh Day God Created… Master [USA]
When it comes to death metal, Paul Speckmann is a god amongst men and Master's second official full length album, On The Seventh Day God Created… Master, remains a highpoint in what has been a formidable career that is still going strong!
With Master historically operating primarily on the fringes of barbaric thrash, it's most notable that On The Seventh Day God Created… Master found the band, in death metal terms at least, at both their most brutal and most technical.
It can be no coincidence that the arrival of Cynic's Paul Masvidal on guitar helped push On The Seventh Day God Created… Master into the realms of 'must-hear' status but this was still very much Paul Speckmann's show…..with his triumphant guttural bellow effortlessly leading the charge!
---
Unleashed – Where No Life Dwells [Sweden]
Unleashed cannily unleashed the ultimate in hellish groove with their outstanding debut album, Where no Life Dwells, an album that showcased a band whose skill lay in perfectly alternating speed with an ominous atmosphere and no end of memorably brutal songs.
Unleashed's lyrical focus on Viking culture and folklore wouldn't be fully realised until 1993's Across The Open Sea. However, there's no doubting that, even on their debut, Unleashed sounded like a pack of marauding vikings with "Before The Creation Of Time" and "If They Had Eyes" rampaging their way through your earholes with little to no mercy.
One of the big four of the Swedish death metal scene for bloody good reason, Where No Life Dwells was just the start for a band who've gone on to be the most reliable band in Swedish death metal history!
***Unleashed's 14th studio album, No Sign of Life, was released on November 12th, 2021 via Napalm Records – unsurprisingly, it's fuckin' brilliant!***
---
Jumpin' Jesus – The Art Of Crucifying [Germany]
Despite saddling themselves with a god-awful band name, Jumpin' Jesus played some seriously skilled and brutally complex death metal. With a sound that wasn't too far removed from that coming out of Florida's Morrisound Studios there was enough (typically German) eccentricity to stand Jumpin' Jesus out from the pack.
Unafraid to throw some curveballs into the mix and simply be plain fuckin' weird at times, it's the freakish time signatures and odd noises that made The Art Of Crucifying so intriguing. Highly technical and with a distinct dual guitar attack, Mike Gage and Oliver Ulrich were a seriously unhinged pairing who unleashed a torrent of incredibly wild riffs and solos on this, Jumpin' Jesus' only album.
Cohesive structure be damned, this shit was intense, it was untamed and it was (sadly) one of a kind.
---
Carbonized – For The Security [Sweden]
Death/grind masters, Carbonized may be somewhat of a Swedish secret but those in the know understand that few bands from the Swedish scene were embracing such a progressive, polyrhythmic attitude combined with the most primitive, yet organic, blast beats around!
With all 3 members of Carbonized having intrinsic ties with Therion, it should come as no surprise that with For The Security, boundaries were being unceremoniously broken and a progressive attitude to death metal prevailed!
Technically advanced yet wallowing in urbanised filth, Carbonized were a shrieking, guttural shock wave of influences; with this Swedish version of UK d-beat punk – spliced with grind and formative death metal – proving both revolutionary and unique among Swedish death metal bands of the early 90's.
---
Ripping Corpse – Dreaming With The Dead [USA]
Featuring the considerable talents of Erik Rutan (later of death metal legends Morbid Angel and founder of the mighty Hate Eternal), Dreaming With The Dead remains the one and only full length album from the underrated Ripping Corpse.
Fearlessly fusing elements of groove, doom and thrash with a progressive flair for schizophrenic time signatures and razor-sharp technique, Dreaming With the Dead is quite the anomaly, standing proud on its own as an album of considerable skill and identity.
Ultra thrashy and brutal as fuck, Ripping Corpse may have failed to officially follow up this colossal release (their 'lost album' remains unreleased and unmastered) but they made an indelible mark on the American death metal scene with Dreaming With The Dead!
---
Sorcery – Bloodchilling Tales [Sweden]
Heavy on atmosphere, the chilling (some might say 'bloodchiling') sounds found on Sorcery's debut album should have pegged them as serious contenders. Instead, they fell sadly by the wayside but that's no reason for dismissing them now!
There was nothing generic or 'formula' about Sorcery's distinct death metal, with the band conjuring magic from their classic horror influenced samples and interludes, ultimately creating a ghoulish blast of Hammer Horror death metal in the process.
That's not to say that the fundamentals weren't in place – Bloodchiling Tales was produced by the legendary Tomas Skogsberg at Sunlight Studios and that "buzzsaw" guitar tone is obviously ever present – but Sorcery were doing something different, challenging the status quo with rhythmic gutturals that grooved with the riffs, subtly using keyboards to create a heckle-raising atmosphere and delivering variances in tempo which occasionally bordered on death/doom.
---
Revenant – Prophecies Of A Dying World [USA]
These New Jersey boys were a class act and they somehow managed to conjure an album that perfectly encapsulated the forward-thinking nature of early-90's metal, while – at this stage – also giving Chuck Schuldiner a run for his money in the 'progressive' stakes.
Revenant would stop and start on a dime, toying with pace and tempo at will and embracing crushing doom passages when they weren't slashing and thrashing their way through hyper-speed death metal.
Precious few bands could match such a dark, multi-layered, multi-faceted work of ever-changing tempo and arrangement, making Prophecies Of A Dying World an absolute masterwork.
Honourable mentions (all of which are good enough to have been included in the main article!) : Baphomet – Inheritors of the Dead / Blaspherion – Rest In Peace / Death Strike – Fuckin' Death / Deceased – Luck Of The Corpse / Edge of Sanity – Nothing But Death Remains / Gorguts – Considered Dead / Hexx – Morbid Reality / Loudblast – Disincarnate / Masacre – Reqviem / Morgoth – Cursed / Pungent Stench – Been Caught Buttering / Sentenced – Shadows Of The Past / Skeletal Earth – Eulogy For A Dying Fetus / Sororicide – The Entity / The Dead Youth – Intense Brutality / Therion – Of Darkness…