The 10 Greatest Death Metal Albums Of The 1980's
Sheer class!
Obituary – Slowly We Rot (1989) [USA]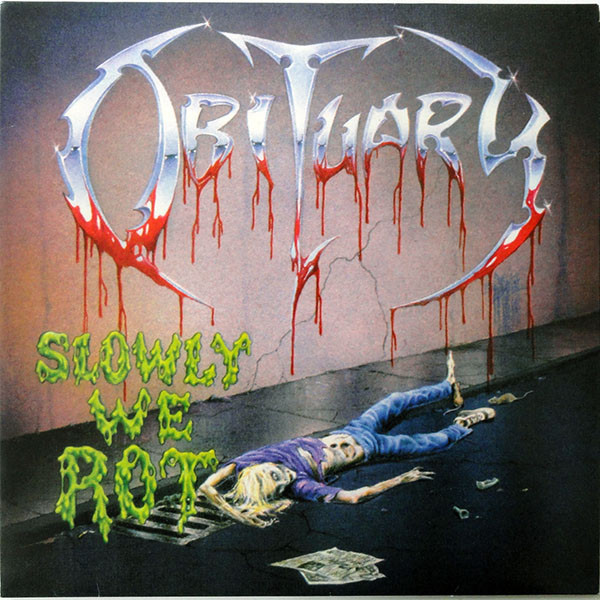 An album that shit directly in the gawping face of thrash, Obituary's shocking and seminal debut was the sound of death metal fully realising its unlimited capabilities.
Led by John Tardy's iconic growls, howls and innumerable gargled noises, Slowly We Rot simply took the noise made by the likes of Possessed, Death and Necrophagia and wrung ten gallons of filth out of it; creating one of the most disgusting debut albums in extreme metal history in the process.
Unrelenting and as ugly as sin, this was the sound of a band determined to take extremity to another level and to say this debut was shocking would be to do it a considerable disservice.
Death metal's blueprint in hideously disfigured form, Slowly We Rot is quite rightly revered as an all time 80s death metal classic and is, arguably, the finest album of Obituary's illustrious career.
---
Pestilence – Consuming Impulse (1989) [Netherlands]
Pestilence's debut, Malleus Maleficarum, was a thrash album in essence but their sophomore album, Consuming Impulse, was a death metal album through and through….and proved to be a key moment in death metal's rampaging evolution.
Raw, honest, powerful and confident, Pestilence fashioned a collection of exemplary death metal songs built on a solid foundation of inventive riffs, atonal solos and Martin VanDrunen's recognisably unhinged howls.
Songs such as "Dehydrated", "Suspended Animation" and "Out of the Body" have become part of the death metal lexicon and while Pestilence were already exhibiting much of the technicality that would go on to inform their later efforts, Consuming Impulse was still very much focused on delivering the heaviest, most brutal death metal around.
Consuming Impulse was simply Pestilence at their most ferocious and has gone down in history as a classic of the genre. Not a bad way to end the decade!
---
Death – Leprosy (1988) [USA]
Emerging at a time when death metal was still barely in nappies, Leprosy was the next logical step after the neanderthal bludgeoning of Scream Bloody Gore had laid waste to thrash back in 1987.
Notably progressive when compared to Death's solid debut, the late, great, Chuck Schuldiner upped the ante in every department on this sophomore effort.
With a vast improvement in songwriting, Death were already leaving their peers in the dust, and Leprosy's 8 tracks of sublime brutality arguably defined the genre before it had even begun.
Quite simply an album whose importance to death metal cannot be underestimated.