ANOTHER 10 Of The Greatest Old-School British THRASH Albums Known To Man!
Man don't know no better!
Re-Animator – Condemened To Eternity (1990) 

Arriving a little later in the day, Re-Animator still had enough potential to cause a stir and 1990's Condemned To Eternity is their greatest achievement.
Another band in thrall to Testament's semi-melodic approach (particularly in Kev Ingleson's Chuck Billy-aping vocals), Re-Animator still possessed the required skill to amount a convincing thrash attack; proof positive that us Brits could thrash like fuck when we wanted to!
"Low Life" and the instrumental title track are the real highlights, both demonstrating the bands knack for experimental and yet vertebrae-shattering riffs. While "Low Life" may rip off Metallica's "Creeping Death" in its opening bars, that can be forgiven as the song goes on to establish itself as a frenzied neck-breaker in its own right, and the title-track challenges Death Angel's "The Ultraviolence" in the epic instrumental stakes.
In the end, Condemned To Eternity may be one for thrash diehards….but it's no less convincing because of it!
Liked that? Try this: The previous year saw the arrival of Deny Reality, an EP that merely hinted at what was to come!
---
Skyclad – A Burnt Offering For The Bone Idol (1992)
Before they went 100% folk, Skyclad followed up their outstanding debut The Wayward Sons Of Mother Earth with another slab of underrated – and hard to find – unique UK thrash. Continuing and refining the uniquely pagan sound Sabbat pioneered on their groundbreaking albums History Of A Time To Come and Dreamweaver, this may be a love it or hate it record for thrash fans but those with an adventurous spirit -and a penchant for bands who gleefully experimented with thrash's rigid rules – will hear Skyclad adapting the formula to create something idiosyncratic and distinctly British.
The addition of full-time fiddler Fritha Jenkins (we simply refer to the act of playing the fiddle of course) bolstered Skyclad's sound that was still built around Martin Walkyier's distinctive vocal delivery and a multiude of rapid-fire thrash riffs. Take the aforementioned irresistibly thrashy "Salt On The Earth (Another Man's Poison)" as the perfect example of thrash existing in a folk metal framework; few could pull off such a disparate melding of styles but Skyclad, particularly on A Burnt Offering For The Bone Idol, mastered the craft.
Interestingly, Skyclad's The Wayward Sons Of Mother Earth and A Burnt Offering For The Bone Idol remain the perfect companion pieces to Sabbat's two Walkyier fronted classics; an exquisite quadruplet of frighteningly original albums which deserve arrant adulation.
Liked that? Try this: Skyclad's EP, Tracks From The Wilderness, was the final thrash-folk mix before the band went full on folk!
---
Toranaga – God's Gift (1990)
The UK's answer to perennial thrash overlords Overkill, Toranaga's God's Gift remains an undervalued mix of classic metal, NWOBHM influences and power metal bombast, bolstered by the bands flirtation with doom tempo's and thrash's shrill vocals and chug-heavy riffs.
Frontman Mark Duffy certainly had Bobby 'Blitz' Ellesworth's delivery down pat but Toranaga were certainly no carbon copy of those New Jersey noiseniks, their grasp of melody also distancing them from the more abrasive sounds of Virus, Anihilated and Onslaught.
Originally released on major label Chrysalis, the future in 1990 appeared decidedly bright for Toranaga and God's Gift certainly had the quality and diversity to propel them to the upper rungs of the UK thrash ladder. "Execution", "Food Of The Gods" and "Psychotic" were the de rigour energetic up-tempo thrashers while the epic and multi-layered "The Shrine" and the oddly beguiling "Black Is The Mask" provided a thrilling counterbalance to the heads-down neanderthal bludgeoning of their peers.
Liked that? Try this: Debut album Bastard Ballads (1988). This 6 tracker may be short and sweet but its power/thrash milieu retains its charm.
---
Virus – Force Recon (1988)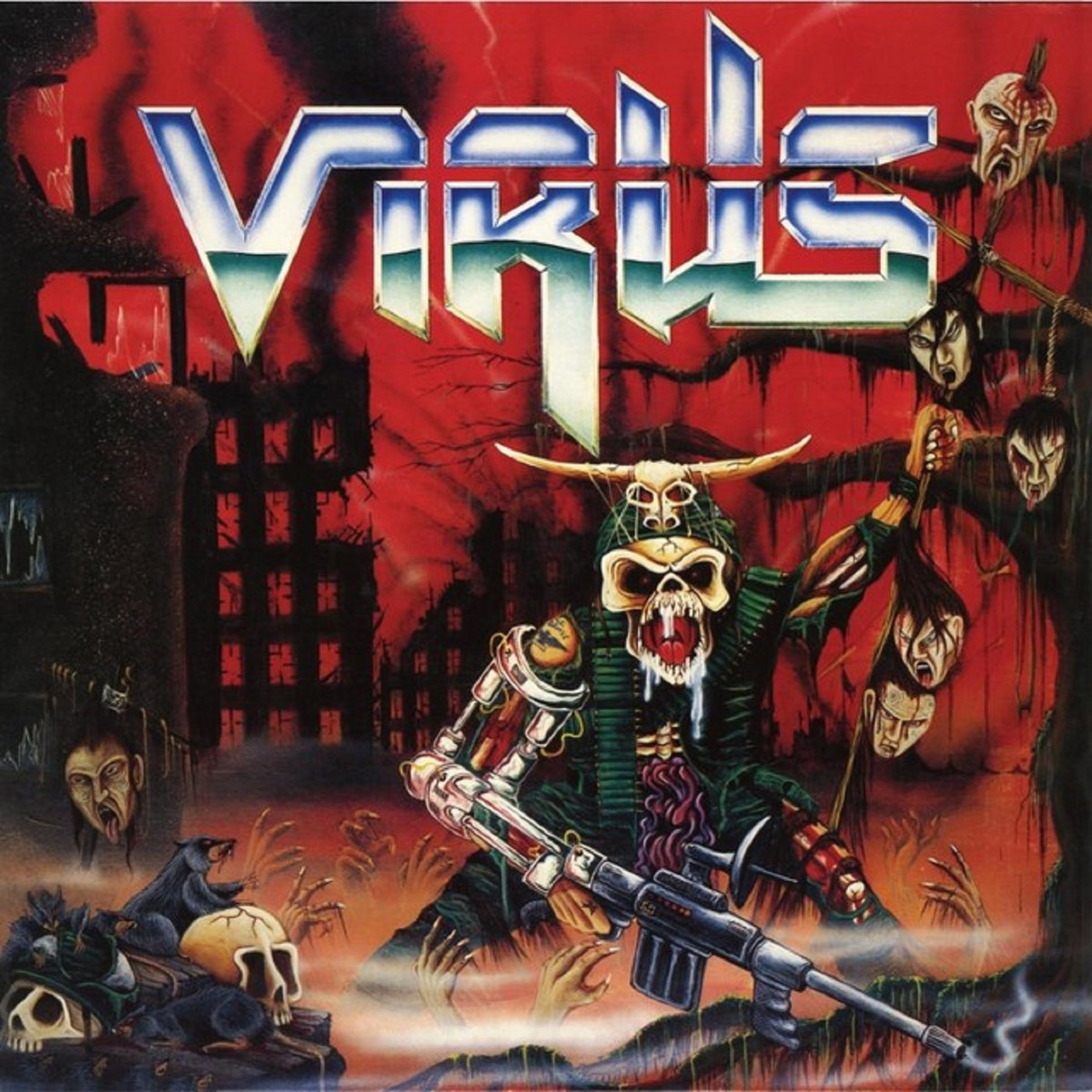 Perennial underdogs of the UK scene, Virus well and truly proved their worth with their second album, 1988's Force Recon. 
This punk / thrash overload from one of the UK's most violent band of thrashers kicked even the most hardened thrash fan square in the mush when it was released in 1988…. and it was the arrival of guitarist Coke Finlay that appeared to light a considerable fire up Virus' collective arse!
To say that Force Recon was an improvement on debut album Pray For War would be quite the understatement. Fast, savage and as punky as hell, the production may have been shite but the songs shone through, with the likes of "Testify to Me" and "Viral Warfare" proving particularly potent and undeniably effective.
Just a little good, friendly, violent fun….UK style!
---
Xentrix – For Whose Advantage (1990) 
Touted as Britain's answer to Metallica (not quite), Xentrix embraced an Americanised sound which should have seen them rapidly rise to the very top of thrash metal's ranks.
In reality, their relatively 'safe' sound was only ever going to take them so far, and they eventually found themselves lumped in with the plethora of identikit bands who arrived late in the thrash game. Sadly, it's only with the luxury of hindsight that For Whose Advantage? reveals its true worth and it's undoubtedly an essential addition to any thrash collection.
Cold, crisp riffing, mid-paced thrashing and Chris Astley's confident bellow elevated album highlights "Questions?" and "The Bitter End", and the entire album benefited from a crystal clear production job to rival the genres greats. For Whose Advantage? may tread familiar territory but it's important to note that there's nothing wrong with reliability – Motörhead and AC/DC built entire careers on it! – and Xentrix were fast becoming Britain's most consistent band.
Liked that? Try this: While often maligned, we maintain that 1992's Kin was a mature, refined and ultimately impressive release at the tail end of thrash's glory days!
Also in this series:
10 Of The Greatest Old-School British THRASH Albums Known To Man!