25 Albums That Made 1986 One Of The Greatest Years In Thrash Metal History!
1986....a truly outstanding year for all things THRASH!
Nuclear Assault – Game Over [USA]
Nuclear Assault's debut album saw Danny Lilker and his merry men release an unrefined and cataclysmic thrash metal assault on the world!
Still tapped in to the raw emotion and pure power over technical skill mentality of thrash metal's early releases – that's not to say these boys couldn't play but it's the attitude that shines through – Game Over bordered on a crossover release; revelling in gang vocals, thunderous bass and John Connoly's unhinged and apocalyptic screeching diatribes.
From the blacker than black humour of "Hang The Pope" to the end of the world announcing "Nuclear War", "After The Holocaust" and "Radiation Sickness", Nuclear Assault hit like the proverbial atomic bomb in '86 and instantly cemented their place amongst the greats of thrash metal.
---
Onslaught – The Force [UK]
The first band to truly raise hell in the name of British thrash, Onslaught turned heads with the The Force – was there ever a more appropriate album title – and their forceful and vitriolic sound hit like a ten ton hammer; thrashing harder than most and with as much conviction as the likes of Dark Angel and early Slayer.
Still considered a thrash classic, The Force is probably the most convincing thrash album ever recorded by a British band. Capable of ripping your head clean off, Onslaught were a powerhouse who unleashed a multitude of sinister, stabbing riffs without even breaking a sweat.
"Let There Be Death", "Flame Of The Antichrist" and "Metal Forces" were all instant classics; brutal, utterly devoid of mercy and terrifyingly demonic. A UK thrash classic and no mistake.
---
Possessed – Beyond The Gates [USA]
Perfectly melding early-doors death metal with blistering thrash, Beyond The Gates had the unenviable task of following the extreme metal masterpiece that was Seven Churches, and while production woes robbed it of impact, the talent and progression of Possessed was still immediately apparent on their sophomore release.
Often criticised for embracing a more commercial style – although Beyond The Gates can hardly be considered mainstream by any stretch of the imagination – Possessed did fine-tune their sound, resulting in some hit and miss tracks but the 'hits' were massive!
The 80s horror intro which bleeds into the maddening thrash heaven of "The Heretic" kicked things off in considerable style while the mid-tempo savagery of "Phantasm" and the bass heavy "Seance" maintained the quality. No matter what the naysayers think, Beyond The Gates should be remembered as an outstanding follow up to a groundbreaking debut!
---
Razor – Malicious Intent [Canada]
Those damn Canadians were fuckin' unstoppable in '86!
Razor were hellish brutality and raw thrashing power personified and while Malicious Intent may be a few steps down from the speed-freak genuis of the previous years Evil Invaders, it's still a barrage of fast and furious thrashing fun.
Sometimes sloppy, sometimes too primitive for it's own good but always, always attention grabbing, Razor's limitations – Dave Carlo's riffing aside – may be all too obvious but that's where Razor excelled; pure balls-to-the-wall fury welded to riff after riff after lacerating riff.
"Turn it up, LOUDER!"
---
Sacrifice – Torment In Fire [Canada]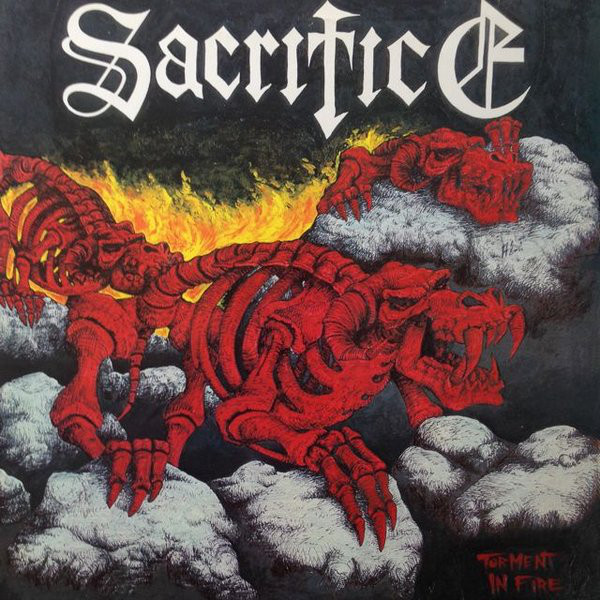 Sacrifice's debut was fiendishly evil, brutally effective and pure diabolical mayhem set to music.
Featuring some truly spine-scraping shrieks and riffs that threaten to veer into all out distorted noise, Sacrifice may have been undeniably immature at this stage but there's no escaping the sheer impact this feral release still posseses.
These Canadian miscreants often sounded more like their unhinged German counterparts than the clinically precise riffing found south of the border. Subsequently, Sacrifice found themselves joining the ranks of the demented Destruction, Kreator, Whiplash and Possessed and while a god-awful production job slightly lessens its impact, Torment In Fire remains an integral stepping stone in thrash metal's eventual transition to death metal.