10 Obscure Old-School Thrash Albums You Need To Hear! (Part 4)
Thrashin'.....
Flames – Merciless Slaughter (1986) [Greece]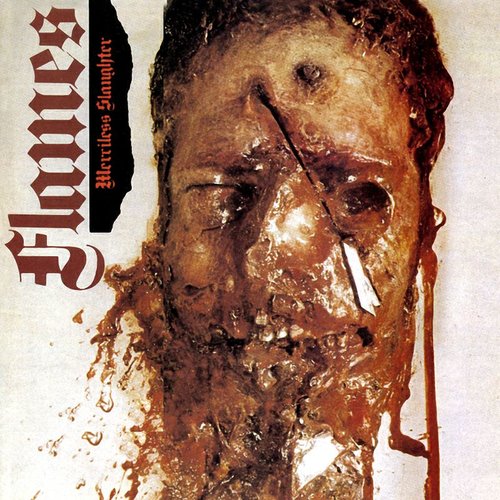 Horrific cover art + nasty as fuck sound. = Greece's Flames; an unholy racket of lightning fast trebly riffs and barked vocals….in other words, awesome 80's thrash!
Another record lost in the avalanche of outstanding titles from 1986, Merciless Slaughter still holds up as an intriguing time-capsule from an era when thrash was king and should seriously surprise those yet to hear its delights!
Tupperware drums aside, Flames picked up a (disembodied) head of steam and their dirty raucous sound still packs a killer, Possessed-inspired, punch with the likes of "Evil" neatly summarising all that was great about Flames' classic proto-death metal leanings.
Merciless indeed!
---
Grinder – Dead End (1989) [Germany]
Beginning with "Agent Orange" (not a cover of Sodom's classic but a classic of their own making), Grinder's stomping, militarised, rotor-riffs flow flawlessly into the kind of quality melodic thrash that should have adhered these German thrashers to millions.
Channeling the highly melodic noise of Flotsam and Jetsam and Anthrax, Grinder stillmanaged to create something a little different in the thrash world; no easy task by the time the late 80's rolled around. Playing with structure and speed, Grinder's skill lay in fluid bass lines and taking the turn least expected. The result? An album that remains unpredictable and surprisingly unique.
In particular, Dead End's title track is a thrash monster, a totally unique speed/thrash workout which traverses more moods and more terrain than most thrash albums manage in their entirety!
---
Hermética – Ácido Argentino (1991) [Argentina]
Hermética, Argentina's premier thrash export, unleashed their pieza de resistencia when they released sophomore album, Ácido Argentino, back in 1991.
A huge record in the Argentinian underground scene, Ácido Argentino proved highly influential to countless bands who followed in Hermética's wake. It remains a revered release in its native land and while it may not be well known outside of South America, that's no reason to dismiss its charms now. Forged with speed metal riffs, Claudio O'Connor's acid-tongued delivery (think Accept's Udo Dirkschneider meets Artillery's Flemming Rönsdorf) and a relentless percussive battery, Ácido Argentino may seem positively naive to modern ears but its initial impact should not be underestimated.
While opener "Robó un auto" was heavier on the 'metal' than the 'thrash' – with more than a little Accept informing their sound – it wasn't long before these semi-melodic thrashers upped the ante with the high speed onslaught of "La revancha de América" and the aggressive stomp of "Predicción". Allowing bassist Ricardo Iorio to step up to the mic on "Del camionero" may have been a mistake but there's way more hits than duds on Ácido Argentino to balance out the odd misfire.